Americans' belated arrival at World Championships earns frosty welcome after Tyson Gay's positive drugs test
US team in Moscow 33 years on from boycott but faces hostile questions over latest scandal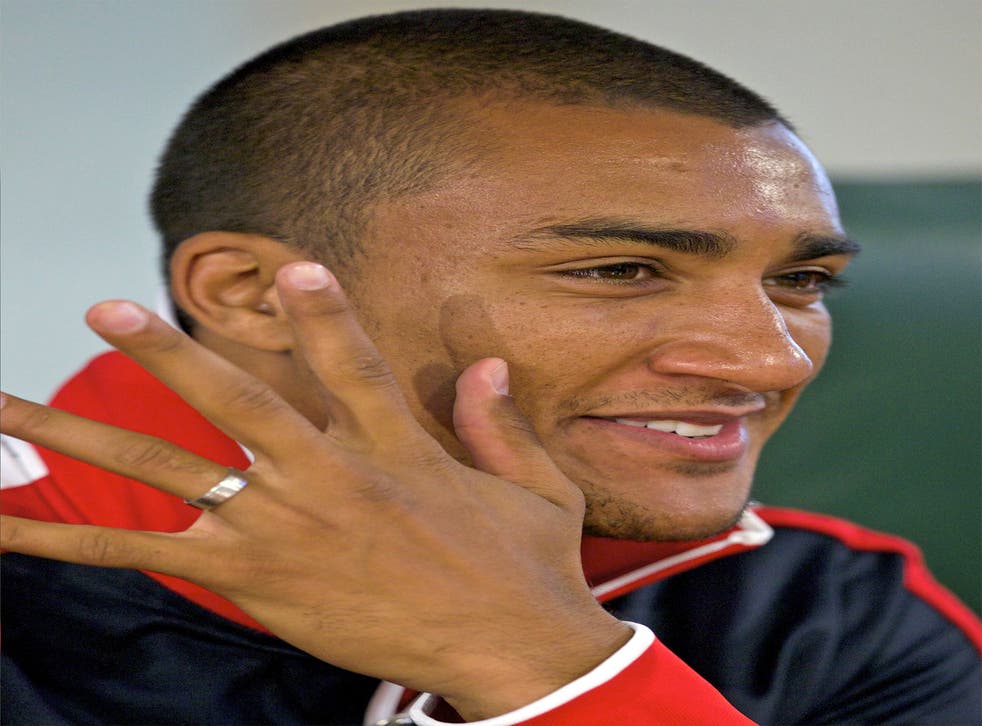 It was a momentous day of sorts. The Americans finally made it to the Luzhniki Stadium. A third of a century ago, when the vast bowl was known as the Central Lenin Stadium, they were conspicuously absent from the 1980 Moscow Olympics, boycotting in protest at the Soviet invasion of Afghanistan.
Thirty-three years on, the United States track and field class of 2013 got to train on the bright blue track ahead of the World Championships, which open on Saturday. It was fair to say that they did so under the cloud of the latest drugs scandal to shroud the global athletics scene.
It was always going to be that way following the news a month ago that Tyson Gay had tested positive – not once, but on two occasions – for an unspecified banned substance. The 30-year-old from Kentucky happens to be the fastest man in the world this year, with a 100 metres time of 9.75 seconds, but he will not be challenging Usain Bolt for the big gold medal here in the Russian capital this weekend. The 2007 world 100m and 200m champion will be awaiting news of his B sample, contemplating the prospect of a two-year ban.
The irony is that in Gay's absence the big threat to Bolt is likely to be posed by an American speed merchant who has twice been banned for failing drugs tests but has somehow managed to keep on running. Justin Gatlin tested positive for amphetamines in 2001 and for excessive testosterone in 2006.
In the world of sprinting, the 31-year-old native New Yorker will perform the David Warner role as chief pantomime villain. The sport needs him to win the blue riband event like a hole in the head.
Gatlin, who beat Bolt over 100m in Rome in May, was a notable absentee from the roster of US athletes presented to the press after training at the stadium. That was hardly surprising, given the inevitable line of questioning his presence would have invited.
Instead, the dreaded "D word" – and the subject of the drugs cloud whipped up not just by Gay's positive test but also by that of Bolt's Jamaican team-mate Asafa Powell – was put to Ashton Eaton, who can justifiably lay claim to being the greatest all-round athlete of all time by dint of his decathlon world record.
"Every era has this," replied Eaton, who it should be noted has an unblemished record. "People doped in the past. There's a shadow cast a little bit, and then you've just got to go back to doing your thing… And I think we're just doing our thing."
At that point, Jill Geer, the chief public affairs officer of US Track and Field, interjected: "Before anyone else answers, it's not a new topic in the sport. What we've found is competition has a funny way of getting everyone back focused."
Funnily enough, the other athletes – hurdler Aries Merritt, long jumper Brittney Reese and sprinter Allyson Felix (who, like Gay, has worked on the US anti-drugs campaign Project Believe) – did not feel disposed to add their views. Asked whether "the whole situation with Tyson Gay" had affected the squad, the US head coach, Mike Holloway, was also in stonewall mode. "Absolutely not," he said. "This is an unfortunate situation. Everybody here is totally focused on the task in hand. We're here to compete and to represent the United States of America in the very proud fashion that we always do – and I'm fully confident everybody is going to do that."
It is by no means just the US stars who are trying to concentrate on earning their stripes here rather than be engulfed by the drugs media frenzy. On Monday Turkey gave two-year bans to 31 of their athletes. There are scores of Russian athletes serving suspensions and the number of Jamaicans who have failed tests in the past four years is now up to 15. And, lest it not be forgotten, the British team in Moscow will be captained by an athlete who served a ban for missing three drugs tests, although it was later ruled that there were significant mitigating circumstances in the case of Christine Ohuruogu. The British side also includes one of the highest profile drug offenders of all time in Dwain Chambers.
Eaton made a very salient point. We have been here so often before in athletics – specifically at World Championships – that it is a bit like being Bill Murray stuck in Punxsutawney. In Rome in 1987 there was Carl Lewis casting thinly veiled aspersions about the newly muscled also-ran turned world-beater Ben Johnson. And one can still see the tracks of Kelli White's tears at a press conference at Stade de France in 2003 after news of her positive test for Modafinil broke, six days after her World Championship 100m win.
The US sprinter spoke indignantly about how her whole family suffered from narcolepsy and that she had been proscribed the psycho-stimulant by her doctor. The crocodile tears turned out to be the first public drips in the flood that became known as the Balco affair. Faced with incriminating evidence, White spoke as a witness for the prosecution in the Balco court case. So did Dennis Mitchell, the sprinter-turned-coach who is now the guiding light behind Gatlin.
In 1998, during his own tarnished life in the fast lane, Mitchell tested positive for excessive testosterone. He blamed the adverse finding on having had sex with his wife the night before his test. "It was her birthday – the lady deserved a treat," he infamously remarked.
Join our new commenting forum
Join thought-provoking conversations, follow other Independent readers and see their replies