Athletics doping crisis: Astonishing that Lord Coe did not hear the whispers
Wada chairman Dick Pound has only sweet nothings for IAAF president despite culture of corruption that has dogged organisation on his watch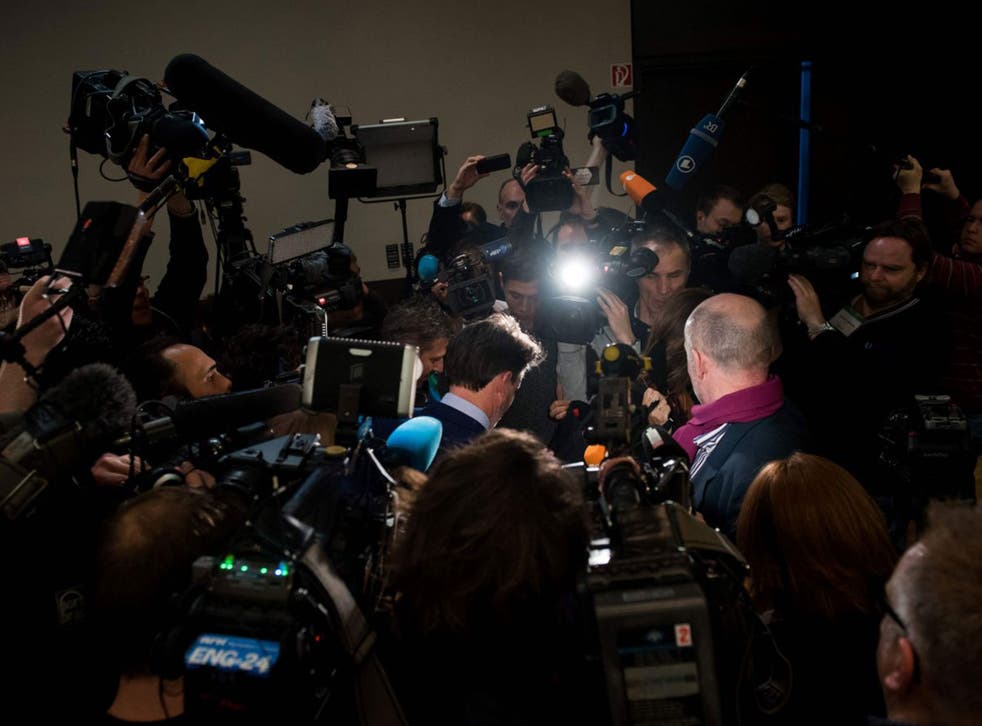 The small details of a private conversation at Lord's tell us how overwhelming and long-held an awareness of institutionalised doping there has been among staff of the organisation Sebastian Coe has co-directed for the last 10 years. An organisation which was revealed to be a seat of criminality, cheating and nepotism.
The former cyclist David Millar was at the cricket ground in his capacity as a member of the World Anti-Doping Agency's athletes' committee, which he had been asked to join as a convicted former doper, and it was when the day's talking shop had finished that he was approached by an International Association of Athletics Federations executive who confided that athletics was riddled with doping.
"People knew about it but nobody internally was doing anything about this at IAAF," the individual in question confided. There were no ripples when Millar related this to the BBC's PM programme, a few weeks ago – perhaps because the interview did not make clear that it was fully six years ago – 2009 – when that IAAF executive, who knew everything and did nothing, unburdened his soul. No one has blown the whistle since.
It is astonishing that Coe, now the IAAF's president, did not, at the very least, hear the whispers too, and harbour faint suspicions that there was something malign at the heart of the IAAF – because walls always have ears in sport. Yet nothing so much as his lack of curiosity was questioned, in the second instalment in Dick Pound's excoriating investigation into doping and athletics, and that drove a cavernous hole into the heart of the Canadian's work. Pound eviscerated the IAAF – athletics' so-called "governing body" – for an absence of governance. He showed it had bred obscene corruption. President Lamine Diack trousered Japanese bribes for supporting Tokyo's successful 2020 Olympics bid, after Turkey refused to cough up to him for its own Istanbul bid, we now know.
Coe's appointee and confidant Nick Davies – a marketing man – purposefully sought access to Diack's inner circle with a "comprehensive and considered plan" to keep the Russian doping quiet by manipulating the press, we can say with confidence. And yet Coe – an IAAF council member since 2002, Diack's vice-president since 2007 and the man in the room for all those years – escaped the mildest censure. As one Canadian journalist so succinctly framed it in a question at Thursday's press conference: "Everyone knew what was going on, except one man…"
No criticism of Coe, either, for the dismal culture of IAAF denial in the two months since Pound's first report for Wada laid bare a regime of organised doping with roots going all the way to the Kremlin. "Yes, of course" the organisation had been in denial since November, with its insistence that it employed so many "loyal servants, blah, blah, blah" as Pound put it, and that it had no questions to answer for the wrongdoing.
"Acknowledge this. If you can't acknowledge it you can't get past it," Pound added. And yet he had only sweet nothings for Coe – the man sitting 10 or so rows in front of him. The man who still stands by his description of The Sunday Times' revelations about Russian doping as a "declaration of war" on athletics and who once called Diack "my spiritual leader".
"I don't want to lay the failure of an entire council…at the feet of one individual," said Pound. "I don't know how many international organisations you've presided over but you always say something nice about your predecessor... He didn't have the faintest idea... I can't think of anyone better than Lord Coe to lead [athletics on]."
Yes, these really were the words of the same Pound who said seven days ago of Diack's vice-presidents: "Coe and [Sergey] Bubka were there. They had an opportunity a long time ago to address issues of governance."
It was a whitewash, no more and no less: an absence of so much as veiled criticism which sent you rifling through the contours of athletics politics to see if Pound and Coe went back somewhere together in the past, perhaps shook hands in a distinctive way, and that there might be wheels within wheels. Coe's three biographies and his salaried journalism revealed nothing.
All that can be said with some certainty is that Coe knew he would be in easy street. Those in sport governance do not otherwise voluntarily take flights to Munich to take up a seat in the investigator's audience. Ironic, given Coe's aversion to the reporting of this institutionalised cheating, that he positioned himself in the press area.
Well, Pound might have papered over the cracks of Coe's credibility but many others will not be so convinced. The Coe who leapt to his feet after the press conference, to be pursued through a hotel by journalists before disappearing through a side door, will only attain the credibility required to clean up athletics if the wider world can be satisfied that he has the rigour to reach beyond the grey cronyism and own up to the failings.
So, how about some transparency to get things started? How about a straight answer to a few straight questions? Such as: did you, as your first job in the post of IAAF president, order a forensic audit of Diack's expenses and activities? Are you prepared to submit to a Freedom of Information request for all your emails relating to Diack? Are you prepared to submit to a Freedom of Information request relating to your involvement with the IAAF's granting of the 2021 athletics World Championships to Eugene, with its connections to the Nike company from which you were taking £100,000 a year at the time?
Coe was in command of his narrative as always, though for a man who ran so well in straight lines, there is always circularity in what he says. Russia should be banned from Rio. Let's talk with the Russians. We're not in denial. We were in denial...
He has a remarkable capacity for accepting facts in that very cultivated and stylish way, once they have already been established beyond all doubt. The residual irony being that he was frequently a champion in sport but has rarely been a champion of the causes that matter in governance.
Perhaps he might start the long road ahead with some humility and by asking questions rather than purporting to have all the answers.
Millar says the IAAF executive who approached him all those years ago said: "Explain to me how you guys are turning things around in cycling because we are riddled with doping." Not a bad one to start with.
Join our new commenting forum
Join thought-provoking conversations, follow other Independent readers and see their replies