Athletics doping crisis: Olympic bans not the answer, says two-time champion Haile Gebrselassie
Six Ethiopian athletes are being investigated for possible doping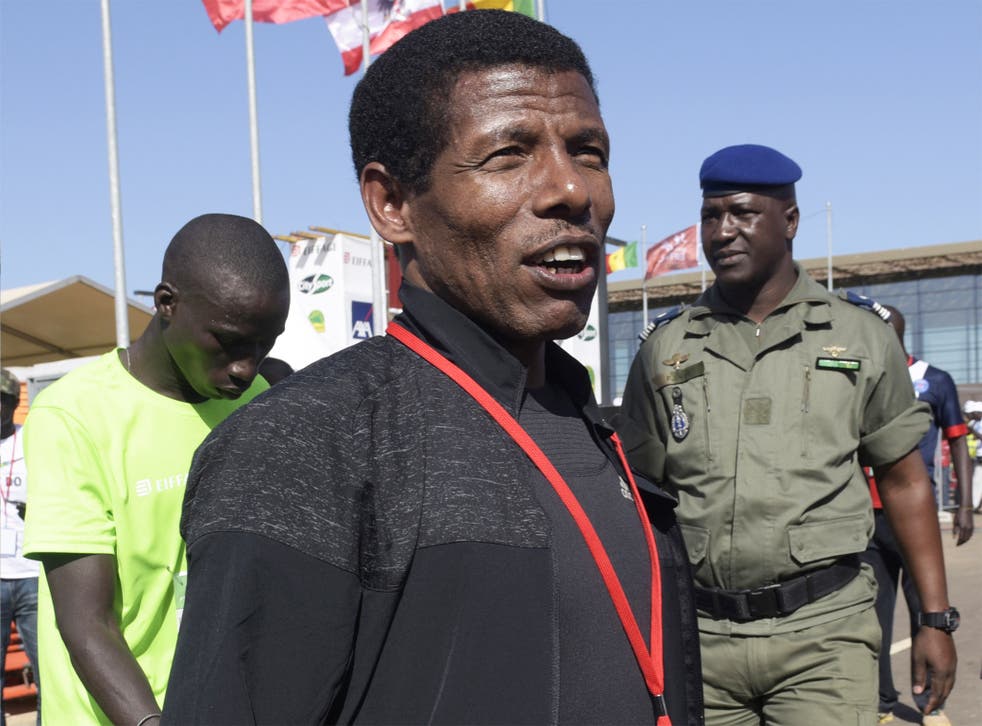 Ethiopia's two-time Olympic champion, Haile Gebrselassie, has raised fears his countrymen could be banned from this summer's Olympics in the ongoing doping row, but called on authorities to show leniency.
Athletes from the east African nation have been caught up in the latest doping row. It was revealed last week that Ethiopian-born 1500m runner Abeba Aregawi, a former world champion, had failed a drugs test, while at the weekend Bililign Mekoya, general secretary of the Ethiopian Athletics Federation, said six of their athletes were being investigated for possible doping.
Already Russia has been banned for global competition for systematic doping, while Kenya has been warned it faces a similar punishment if it fails to prove itself compliant with the World Anti-Doping Agency (Wada) code in the next month.
With myriad cases seemingly surfacing in Ethiopia, Gebrselassie, his country's most celebrated athlete, told The Independent: "I'm worried about this happening [the Olympic ban], but I don't think it will. Whether Russia or Kenya, to punish the whole country is not really the smart idea. There have been many innocents, ones in the Russian system, clean, who dream day and night about competing. What about those athletes who are suffering unfairly?"
Last week, Ethiopian team doctor Ayalew Tilhaun described his country's current doping issues as "a very terrifying development".
Gebrselassie echoed those sentiments, saying: "I've not seen this before. I think it's really shocking. One or two athletes, it's not such a big problem, but when it's many athletes it's a real, real problem. I'm very surprised. I didn't expect this from our athletes. This is more than doping, it's bad for our country and it makes me angry."
Blame, in some quarters, has been aimed at doctors and pharmacists from other countries supplying banned substances.While Gebrselassie said more education was needed for Ethiopian athletes, he believes those who fail drugs tests must bear the brunt of the sanctions. "I've no excuses for them," he said. "What's inside an athlete's body is an athlete's responsibility."
The 42-year-old double 10,000m gold medal winner, also a four-time world champion on the track, said he had been working with the Ethiopian authorities in an effort to try to drive out any foreigners involved in doping.
"Ethiopia is serious about doping," he said. "The government has made it so that it's a criminal offence, so this is not just about a possible four-year ban for athletes, but possibly prison. Also, this will be seen like stealing from the Ethiopian people – and that's huge. The reaction from the people will be worse than any ban or prison punishment."
Ethiopia is one of the leading forces in distance running and won eight medals at last year's World Championships in Beijing. None of those athletes are implicated in the current scandal, but Gebrselassie said in some ways he welcomed the spotlight being turned on his country.
"What's important is that we can say, 'OK, this is happening', and maybe we can find the root cause," he said. "I'd like to clean up the sport, so this is maybe a good thing. We have to clean everything up as soon as possible. I hope that this is it for the failed tests and we can focus on watching and educate our athletes more.
"It will take some time to clean up. We need to find out the truth and give a chance to the innocents. We have to work day and night with that with the International Association of Athletics Federations and Wada."
Bolt returns to London ahead of Rio defence
Usain Bolt will run in the London Anniversary Games ahead of his multiple title defence at the Rio Olympics.
The six-time Olympic gold medallist will participate in the Diamond League meeting on 22 July at Queen Elizabeth Park.
"It will be good to return to the Olympic Stadium on the Friday night and get more of the special atmosphere that the fans always produce," he said.
Join our new commenting forum
Join thought-provoking conversations, follow other Independent readers and see their replies