Athletics doping scandal: European medallist is among four punished by Russians
Irina Maracheva (above, right) is the most high profile athlete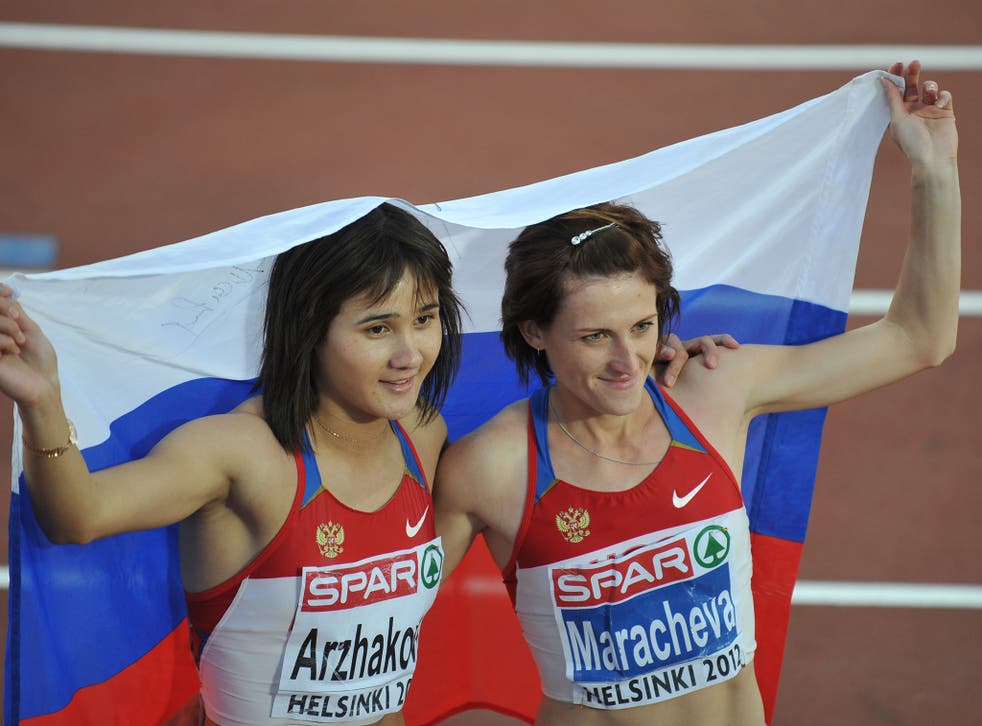 Russian authorities have banned four athletes for doping offences, their first sanctions since the country's global ban from competition. The most high-profile of the quartet is 800-metre runner Irina Maracheva, who took silver behind Britain's Lynsey Sharp in the event at the 2012 European Championships.
Maracheva had finished third but had her medal upgraded when the race winner and fellow Russian Yelena Arzhakova received a two-year ban for doping. Sharp responded to the Maracheva ban by tweeting: "Remember that time I was the only clean athlete on the podium? Good. Times. At least it's only taken a full Olympic cycle for Maracheva to get banned."
Maracheva was banned for two years, as was race walker Anna Lukyanova, a former World Junior silver medallist. Less high-profile runners Maria Nikolaeva and Elena Nikulina were handed four-year suspensions. They are the first bans to be handed out by the Russian Olympic Committee, which is overseeing sanctions in the wake of the first wave of doping revelations made in November. The violations were not specified.
It is thought Maracheva's ban is because of at least one anomaly in her biological passport, which she had blamed on a head injury sustained in childhood. Her coach, Zamira Zaitseva, told the Russian news agency Tass: "In childhood, she got a very serious head injury. Because of this, it has at altitude greatly changed her blood parameters. But to prove 100 per cent that the relationship between childhood trauma of the head and today's blood jumps, we cannot."
Meanwhile, athletics' world governing body, the IAAF, is set to feel the financial ramifications of the fallout from the doping scandal, with Adidas ready to pull the plug on its multimillion-pound sponsorship deal four years early.
There are fears the IAAF's coffers could be further dented, with other sponsors potentially following suit. None of the body's other front-line partners has declared any intention to walk away, but one major partner, Canon, gave no assurances about the future link beyond this year in a statement which read: "Canon Inc.'s current sponsorship contract runs until 31 December, 2016. We have no intention to terminate the contract before that date."
The IAAF president, Lord Coe, recently travelled to Japan in order to maintain good relations with the organisation's partners, five of which – Canon, Seiko, TBS, TDK and Toyota – are based in that country.
For now, Adidas's decision will not hit IAAF funds, with the organisation having sold its media rights to Japanese firm Dentsu until 2029. The deal with Adidas is thought to be worth more than £2m in funding and nearly three times that in terms of product provision per year.
Neither the IAAF nor Adidas has confirmed any early contract termination. The former said in a statement: "The IAAF is in close contact with all its sponsors and partners as we embark on our reform process." The sportswear giant said: "Adidas has a clear anti-doping policy. Therefore, we are in close contact with the IAAF to learn more about their reform process."
Join our new commenting forum
Join thought-provoking conversations, follow other Independent readers and see their replies