Disillusioned Mara Yamauchi would no longer advise young runners to aim for 'hollow' Olympics
'Doping scandals have made my career a sham'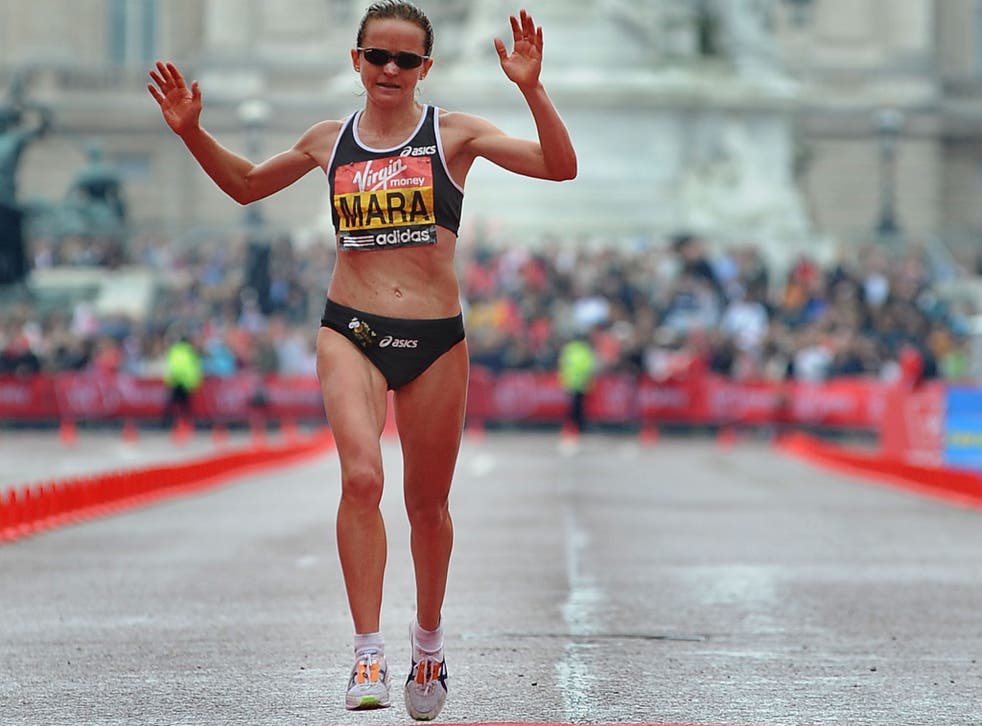 Three years ago this month, seven months short of her 40th birthday, Mara Yamauchi hung up her competitive spikes with a smile, announcing that she was content, "having achieved my childhood dream of becoming an Olympian". Today she says the Olympics can no longer be considered the pinnacle, tainted as the Games are by doping and corruption.
Yamauchi's sixth place at the Beijing Olympic marathon is better than anything achieved on the road at the Games by Paula Radcliffe, the only British woman ever to have run faster than her. But memories of the career of the late bloomer – she turned professional only at 31 – have been increasingly soured by doping controversies, most notably the case of former Russian record-holder Liliya Shobukhova, the details of which were damningly laid bare on Thursday: Shobukhova was reported to have paid hundreds of thousands of pounds to leading IAAF officials to keep abnormalities in her blood passport secret.
Yamauchi finished 10th in the 2010 London Marathon, won by Shobukhova. That result has since been rescinded, and it has made Yamauchi look differently at her competitive running days.
"When I finished my career, I looked back fondly and didn't feel like I'd been cheated," Yamauchi says. "But that's changed and there are times I feel like I've been taken for a massive ride. Has it just been in a complete sham? It's just a sham for other people to make money."
Yamauchi, who gave up a job at the British embassy in Tokyo to focus full-time on running, remains a keen runner, coaches athletes and tries to persuade youngsters to take up and share her passion. But having seen Shobukhova able to pay her way out of a drugs ban to compete at London 2012, her view of the Olympics as the pinnacle for an athlete's aspiration has changed.
The shift has been increased by the evidence of corruption which led to lifetime bans for former IAAF treasurer Valentin Balakhnichev, Papa Massata Diack, the son of former IAAF president Lamine Diack, and Russian endurance coach Alexei Melnikov.
"The level of wrongdoing is staggering, really," Yamauchi says. "The IAAF is the body responsible for clean, honest and open sport, so people have trust in that body, but they were doing exactly the opposite by covering up doping for their own financial gain. The trail of destruction left behind them in terms of competition and results being not what they should be is huge.
"And following the level of wrongdoing by those at the top I think I've now changed my mind in terms of young athletes. Of course, I'd encourage them to run, but would I advise them to push for the Olympics as the pinnacle?
"How can I honestly now say to a child, 'You've got to do it'? That's hollow now; there are too many question marks."
While Beijing was a career high, along with victories in the Osaka Marathon and New York Half-Marathon, London 2012 was a low point.
Yamauchi started with a heel injury and lasted just six miles before dropping out. While she cannot blame the dopers directly, she believes a cleaner sport could have led to a very different outcome for her at her home Games.
"In January 2012 I was really conscious I didn't have enough finishing speed to beat them so I focused on that in training and got injured," she recalls. "Competition for the Olympic qualifying time had been artificially affected by the cheats."
Yamauchi readily thinks of the cheats caught, those she still suspects who have so far managed to keep their careers untarnished, of the results lost, the winnings, all that she summarises as "the lost moments". But there is sympathy too for the athletes she describes as "mere pawns in the system. If I was Russian and the only way I could get to the Olympics and get on the team was to cheat, you can see how you get caught up in it. The athletes are being exploited."
Yamauchi is all too aware that worse lies in store next week, with the second part of the World Anti-Doping Agency independent commission report. Increasingly frustrated and downhearted, she ponders whether the time has come to rip up the entire IAAF as it stands.
"It appears the IAAF is so corrupt that maybe it wants scrapping and starting again, if that's what the sport needs," she concludes.
It will not bring back the lost moments for her, but could ensure the next generation of clean athletes does not have its own great moments stolen.
Join our new commenting forum
Join thought-provoking conversations, follow other Independent readers and see their replies