Jessica Ennis-Hill finishes third in first race in almost two years
25,000 people turned out in freezing conditions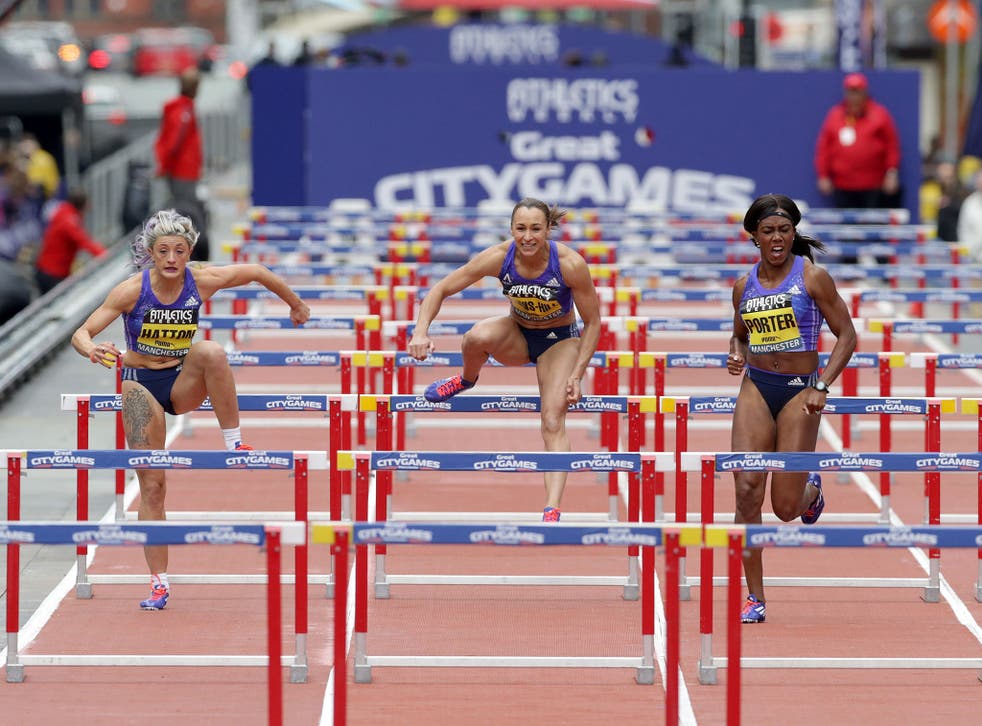 In conditions so cold the British sprinter Richard Kilty applied Deep Heat simply to keep warm, Jessica Ennis-Hill lined up for her first race for nearly two years in Manchester.
That she could manage only third place in the 100m hurdles at the Great CityGames in a time of 13.14 seconds – more than half a second outside her personal best – was no disgrace. This was not Ennis-Hill in the form of London 2012, nor was it expected to be.
While the temperatures were cold, the reception of the 25,000-strong crowd across the street athletics event's two sites was as warm as ever. Parents Vinnie and Alison were there along with husband Andy, complete with a regimented list of parenting instructions from his wife, and the couple's son Reggie, bedecked in a white woolly hat.
Reggie might have been reduced to tears after the race, his mother in contrast just happy to be back. She said: "I feel like I've got the best of both worlds now. I didn't have that feeling on the sidelines 'I wish I was there' because I've got Reggie. But now I'm back it's the best of both worlds."
There was relief too as she finished behind race winner Tiffany Porter and Lucy Hatton, just shy of the time of her last competition at the 2013 Anniversary Games when fourth with a run of 13.08sec.
"It's really good to be back and I feel like it's the start of it now," said the 29-year-old. "I know I'm capable of running a lot faster and I hit a hurdle. I just feel I'm lacking race sharpness but I know I can build on that.
"There's always that feeling, 'oh, I'm not quite ready, shall I give it a few weeks?' But I just felt I needed to race and get back out
"Now I can go away, get race sharp and put some more training together and see what I can do in a few weeks' time."
Her first heptathlon since London 2012, in Gotzis, Austria, at the end of the month is the next target, depending on how the troublesome Achilles that has curtailed her 2015 season reacts in the wake of this opening run.
There sh e would likely face her 22-year-old British rival Katarina Johnson-Thompson.
The younger of the two is a stronger athlete since the Olympics and came within a whisker of a surprise victory in the rarely run 200m hurdles. It might have been hers had she not clattered the final hurdle as Meghan Beesley, who last season spent 12 weeks in a cast with a stress fracture to her foot, edged her out.
"We both stuttered into the hurdle and hit it," said Johnson-Thompson after missing out by three hundredths of a second to Beesley's winning time of 25.28sec. "I was so tired. I've got really bad eyesight as it is and I couldn't see the finish but I'm happy with that race.
"I'm just glad I didn't come to a grinding halt and hit the hurdles. That was my biggest fear."
Greg Rutherford, also a new parent who had compared baby pictures on his mobile with Ennis-Hill in the build-up, was the only man past the eight-metre mark in the men's long jump, his opening leap of 8.01 metres enough to give him victory.
Meanwhile Dina Asher-Smith, who next week returns to university to sit her latest exam on the British Empire, upstaged Europe's dominant sprinter Dafne Schippers, of the Netherlands to win the 150m in a time of 16.82sec.
The 19-year-old admitted she had been buoyed as much by her big scalp as the reappearance of Ennis-Hill. "It's absolutely amazing," she said. "It's a boost not only for British athletes but for women everywhere. Jess is so dedicated and she is a role model for all women."
Join our new commenting forum
Join thought-provoking conversations, follow other Independent readers and see their replies