Jessica Ennis-Hill: Heptathlete could switch to 100m hurdles
Olympic star targets Beijing comeback next year after having her baby but has Plan B for Rio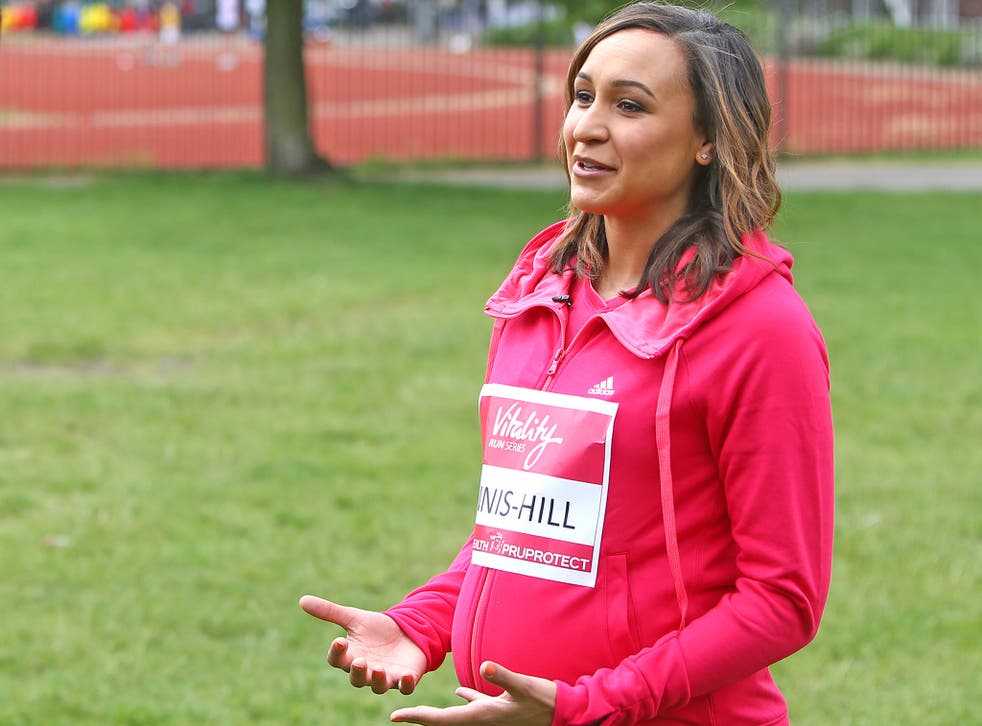 Jessica Ennis-Hill is targeting competing at the World Championships in Beijing next year as a first step towards retaining her Olympic title in Rio in 2016, but accepts the uncertainty of returning to the sport after she has her baby in July may yet force her to concentrate on the hurdles rather than the heptathlon come Games time.
Ennis-Hill has been consulting with other sportswomen, such as Shelley Rudman, the British Winter Olympian, who have returned quickly to top-level sport after giving birth, and is planning her comeback with Toni Minichiello, her coach. Plan A is to go to Rio and defend her heptathlon title. Should she struggle in the multi-event discipline in Beijing, her focus may switch to Plan B, the 100m hurdles.
"It would be fantastic to go to Rio in the heptathlon but the hurdles is still an option," said Ennis-Hill. "I have definitely thought about it. It's nice to have that option.
"It is just going to be seeing how I get back into training and see how it all comes together – I've always got the hurdles there."
En route to her dramatic triumph at the London Games two years ago, Ennis-Hill recorded a personal best of 12.54 seconds in the heptathlon hurdles. That would have left her fourth in the hurdles in London. The Australian Sally Pearson won in 12.38sec with Kellie Wells of the United States taking bronze in 12.48sec. If Ennis-Hill were to specialise she is potentially good enough to go to Rio as a medal contender.
The heptathlon, though, remains her aim and she believes were she to win a second gold with her child looking on that would offer a bigger high than London. It would be a significant success given she will be 30 come the next Olympics and has had a continual battle with injury – as so many multi-discipline athletes do – never mind feeling her way back into competition after her baby.
"My main goal is Rio," she said. "That's our focus, to be the best I can be there. I do want to compete next summer but that will definitely be building towards Rio. The baby will be two then and he/she will be part of my journey.
"I saw an interview with David Beckham talking about how he had his kids quite young and them being part of his whole journey, watching him compete. I think that is really special. It would be special having them there and seeing their mum win."
A return in Beijing would mean a three-year gap between heptathlons. Injury dogged her last season meaning she has not completed a heptathlon since London 2012. She claims the break from an event that was taking a toll on her body – she will have to be careful with her ankle for the rest of her career – and mind will benefit her, and she will return with a new desire.
"It's given me a different motivation," said Ennis-Hill. "I found it hard initially after London and then last year, with my ankle problem, that was really frustrating – my motivation was all over the place. So now I feel it has given me more of a focus because it's a huge challenge."
Paula Radcliffe won the New York marathon 10 months after giving birth to Isla and Liz McColgan took the world 10,000m title a year after she gave birth. But the demands of Ennis-Hill's event are markedly different from those of an endurance athlete.
"I've spoken to other people and heard and read what training they've done," said Ennis-Hill, who is still training regularly if non-specifically. "I've spoken to Shelley Rudman quite a bit. Everybody experiences pregnancy differently so it's about working out what's best for you.
"I've read about how quickly Paula came back but I think you've got to give yourself time to settle and enjoy being with my baby as well. I don't want to look back and think I rushed back into training.
"I keep waking up in the night thinking I'll be up until all hours in the morning. It's going to be hard. But I've sat down with Toni and had discussions about how it's going to look like when I come back. And we will have a proper discussion once the baby's here to see how we're going to plan moving forward."
Jessica Ennis-Hill was speaking at the launch of the Vitality Run Series, a major new annual running series. For more information please visit: www.vitality.co.uk
Join our new commenting forum
Join thought-provoking conversations, follow other Independent readers and see their replies