Jessica Ennis-Hill heptathlon return remains under consideration following Great City Games display
'We won't go to Götzis just for the sake of it,' says coach, with Olympic target in mind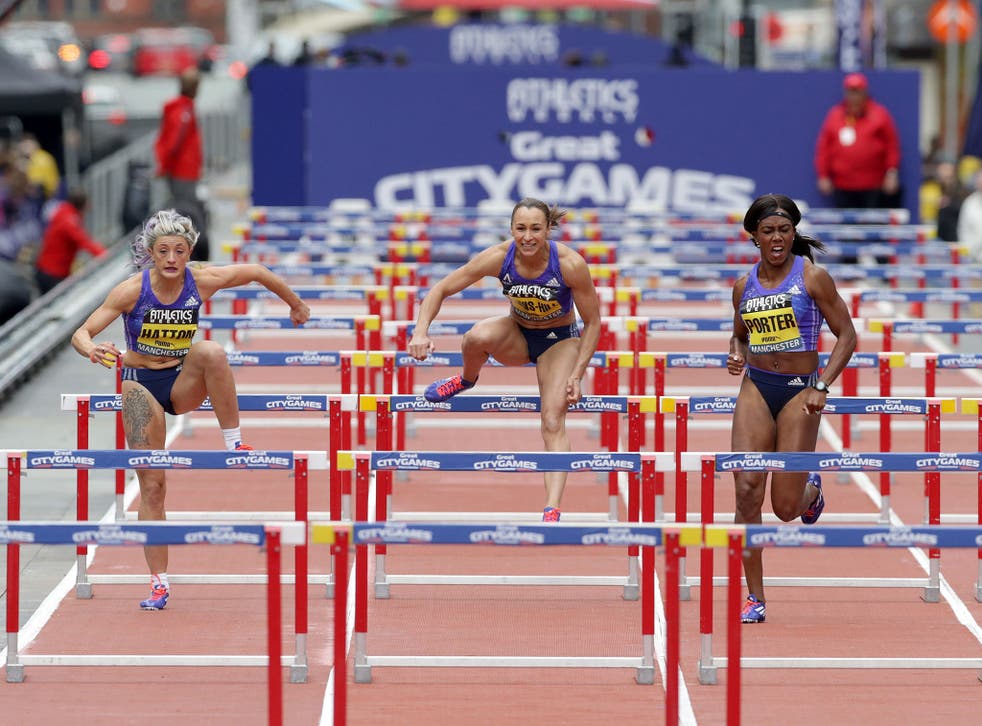 Jessica Ennis-Hill's heptathlon comeback at the prestigious Hypo-Meeting in Götzis later this month could be cancelled, according to her coach Toni Minichiello.
The Olympic champion, who finished third in her competitive return over 100m hurdles at the Great City Games in Manchester on Saturday, said afterwards that she was planning to take part in the event in Austria from 30 to 31 May. But Minichiello later threw doubt on the 29-year-old athlete's comments, saying he was still not sure if Ennis-Hill would take part.
"I'll wait another week before making a decision about Götzis or not," he said, before admitting that Ennis-Hill may even switch her focus from the heptathlon to the hurdles for this year's World Championships in Beijing.
"Nothing's off the table, nothing's on the table at the moment," he said.
Ennis-Hill has been plagued by an Achilles problem in the build-up to her return and how it reacts to Saturday's race is among the factors to be considered before a firm decision is taken on whether she competes in Götzis.
"That's part of the things we'll assess over the next couple of weeks," Minichiello said. "I need to put another couple of weeks of training in to know where we are in other events. There's some other indicators in training that say it's worth going. Are we just going there for the sake of going or to produce a performance that's an Olympic qualifying score?"
The qualification target for the Rio Games set by British Athletics is 6,200 points. Minichiello is adamant that sending Ennis-Hill to Götzis would not be a risk but he will only rubber-stamp her competing there if he is absolutely certain she is primed to tackle all the seven disciplines included in the heptathlon.
"If you put your toe on the line, you're ready," he said. "She put her toe on the line today and ran 13.14 because she felt she was ready to race. Now we go away and say, 'a heptathlon is a two-day event, seven events, it's physically demanding – are we ready to participate in that type of competition?' If we're ready, fine."
Should she not make the trip, there will be other opportunities for her to achieve the required qualification for both the World Championships in Beijing (6,075 points) later this summer as well as ensuring she lines up for a defence of her Olympic title next year.
The team around the Olympic champion have warned they are in unknown territory as she plots her return to competing after the birth of her son Reggie last July.
"Denise Lewis scored 6,287 in the year she came back [from having a baby], finished fifth in the World Championships and in the following year at the Olympics didn't finish. It's not an easy thing to come back from," Minichiello said.
"There's stuff to be learnt there and every woman is different. You take your time and see how she responds. We'll learn as we go because I haven't got all the answers. I'm learning on the hoof."
Join our new commenting forum
Join thought-provoking conversations, follow other Independent readers and see their replies