Kiprop strides to victory as Bekele suffers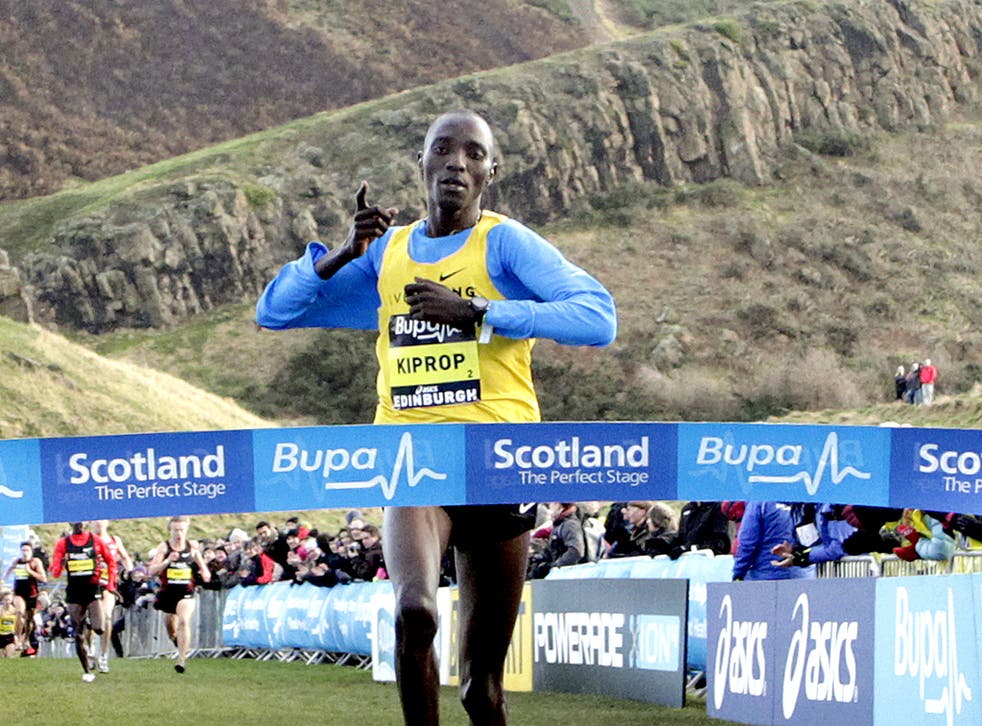 Kenenisa Bekele arrived in Edinburgh on Friday insisting he was not afraid of Mo Farah as he looked ahead to the defence of his Olympic 5,000m and 10,000m crowns against the dominant new British force of global distance running. By the end of the feature race in the Bupa Great Edinburgh Cross Country meeting yesterday, the man Farah calls "the Usain Bolt of distance running" was reduced to the role of an also-ran, trailing home 11th in the shadow of Arthur's Seat.
The diminutive Ethiopian might be the fastest 5,000m and 10,000m runner of all time but he toiled like a club runner in the Edinburgh mud. Indeed, Bekele found himself being outsprinted in the 3km short-course race by Andy Wiles, one of two members of New Marske Harriers to claim his treasured scalp. In a race won at a mightily impressive canter by Asbel Kiprop – the Kenyan prevailing by five seconds in 9min 20sec – Wiles was one of five British runners who left "King Kenny" in their wake: the others were the 19-year-old Jonny Hay of Aldershot, Farnham and District Athletics Club, who outkicked the former world 5,000m champion Eliud Kipchoge for second place; Wiles's club-mate Ricky Stevenson (fifth); and Ross Millington (sixth) and Steve Vernon (ninth), both members of Stockport Harriers.
Vernon had already run for Britain in the 8km race, finishing seventh, yet still finished a second ahead of Bekele, who crossed the line in 9min 42sec. Not that the great man was perturbed by his poor form at the start of London Olympic year.
Asked whether it was "a big setback", Bekele smiled and replied: "I'm not serious for this race. At this time of the year I don't want to be in very good shape. It is too early. It is a long time to the Olympics. I want to build up slowly."
But not quite this slowly, surely. Bekele had insisted on Friday that he was in better shape than he had been last year but presumably he was referring to 12 months ago, when he was overweight and considering retirement after a year on the injured list, rather than to the summer of 2011, when he failed to finish the World Championship 10,000m final on his return to competition and then clocked the fastest 10,000m time of the year in Brussels a fortnight later.
Asked whether he had ever finished 11th in a race before, the 29-year-old six-times world cross-country long-course champion shrugged and smiled again. "This is not my position," Bekele said. "I am not happy, but what can I do?"
Given Bekele's two-week turnaround from failing to stay the distance at the World Championships in Daegu to his 26min 43.10sec clocking in Brussels, nobody will be penning his 2012 Olympic obituary – least of all Farah, who succeeded the Ethiopian as world 5,000m champion last summer and who is currently training in Kenya.
Kiprop, though, was impressive. Despite the cloying conditions, there was a spring in the loping stride of the man who collected an Olympic gold medal only last month – a belated reward for his promotion from runner-up in the 2008 1500m in Beijing following the disqualification of the drug-taking Bahraini, Rashid Ramzi.
Join our new commenting forum
Join thought-provoking conversations, follow other Independent readers and see their replies