The Last Word: Candidate Sebastian Coe must demand that doping is a criminal offence
Coe's attempt to assume control of athletics through the presidency of its global governing body, the IAAF, is likely to develop into a dirty war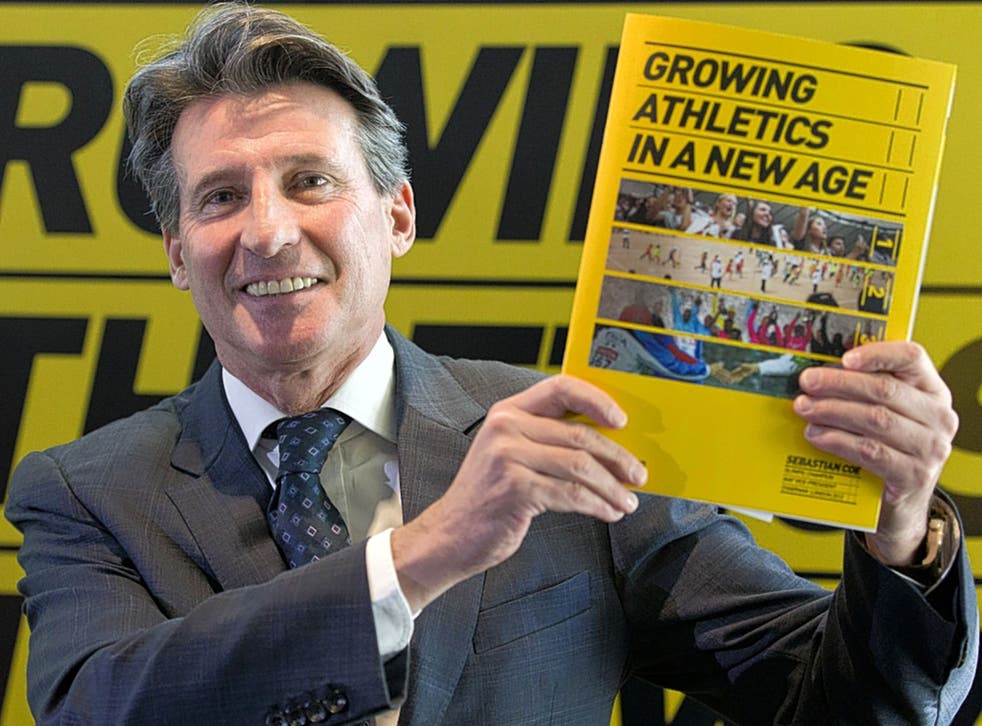 Type Sebastian Coe's name and the word "drugs" into an internet search engine, and the first post features a seven-year-old thread from an obscure forum which poses the question "Seb Coe: blood doper?" The second involves unsubstantiated allegations that his final race was fixed.
For the record, as someone who covered his career from the Moscow Olympics onwards, I'm convinced such claims are scurrilous nonsense. Coe was a wonderfully natural athlete, blessed with balletic grace and fluidity. He developed into a cogent campaigner for clean sport and delivered an unforgettable Olympic Games, which briefly rekindled a spirit of national optimism.
The institutionalised cynicism and all-pervading paranoia associated with track and field generates instinctive suspicion. Coe's attempt to assume control of athletics through the presidency of its global governing body, the IAAF, is likely to develop into a dirty war.
The game changed irrevocably on Wednesday when a German TV documentary alleged Russia operates a state-sponsored doping programme in collusion with corrupt coaches and administrators, including one within the IAAF who is purported to have accepted up to $50,000 (£32,000) to cover up a positive drug test.
If assertions that 99 per cent of the Russian Olympic team are involved in doping, with the active assistance of Vladimir Putin's government, are true – and the air of resignation which laced the anger of athletes beaten by Russian rivals was telling – we have reached the point of no return.
The official response has been bleakly predictable. Rusada, the Russian anti-doping organisation accused of suppressing positive tests in a range of sports, including athletics, cycling, swimming, weightlifting and Nordic skiing, have promised to investigate themselves. The IOC have insisted on "due process" being followed. The IAAF have referred the matter to their independent Ethics Commission, a concept challenged by the nauseating impotence of a similar body in world football, at Fifa. It remains to be seen if threats of legal action by Russian officials are acted upon.
Coe launched his campaign by insisting: "I don't want people thinking there is a better set of chemists in lane five than in lane six." I have news for him. They already do so. It is no longer possible to suspend disbelief. Track and field is dying, and the post-mortem will suggest suicide.
The spin doctors and quasi-politicians who surround Coe are part of the problem. His greatest opportunity lies in being himself, not as a figurehead seen through the prism of a presidential persona but as an individual prepared to fight for the ideals which have sustained him for 46 years in what, in principle, should be the purest sport.
Sports politics may be conducted in seven-star hotels, but it carries the stench of the sewers. Pragmatists will whisper that Russia's political and commercial influence gives their acolytes immunity from prosecution. They will warn of the dangers of alienating sponsors, and the corrosive power of the truth.
In that context, Coe's immediate reticence on the subject of the Russian allegations – he insists it would be "inappropriate" for him to comment while investigations continue – is profoundly depressing. He has the moral authority to make a strong statement without being seen to prejudice the case.
He is hardly naïve, because he competed in the shadow of the syringe. He is so politically dextrous he survived a brief flirtation with Fifa's president, Sepp Blatter, and retained credibility despite fostering the fantasy that the London Games have a viable legacy.
He must recognise we are faced with the ultimate obscenity – doped athletes bribing officials in order to compete, and cheat those whose pursuit of excellence is rigorous without being artificially aided.
Coe's manifesto is improbably entitled Growing Athletics in a New Age. Unless he demands the criminalisation of the production, supply and application of drugs in sport, and makes an election promise to expel nations who systematically abuse individual ambition in pursuit of global prestige, he will be just another pall-bearer at the funeral.
Mocking morality
David Pocock, the former Wallabies captain, cannot be regarded as one of Australian rugby union's many problems, following the ignominious defeat by England at Twickenham last weekend.
Yet Pocock, a prominent campaigner against homophobia in sport, has received a written warning from the Australian Rugby Union after his arrest for locking himself to a digger in protest at the introduction of a coal mine to virgin forest.
The admonition was a classic of its kind: "While we appreciate David has personal views on a range of matters, we've made it clear that we expect his priority to be ensuring he can fulfil his role as a high-performance athlete."
Sadly, the bureaucrat responsible for such po-faced, half-formed logic failed to explain how a social conscience undermines a player's efficiency, or reflects an intrinsic lack of commitment. It is a valid question since, much closer to home, the FA are also busy imposing one-dimensional morality.
They are currently exercised by the childlike meanderings of Mario Balotelli and the ramblings of that self-appointed spokesman for the Saga generation, Wigan chairman Dave Whelan. The profitable mania for protecting the game from theoretical disrepute suggests that Leicester's manager, Nigel Pearson, can expect to be arraigned for replying in kind to an abusive fan.
Instead of sweating the small stuff, the FA would be better employed concentrating on feckless owners and rapacious agents, who appear to operate with impunity.
Moeen can be ODI captain
Eoin Morgan makes his play to become England's one-day cricket captain today, on the underwhelming tour of Sri Lanka. I'm in the minority who supports the retention of Alastair Cook, but if he was going to be replaced, it should be by Moeen Ali.
A compelling all-rounder in the shorter form of the game, he is already the most socially significant sportsman in the UK.
Join our new commenting forum
Join thought-provoking conversations, follow other Independent readers and see their replies