Losing to little sister Jodie gave Jess Judd back her appetite
Middle-distance hope, who takes on the 1500m in Glasgow today, tells Matt Majendie how she beat the blues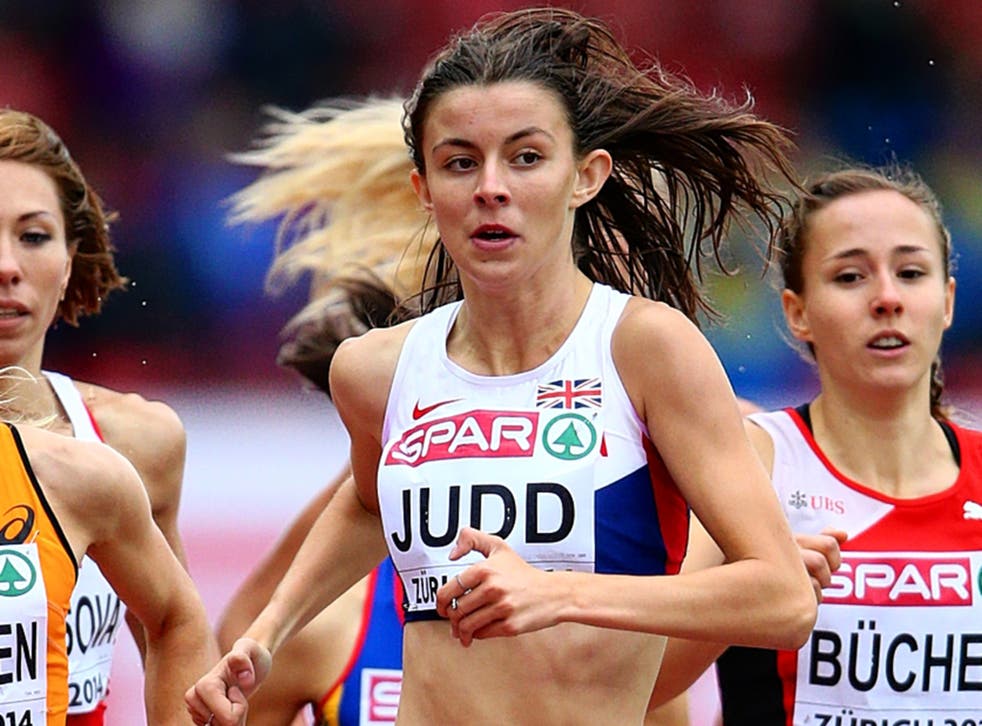 Last summer, Jess Judd, still in her teens, was left questioning whether she had the appetite to run any more.
For as long as she could remember, all she ever wanted to do was slip on her trainers and head out of the door from the family home in Canvey Island to run. But a stress fracture in her back had written off much of her winter and, when she returned to the track, the results were not as she had envisaged.
Usually such a bubble of positivity, when she crossed the line in seventh place in the 800 metres at the European Championships, she hit a peak of disillusionment.
"I lost the love at the Europeans," she recalls. "I thought fourth [her position in the 800m final at the Commonwealth Games] was the worst place to finish in the world but seventh in Zurich was definitely worse.
"I knew in those 800m I couldn't keep up and it was demoralising. It was very difficult and very stressful.
"The whole injury and having so much time to myself at home recovering, it just got me down. So after Zurich I had to get away to Cornwall for a week. I couldn't sit at home and watch people run.
"I decided to have time off running but was wondering if I had the motivation to ever get back to it."
Watching her younger sister, Jodie, train on her return from her Cornish sojourn slowly but steadily relit the desire to go running again.
"I went training with my sister and I think I got my butt kicked at the time," Jess says. "She was running well and I was struggling but I was enjoying it and I was thinking, 'If I can enjoy getting my butt kicked by my sister then anything's possible'."
Those sororal sessions are on hold for now, Jess, who turned 20 this month, having packed her bags to study human biology and focus on her training in her first year at Loughborough University.
The initial shock of being away from home for the first time and of having to cook her own meals has been overtaken by recapturing her love for running, ensuring that an athlete billed by her idol Kelly Holmes as a future global star is not lost to the sport.
"I love it up here," says Judd of the move to Leicestershire. "Now it doesn't really feel like I'm away from home, it feels like I'm on a never-ending training camp."
Her training methods have changed since she split from coach Rob Denmark, who now has a more central role to play with British Athletics.
"Rob coaching me was a great thing," she adds. "In a couple of years he got so much out of me. But after the Europeans I said, 'I'm not enjoying it, I've lost the love for it'. He said, 'Go to Loughborough', but I was like, 'Do I still want to run?'"
The pair amicably decided to go their separate ways and Judd has now hooked up with George Gandy and his training group in Loughborough. It began with her asking if she could join in for a session or two. Barring a few days with a cold, she has not missed a session since.
Gandy is of the view that the 1500m rather than the 800m might be a better distance for Judd, who by her own admission has often found herself not enjoying the shorter distance "because it gets boring running it the same way".
The tactics of the 1500m arguably suit Judd's searching mind better and this year will be spent trying to ascertain her best distance.
She has already run in cross-country events – finishing second in the under-20s race at the European Cross-Country – and will compete today in the 1500m at the Glasgow International Match as well as the 3,000m at the trials next month for the European Indoors.
There is no great goal for her at Glasgow, other than giving herself a break from the combination of training and her first university exams.
The greater goal is the European Under-23 Championships in Tallinn, Estonia, in July, while Judd and Gandy also have half an eye on the World Championships in Beijing the following month.
In truth, though, the goals are currently not too lofty, Judd just finding her feet again after a difficult year. It has, she says, been a winter without niggles.
"Last year was the first time I can remember not being able to do a Christmas Day run but this year I managed it with my boyfriend and my sister and the dogs. It was such a nice change from last year. Thankfully, nothing bad has happened this winter."
Jess Judd is supported by the Sky Academy Sports Scholarships scheme, helping 11 young athletes fulfil their potential with tailored support including funding and mentoring: skysports.com/scholarships
Join our new commenting forum
Join thought-provoking conversations, follow other Independent readers and see their replies