Paula Radcliffe is back on the start line – but it's not a 'comeback'
Radcliffe's just happy to race again and end a stellar career on her own terms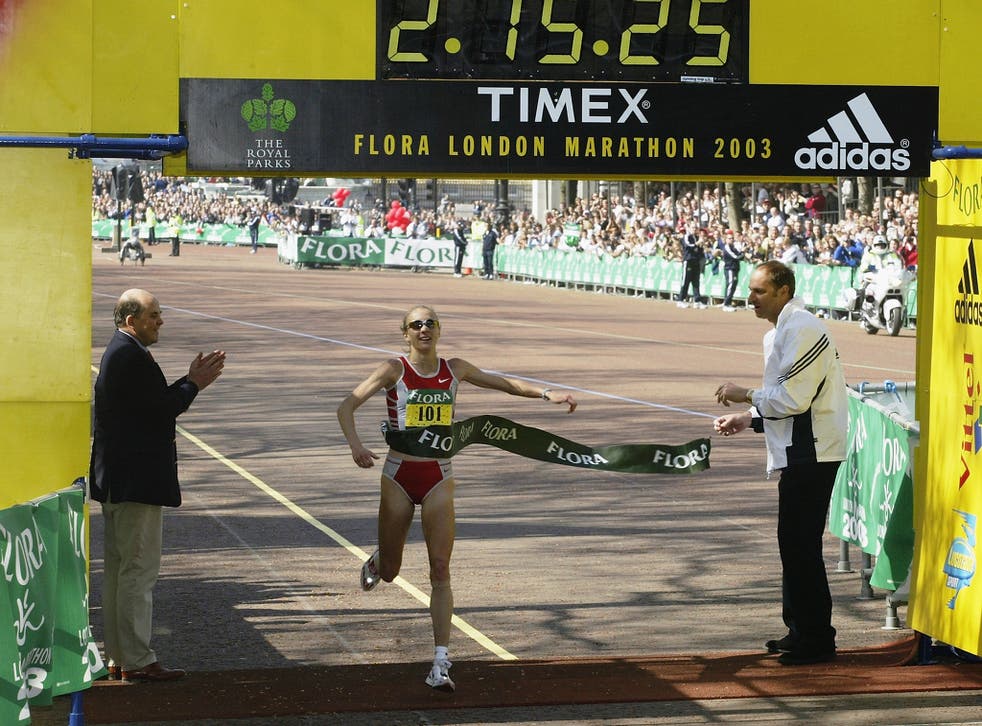 Park Polnocny in Sopot hugs the Polish resort's sandy beach, a myriad of interlinked lanes where cyclists mix with rollerbladers, runners and those out for a stroll. I'm among the afternoon joggers, heavy-footed and ungainly, making my way around the park's loop. No one pays me the blindest bit of attention – nor does anyone bat an eyelid at the world record-holder for the women's marathon, the lolling head instantly recognisable in the distance.
Paula Radcliffe approaches rapidly and, in a flash, is gone. It is six months since Radcliffe returned properly to training, when for the first time in a long time the semblance of past glories appeared to be within touching distance.
On Sunday, she will finally get the chance to put that training into practice in her first race for two-and-a-half years, the low-key Worcester City Run, a matter of just 10 kilometres, a quarter of the distance she would travel in races at her peak.
The 40-year-old is at pains to insist this is not a comeback, merely the beginning of the end, a chance to end her illustrious career on her own terms rather than those of the doctors, to whom she has grown so accustomed over the past injury-plagued years.
It is a precursor to one final go at the marathon, an event she once dominated, and entry into the London Marathon in April next year.
So is there a danger it will be more a case of Paula the crawler than the athlete whose world record of 2:15.25 still stands 11 years after she set it on the streets of London?
"I've not had a chance to think about it, I've been rushing around too much," she says. "I'm not expecting much; this isn't a big comeback because I can only do what my foot will allow me to do. It's improving all the time to the point where I can think about running a race."
For the most part, she is merely happy to be lining up in a race, simply being able to run after so long on the sidelines with her damaged foot.But she is astute enough to know there will be another thought process.
"I think in the race the usual competitiveness will come back," she says. "A recurring problem is that I want to run faster and so sometimes I get frustrated. I know in the race I'll probably get frustrated about that aspect. But then I have to remember the point when I couldn't run at all and when I didn't know whether I would ever run again. It means I just appreciate going for a run or a session, and that I can hopefully just appreciate this race."
At the start of the year, a tearful Radcliffe spoke about the possibility of never being able to get fit to run with her children, Isla and Raphael. That will in part be realised when Isla runs in a junior race in Worcester.
Isla, 7, has already shown a propensity for running, not surprising with Radcliffe and former British distance runner Gary Lough for parents.But Mum is keen there should be no pressure piled on her. "She's not got my surname so hopefully people won't make the association quite so immediately," she says. "At the moment, she just enjoys running."
As for Radcliffe, she is nearing 100 miles in training in a good week, the endurance seemingly not a problem for the foot on which she had surgery in 2012 and which forced her to miss out on a fifth Olympic appearance at London 2012.
The Olympics were the one event Radcliffe never cracked. On the track there was a 5,000m fifth place in 1996 and fourth four years later in Sydney in the 10,000m. DNFs followed in the marathon and 10,000m in 2004 while she managed 23rd place at her last Olympic marathon in 2008.
"I've had a very good and long career and, apart from the Olympics, I got everything ticked off that I wanted to do," she says. "I think I'm mostly at peace with my career."
That suggests the absence of an Olympic title – an Olympic medal of any sort – particularly from Athens in 2004 when she was the overwhelming favourite, still rankles in her mind.
But her chance for career closure, regardless of the result, lies in Worcester and, if all goes to plan, in London in seven months' time.
She believes she can run the Worcester course in 35 minutes but "it is not about the time, more a gauge of how I come out of it".
Radcliffe assesses her foot every day. Most days it is stiff; her husband works on it each day and she also visits her osteopath but, well versed in the injury, she normally judges the joint for herself.
"It's stiff and it's affected by different things, like a change in the weather," she says. "The problem is I have a lot of degradation with it. If I've not run for a couple of days it's a lot looser but if I travel or run a lot it will lock up on me. It's a foot that basically doesn't do the things it should do."
The injury has meant a gradual shift in parameters. If the foot was not a problem, she could realistically aspire to win on the world stage – after all, Romanian Constantina Dita won the 2008 Olympic title at the age of 38.
But Radcliffe admits: "I don't harbour any ambitions at world level any more. Now it's purely for the love of it, the love of running. It's more a social thing now. I just like to be able to get up and be able to run. I'm grateful for that, grateful to be able to run with the kids."
Radcliffe, though, can still be at peace with the fact she is the best there has ever been at marathon running.
Ranked alongside the greatest of all time, her record is still remarkable and seemingly untouchable. The two athletes she believes could break it, Mary Keitany of Kenya, and Ethiopian Tirunesh Dibaba, have at their best been three and five minutes slower respectively than the record.
"There are races you watch where I think the record is going to go and then it never happens," says Radcliffe.
Join our new commenting forum
Join thought-provoking conversations, follow other Independent readers and see their replies