Paula Radcliffe has her heart set on running one last marathon
'I'd love to be able to finish my racing career on my terms, in New York or London'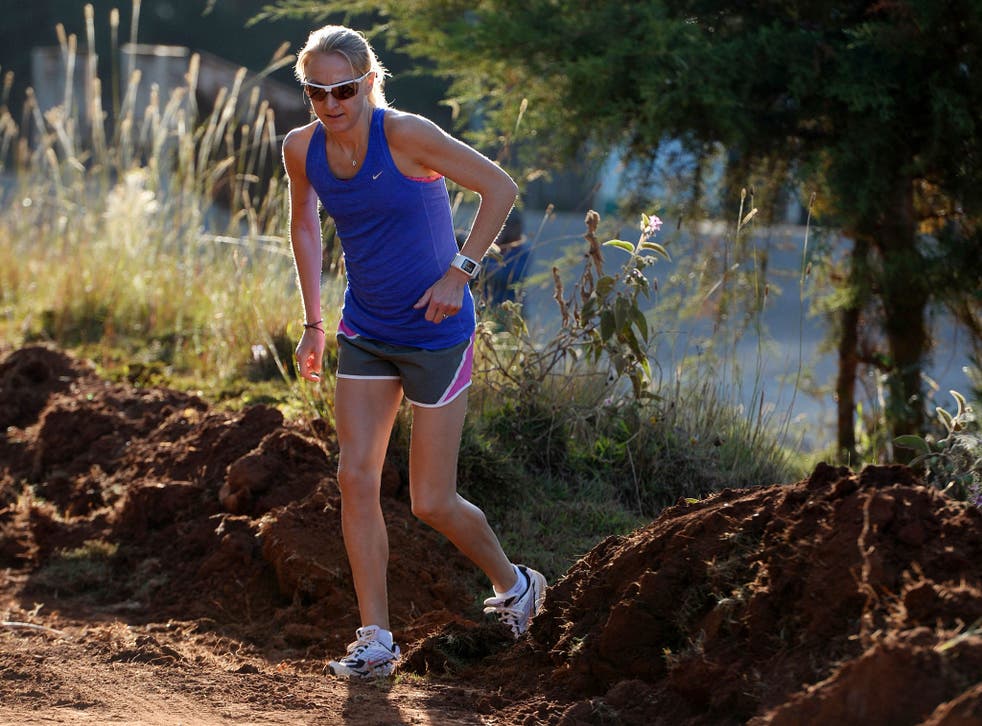 Paula Radcliffe has set her sights on one final marathon before calling time on her illustrious career.
The world record-holder for the distance with a time of 2:15.25 last ran 26.2 miles in 2011 in Berlin when she qualified for the Olympics with her third-place finish only to be forced out of London 2012 with the foot injury that has plagued her career. But in the coming weeks, she will test herself and, more crucially, her left foot to see whether she is up to one final onslaught on the marathon, ideally in London next year.
"I would love to come back and run a marathon or even a half-marathon and just be able to finish my racing career on my terms," she said. "Very few people get to do that. I'd just like the chance. I'd love it to be New York or London. This year in London is too soon but I'd probably only ask my foot to do one more marathon."
The 40-year-old's last marathon victory was in New York six years ago, her last race win over any distance in the half-marathon the following year in the Big Apple. She has not raced over any distance since Vienna in April 2012, when she struggled home sixth.
She has no aspirations of overall victory should she make it to the start line of a marathon once more. "I'm not being unrealistic," she said. "I'm not thinking I can get back and run 2:15 but, if I could come back and run a sub 2:30 then I'd like to do it."
Despite that target, Radcliffe does not want to risk more permanent damage, denying her the chance to run with her children Isla and Raphael in future years. Fighting back tears, she said: "I don't want to do anything silly. There was a time, from July 2012 until last April, that I couldn't run at all and I seriously thought I would never be able to run again. So I'm just grateful that I can get up and go on a nice run now."
Radcliffe, who admitted she misses the buzz of racing – "You can't replace that feeling", she says – is currently in Iten, Kenya, coaching Britain's distance runners and passing on tips to Mo Farah before he makes his marathon debut in London in April.
Though this year's race comes too soon for Radcliffe, the three-time winner of the event said it was in the capital that she would most like to sign off. "It's where I started my career," she said.
Despite missing the last Games, Radcliffe has made four Olympic appearances but failed to pick up a medal, her best performance being fourth at the Sydney Games in 2000 in the 10,000 metres. But as well as her London titles in the marathon, she has won New York on three occasions and the 2005 World Championship marathon in Helsinki.
Her ambition to return first became realistic around her 40th birthday in December, when she was able to stretch herself to a two-hour run. But she admitted the ensuing months would be a trip into the unknown, unsure how her foot – she has been plagued with osteoarthritis throughout her career – holds up to the rigours of training.
"It's not a question of fitness, it's a question of efficiency in my foot," she said. "So it's not even that it's pain, it just doesn't absorb properly, especially at the start. The doctors don't really know [why]. If they scan it, it doesn't look like a normal foot because the bone that had the stress fracture is not the same shape as it should be. If I run every day I might keep wearing away at the cartilage and make it bigger and more painful than it was in 2012."
Join our new commenting forum
Join thought-provoking conversations, follow other Independent readers and see their replies