Ramil Guliyev happy to fly under the radar after shocking Wayde van Niekerk to claim 200m gold
The Turkish sprinter won his first world medal, in a time of 20.09 seconds, while Van Niekerk claimed silver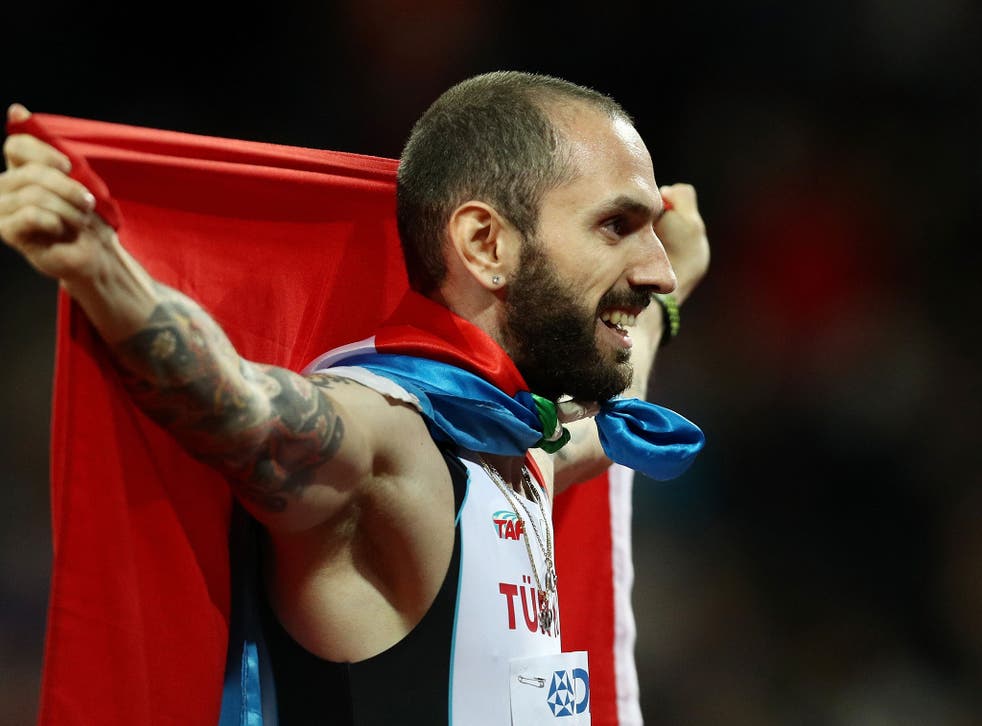 Turkey's Ramil Guliyev insisted he was lucky to sneak under the radar after he shocked Wayde van Niekerk to clinch the 200 metres title at the World Championships.
South Africa's Van Niekerk claimed silver to miss the chance to become the first man since Michael Johnson in 1995 to win the 200m and 400m double at the championships.
Guliyev, 27, had never won a world medal before but won in 20.09 seconds, with Jereem Richards third, Great Britain's Nethaneel Mitchell-Blake fourth and Botswana's Isaac Makwala sixth.
The focus had been on Makwala's controversial build-up after he was denied entry to the stadium by the IAAF as they battled to contain an outbreak of the norovirus.
Guliyev said: "This is not a shock but this does not feel real. I am so proud. This title means a lot.
"I have shown my best throughout this competition. I delivered my best race at the right time. I'm so happy to be world champion. This is the best moment of my career.
"I was competing against some of the best athletes in the world, so it didn't bother me that the attention was on them. Maybe at the next competition everyone will look at me instead."
Van Niekerk ran 20.11secs, with Richards crossing the line just one thousandth of a second behind him in a photo finish, but felt his achievement had been overshadowed by the focus on Makwala.
"I've proven over and over again I deserve what I've achieved. After the 400m there were quite a lot of people who felt I didn't deserve it," Van Niekerk told the BBC.
"I felt I didn't get the respect I deserved after the 400m. I believe this is only the beginning. I'm going to put in so much more and show my dominance.
"I feel it's very unfair, it's not an overnight success, I've been coming through the rankings and I really feel I've worked for where I am today."
Botswana's Makwala qualified on Wednesday after running a solo time trial and the semi-final, having been controversially denied entry to the stadium on Tuesday.
Makwala and Botswana had been critical of his treatment and the 30-year-old said he was still running heartbroken after not being allowed to race in the 400m.
He said: "It's one of the craziest championships. I'll always pray not to have another championships like this.
"I'm still disappointed. If I got a medal in the 200m it's going to be better so now my 100% chance was in the 400m.
"Let's not talk about what's passed, it's bringing back bad memories. If it's not your time it's not your day."
Earlier, two-time Olympic champion and defending champion Christian Taylor won the triple jump, ahead of United States team-mate Will Claye, with a leap of 17.68m as Portugal's Nelson Evora took bronze.
But Taylor was disappointed not to have broken Jonathan Edwards' record of 18.29m.
He said: "I have this watch from my sponsor with 18.30 on it. I will try to fight, I will get this number. The record is still on. I am still motivated to break that record. My motivation is to be the best athlete. This was not the night."
On a successful night for the US Kori Carter claimed the 400m hurdles title, with team-mate Dalilah Muhammad taking silver and Jamaica's Ristananna Tracey third.
Meanwhile, defending champion Almaz Ayana and Hellen Obiri, who took Olympic silver in Rio, cruised into the 5,000m final.
In the 800m, Melissa Bishop qualified for the semi-finals, while a powerful last 80m saw Caster Semenya home first in her heat in 2:01.33. Two-time European Indoor champion Selina Buchel also reached Friday evening's semi.
Semenya said: "I just want to keep winning. That's all I'm concentrating on. I'm feeling okay after the 1500m, so I'm ready to go again."
PA
Join our new commenting forum
Join thought-provoking conversations, follow other Independent readers and see their replies