Roald Bradstock: Still throwing caution to wind after half a century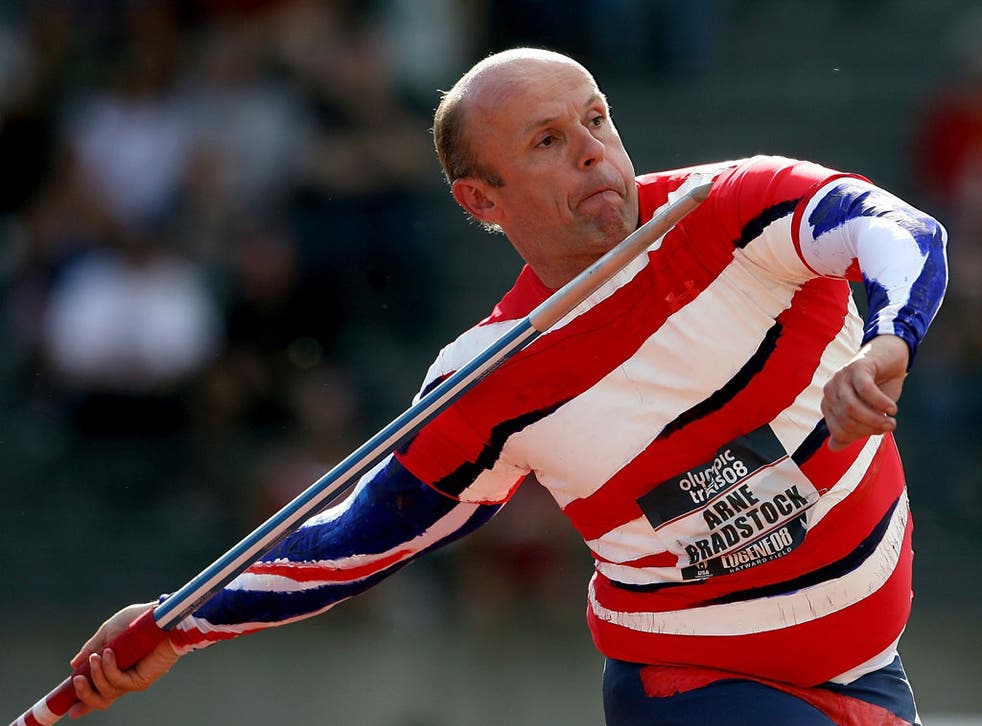 It was on 10 June 1984 that Roald Bradstock took part in his first Olympic trials. "It was in Gateshead, and on my very first throw I pulled my groin," recalls the javelin thrower and professional artist who has come to be known as "the Olympic Picasso". "It was the most excruciating pain. I just had that one throw – 74 metres – with one hand in the air and one hand on my leg."
Bradstock finished fifth but was still selected for the Games in Los Angeles. It's a fair bet that he will match or even better that placing when he competes in the 2012 trials at the Alexander Stadium in Birmingham next Saturday. Now 50, he stands fifth in the British rankings in the javelin this year, with a throw of 72.35m. Dwain Chambers is ranked seventh in the 100m.
It would be a stretch, however, for the Hertfordshire native – who settled in Atlanta several years ago – to make the British team for the London Games. Mervyn Luckwell having achieved the A-standard distance, Bradstock would need to throw 82m to secure a place.
Still, the fact that he will be challenging for selection at an eighth Olympic trials meeting is a stunning achievement in itself. Imagine Sebastian Coe, Steve Ovett, Allan Wells, Zola Budd or any of Bradstock's other Olympic team-mates from those LA Games of 28 years ago donning their spikes and trying to roll back the years at the trials next weekend? No, thought not.
None of the four javelin throwers ahead of Bradstock in the current British rankings were even born when the remarkable soul who has overcome spina bifida, who won Olympic recognition for his art and who holds the world records for throwing an iPod (154 yards) and a goldfish (56 yards) competed as a team-mate of Coe and Co in LA.
"I look at this, as far as the Olympics go, as my grand hurrah, if you will," says Bradstock, who finished seventh in the 1984 Olympic final, was also a member of the British team in Seoul in 1988 and (during a period of transferred allegiance) was reserve for the United States team in Atlanta in 1996. "I want to go out with a bang, not a whimper.
"There are always unscheduled things that happen but right now I'm on target to get a season's best, if not break my distance from last year [74.73m], which would put me right up there. Call it ambitious, but I think I can finish top three on the day, as long as my body allows me to.
"I may not win it but I want to take as many scalps as I can. I guarantee this: there's no athlete out there who wants to be beaten by a 50-year-old. That's my motivation."
That incentive has been stoked by those who have frowned upon the sight of a half-centurion still in the thick of the competitive action – or trying to get there, at least. "I couldn't tell you how many times this last year I've been stopped at a meeting and asked to leave because they're having a competition and they don't allow parents or coaches to be out on the field," Bradstock says, chuckling. "I just hope they don't stop me going out in Birmingham."
The former Enfield Harrier has been defying convention since the age of six, when he was diagnosed with spina bifida. "I think that was a definite turning point," he says. "If you tell me I can't do something, it's more motivation to do it. I've always been like that.
"Being an athlete and an artist, it's about pushing the envelope. I've always believed that my limitations have been physical rather than mental. I've always been able to visualise that I can throw the javelin out of the stadium; I just can't do it physically. And why not compete at 40, 50, whatever?
"I've changed my approach to training and throwing over the last few years. I look at it as an art project. I've had to modify the way I train and be very creative to work around the limitations I have. If I can perform well on the day, I look at it as my masterpiece."
And not the only one. In 2000 he won the US Olympic art competition and his work was exhibited at the Olympic Museum in Lausanne: hence "the Olympic Picasso". He has also attracted approaching two million hits on YouTube for his penchant for throwing assorted objects over record distances.
"I'm getting contact numbers every day from people wanting to challenge me to throwing pebbles in Sicily, sardines in Australia, cow pats in the Mid-west," he says. "There's a whole slew of new records I want to go for."
Golden oldie Olympians
Hiroshi Hoketsu: The 71-year-old Japanese rider will compete in the individual dressage at London 2012. He was 23 when he made his Olympic debut in Tokyo in 1964.
Oscar Swahn: The Swedish shooter was 72 at the 1920 Antwerp Games, winning silver in the team running deer double shots. He is the oldest Olympian on record.
Mary King: Turned 51 on 8 June, and last Monday she was selected in the GB three-day event team. Will make a record-equalling sixth Olympic appearance for Team GB. Lorna Johnstone: Britain's oldest Olympian turned 70 just before competing in the dressage in Munich in 1972. She finished 12th.
Simon Turnbull
Join our new commenting forum
Join thought-provoking conversations, follow other Independent readers and see their replies