Seb Coe 'sad' his 'friend' Nick Davies was sacked, as he insists he is too busy to appear before MPs
Davies was sacked for lying about £25,525 received in personal payments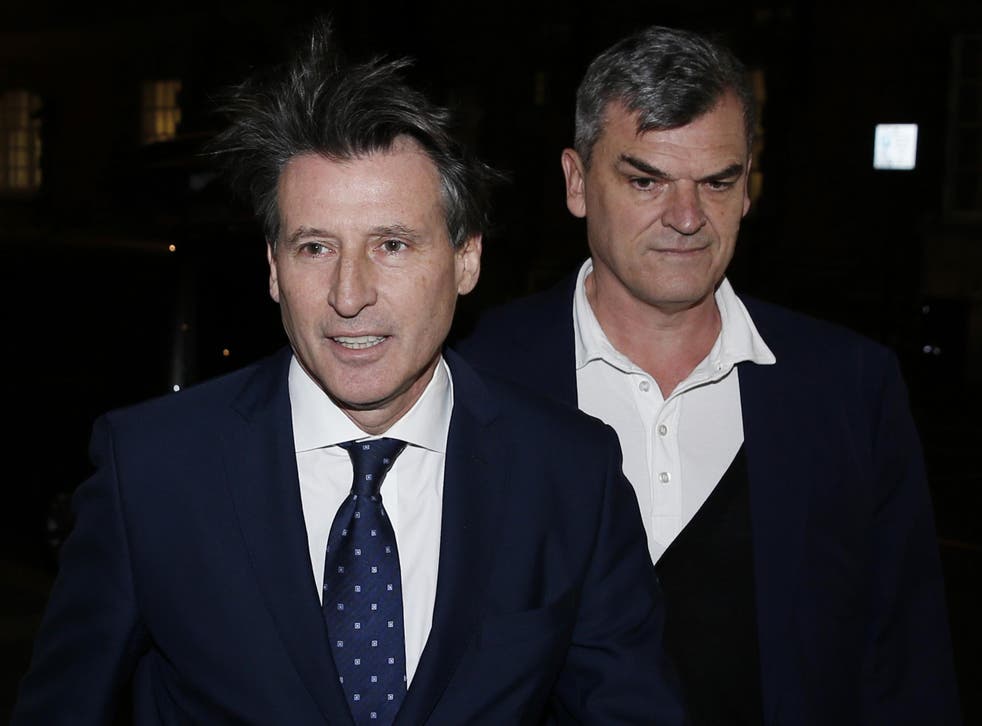 Sebastian Coe has expressed "sadness" that his "friend" and ex-chief of staff Nick Davies has been sacked for lying about £25,525 received in personal payments and insisted that he is too busy running world athletics to appear again before an investigative committee of MPs.
Coe denied that the decision of an IAAF ethics board to allow Davies to remain in athletics was "lenient" – observing that it was the decision of an independent entity. "It investigated not just Nick but two other colleagues within the structure and that was the determination," Coe told the BBC. "That's a matter of personal sadness to me. This is not an outcome … We've abided by that."
Asked if Davies was a "friend", Coe replied: "Yes absolutely."
Damian Collins MP, who chairs the culture media and sport select committee which has requested Coe re-appears, has indicated to The Independent that he considers it "extraordinary" that Davies is free to work in athletics, having initially lied, by telling IAAF Ethics Board investigator Sir Anthony Hooper that he had received no money from the son of Lamine Diack, who has been handed a lifetime athletics ban for his part in a Russian doping extortion racket. Collins is unconvinced that the IAAF's Ethics Commission, chaired by Michael Beloff QC, is "independent enough."
The ethics board ruling revealed how Davies emailed Diack, hours after receiving the money, to suggest that that CSM Sports and Leisure – of which Coe remains executive chairman – should be considered for a campaign to improve the image of the Moscow World Athletics Championships, in the face of doping allegations. Coe's own "political influence in the UK" could also used, Davies suggested to Diack, who is now under French police investigation for corruption.
The Davies email was sent on July 19, 2013. On July 30, Coe was in Moscow, where he gave a press conference about the World Championships, which were to start 11 days later - stating the event would include "some of the world's greatest competitors, both domestically and internationally" and that drug abuse would not go undetected.
"The message that should emanate from the last few weeks, is that the IAAF (and others) take the abuse of drugs in sport very, very seriously," Coe said during the July 30 event at the Luzhniki Stadium, where as IAAF vice president he was promoting the organisation's blue riband event. "If you choose to cheat, the technology is there and the will within the IAAF and within the international federations and the national governing bodies is there to make sure that our sport is clean," Coe continued.
A WADA commission investigation by Dr Richard McLaren found last year that state-sponsored Russian doping was "planned and operated" from late 2011 and continued until August 2015, though there is no suggestion that Coe or Davies knew that.
The state-sponsored news agency RIA Novosti focussed on Coe's answer to a question about what he thought of the medals, at the July 30 event. "There is everything I like about these medals," he said. "It's traditional in shape and it feels right in the athlete's hand. I think it is a perfect medal."
Collins feels that the findings of the Davies investigation calls into question the idea that Coe knew nothing of Russian doping. The suspicion is that Coe may have been reluctant to risk his IAAF presidential election chances by blowing the whistle on Russia and thus antagonising Diack.
"I didn't mislead them," Coe said of the CMS committee. "I didn't mislead any select committee. I have a global sport to run across 214 countries. They have a report to write. I have furnished that committee with every piece of information they have asked of me.
"I appeared before [the committee] for over three hours not that long ago," Coe said. "And this is a situation for me that is very important to me that I am able to focus on all the things we have talked about [relating to the running of athletics]. I have to focus on that. I have the trust in the sport and that's very clear on a daily basis."
Join our new commenting forum
Join thought-provoking conversations, follow other Independent readers and see their replies