Sebastian Coe plays the victim just like his old pal Jose Mourinho
IAAF chief short on self-awareness in his attempts to absolve himself of any blame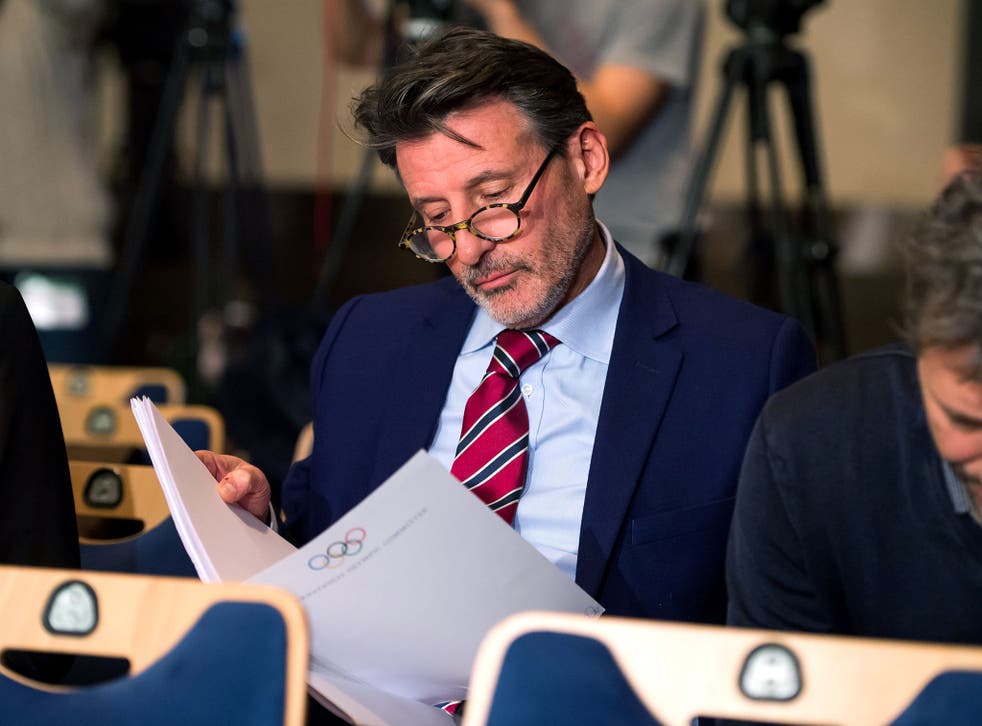 Vitaliy and Yuliya Stepanov are currently in their eighth country of exile after more than a year in hiding. Germany was the first of those to offer sanctuary to them and their child, Robert, but where the life of hotels, apartments and assumed names has taken them since then is unclear to any of us, not least their own parents.
Such has been the outcome of blowing the whistle on the criminal and institutional levels of doping in Russian athletics. Ask the families of Alexander Perepilichny, Sergei Magnitsky and Alexander Litvinnko what the consequences of such revelations can be. It really does not bear thinking about.
It was the Stepanovs who came to mind when reading Sebastian Coe's first extended newspaper interview since the organisation he leads was revealed by Dick Pound, of Wada, last week to be a full and active participant in the cheating.
It was a melancholic picture of private angst that Coe painted for us at the weekend: of how the exposure of his International Association of Athletics Federations' institutional corruption had been a personal torment for him, not least when, as he said, "I had supper the other night with my old training partners from Loughborough", and, as he told it, had looked into their faces across the table. You could almost picture the reflection of the candlelight in their eyes. When the German journalist Hajo Seppelt met the Stepanovs in December, it was across a wooden pub table, at the back of their latest lodgings, in the dusk.
The Mail on Sunday interview made for compelling reading – pushing Coe on exactly what Nike has being paying him £90,000 a year for, while simultaneously helping land the IAAF's 2021 World Championships for its Oregon base in the backwater town of Eugene, without having to go through a bidding process. But with its lack of contrition or public acknowledgement for the real victims, the article revealed this man's painful lack of self-awareness. In its place comes choreography. You know and I know that Coe's beard looks like a cultivated part of a new persona: the world-weary leader, braving the slings and arrows and bad guys all at once. But he can't see that we can see it.
In certain respects, he is a little like that football manager he has adored and exchanged occasional text messages with, after he had arrived to bring the good times to his own beloved Chelsea. Jose Mourinho is equally prone to that lurch to victimhood. The two also share an almost pathological inability to discern the blinding contradictions in what they say and to see that the view of them, from the outside looking in, is just not all that good. "We're not in denial." Then: "Yes, we were in denial." "The newspaper allegations about Russia are rubbish." Then: "We must circulate newspaper allegations like this internally far more."
It's the single-minded champion in both which makes this so. Coe makes the comparison often with the challenges of governance and those he once faced on the track. "The challenge is pretty much the same as claiming a personal gold medal," he said, when starting his quest to bring the Olympics to London.
Olympic gold medals, just like Premier League titles, were rarely won by introspection. Coe's often difficult relationship with the media may also have contributed to the way he has denigrated the journalism which has brought truth into the light. Coe's friend Alastair Campbell alludes to it in his interview with Coe for his book Winners. The section recalls the newspaper pieces on Coe's so-called dysfunctional family in 1984, when, having been written off, he won the 1500 metres Olympic gold in Los Angeles. He hated journalists. "They deserved it," Coe tells Campbell. "It was the nastiness of it."
Campbell's interview with Coe for GQ magazine before Christmas came with the acknowledgement that they were good friends and perhaps he, with his acute sense of how things do look from the outside, could lend Coe a hand and a critical ear. Campbell would surely tell him that appearances do matter in a sport whose credibility is shot apart. That it is simply not sustainable for Coe to maintain the intellectual position that taking an excellent salary from Nike – the sponsors of serial drug cheat Justin Gatlin, on the eve of a 2015 World Championships in which the American was a high-profile competitor – was fine.
The Nike involvement threatens to stalk Coe through all his attempts to build up athletics again. Email correspondence from the office of the Governor of Oregon, Kate Brown, obtained under Freedom of Information, was revealing in this respect, when shared with me at the weekend. It showed Eugene's excitement that its attempts to persuade Brown to stump up public cash for the 2021 championships had been boosted by a one-hour meeting between her and Coe, scheduled for 10am last Thursday.
Coe cancelled the engagement, and a four-day trip to Oregon, on 8 December, six days after a parliamentary select committee took a dim view of his pecuniary relationship with Nike. The meeting would have occurred on the self-same day Pound was excoriating the IAAF. That's how close he was to another PR disaster. In the weekend interview, he steadfastly refused to accept that receiving Nike money was a problem. "I know what is right and I know what is wrong," he said.
The Stepanovs would be willing to cooperate with the IAAF's investigations into Russia, though Coe and his people appear to consider that unnecessary. No one from the organisation has uttered a word of public acknowledgement for what the couple have done and their sacrifice. So they're left there, somewhere in northern Europe, alone with their nomadic lives, their alienation and their worries about how they might best educate a son.
How right Coe's sign-off was when he said of his own struggle: "You'd be bemused if I said to you that this wasn't personally a tough moment. But to me that's a bit of an irrelevance."
Join our new commenting forum
Join thought-provoking conversations, follow other Independent readers and see their replies