Sign of times for Greg Rutherford: Long-jumper designs logo and creates own brand of kit as Britain's Olympians struggle for backers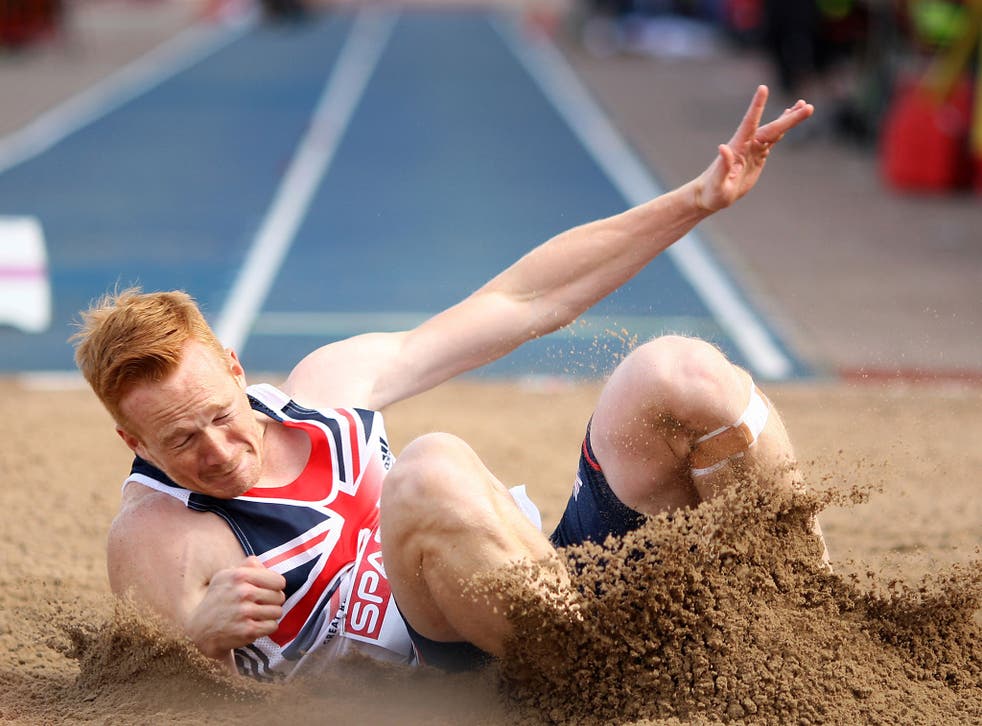 In the grounds of the Alexander Stadium yesterday there was a queue snaking back 100 yards to get into the British Athletics Icons Marquee. Inside the temporary structure was a collection of memorabilia on loan from the all-time greats of British track and field: vests, running spikes and medals.
There was a display celebrating the 45-race winning streak that Steve Ovett accumulated in 1,500m and mile races between 1977 and 1980. There were no products, however, from the personalised sports clothing range that Ovett launched only two years after he struck 800m gold at the 1980 Olympic Games in Moscow.
The Ovett brand bit the dust after a couple of years, costing the great middle-distance man dearly – and proving that all those who glitter in the Olympic arena do not necessarily find gold outside it.
Ten months on from his winning leap at London 2012, Greg Rutherford has come to appreciate that sobering reality. His endorsement contract with Nike expired in December and, despite his step up in status to Olympic long-jump champion, he was offered a deal on reduced terms.
Hence the 26-year-old Milton Keynes athlete will appear on the second day of the Sainsbury's Grand Prix weekend here this afternoon in a singlet bearing his initials and a logo of himself in mid-flight. In the absence of a post-Olympic sponsorship deal, Rutherford has created a kit company of his own: GRavity.
"I am hoping to officially launch it in a week or so," he said, wearing a GRavity training top at the press conference for today's Diamond League meeting that follows on from the inaugural International Paralympic Committee Grand Prix final that attracted the best of Britain's Paralympic stars to the Alexander Stadium yesterday.
"Hopefully, it will prove to be a good investment," he said. "I am just trying to make the best of a bad situation, really. I've not had a kit sponsor jump on board and say: 'We'd love to help you.' But it's not exactly the easiest time for people. We're in a bad economic situation and I think the number of people throwing money into sport has dropped dramatically."
For Ovett, throwing his own money at a similar problem in the early 1980s was a gamble that backfired. "I was sort of wondering, 'Why has this never been done before?'" Rutherford pondered, upon being informed of Ovett's failed venture. "I thought, 'Either nobody's sort of put it together right or it's just an awful idea'. We'll find out very quickly if it's been an awful idea and if the investment has been a waste.
"But you've got to try these things. It gives me an opportunity to see what it's like running a business. Once I've retired from track and field, I will need to know and understand that anyway.
"I had a few jobs before becoming a full-time athlete but they were as a waiter, a ski-slope patroller and working at Gap, so ideally I won't be going back to anything like that."
Perhaps the long jumper will find a Midas touch away from the track and end up like Ron Hill, although the great British marathon man did not just put his name to the clothing company that has lasted almost as long as his famous running streak (the septuagenarian has not missed a day's training since 1964). Hill applied his knowledge as a doctor of textile chemistry to the manufacture of synthetic running clothing.
Whatever fate may befall GRavity, Rutherford is not the only leading light of London 2012 who has fallen to earth with a bump on the sponsorship front. Indeed Hannah Cockcroft, the wheelchair racer from Halifax who won 100m and 200m gold in the T34 class at last year's Paralympics, has lost every one of her sponsors bar one.
"It's not how we expected it to be but you've just got to appreciate what you've got and get on with it," the 20-year-old said after taking to the track yesterday. "There are a lot of athletes out there and the whole of Britain's having financial problems. Companies just can't afford to give athletes money any more."
It was a pity that only around 4,000 paid to watch Cockcroft and Co in the IPC Grand Prix final. It was not the best of days for Shelly Woods, who broke a wheel in the warm-up and had to scratch from the T53/54 1500m, or Richard Whitehead, who was disqualified for a false start in the T42 200m.
There was also a shock defeat for David Weir. The quadruple London 2012 gold medal-winner finished in the slipstream of Switzerland's Marcel Hug in the T54 1500m, clearly lacking sharpness in a year in which he is concentrating on road racing.
Still, Cockcroft blitzed to victory in the T33/34 200m, clocking 32.19sec. Jonnie Peacock won the T43/44 100m in a lightning 10.90sec. All of which sent the Birmingham crowd home happy enough.
Join our new commenting forum
Join thought-provoking conversations, follow other Independent readers and see their replies