Sir Chris Hoy: Invest now in sporting success or we'll throw Olympic legacy away
Sir Chris Hoy tells Tim Rich that Britain's gold medals and euphoria will soon dry up if we fail to back our future athletes now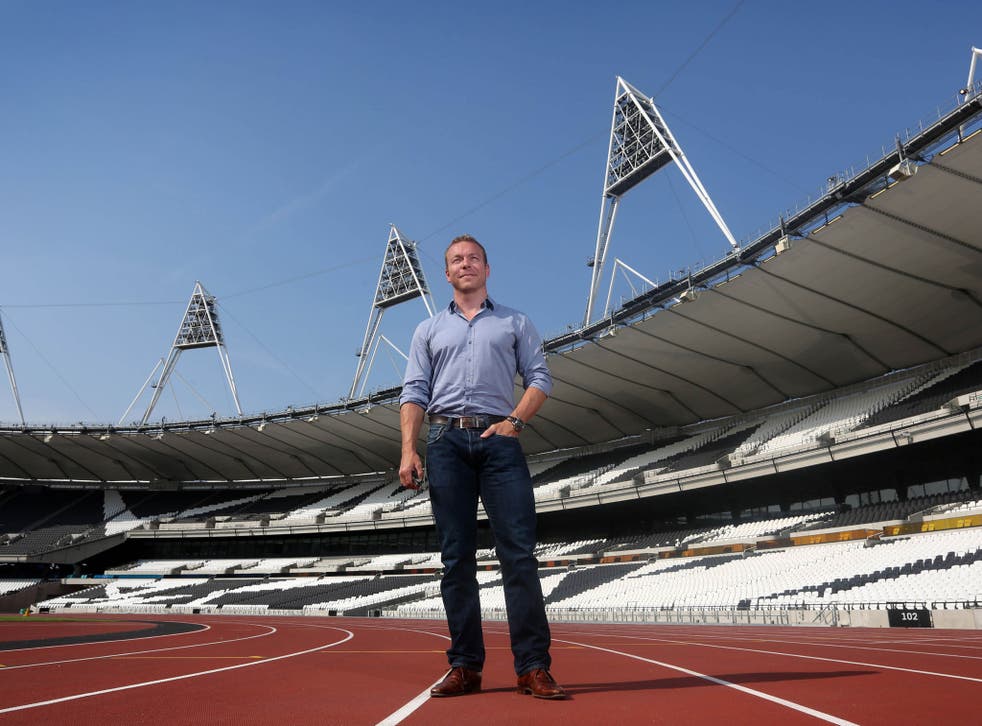 The Anniversary Games were a spectacular encore to London 2012, another piece in a glittering sporting mosaic that already features the Lions, Wimbledon and the Ashes. However, should you want proof that sporting success does not last, you could have gone to Hove to see Sussex play Australia – the team that once laid waste to English summers but which is now limping through the cricket season, their magic spent.
Sir Chris Hoy began the London Games carrying the Union flag into the arena and ended it as Britain's greatest Olympian and yet he argues that the games that really change a nation are the ones in which they fail.
"The danger that comes with success is complacency," he said. "That's what you should be afraid of. The only thing that can guarantee further success is investment. The success from London would still carry on for a few years without it because the athletes will still be there and their individual sponsorships will carry them along but, as they fade out, the gold medals will fade with them.
"It is the tournaments where you do badly that are often important. Australia had a terrible Olympics in Montreal in 1976. Because of that, they set up the Institute of Sport and threw money at it. Sports people started to gravitate towards Australia and you saw the culmination of that at the Sydney Olympics.
"It was the same for us after Atlanta, where we won one gold medal which was seen as something of a disaster for the GB team. Then, the National Lottery came on board. In 2000 we won 11 golds, in 2004 nine, in 2008 there was 19 and then you had London with 29. Money does not buy you medals but it builds a platform for them." No sport has a richer Olympic legacy than cycling and it spilled over from the Velodrome at Stratford on to the Champs Elysées where first Sir Bradley Wiggins and then Chris Froome won the Tour de France. Hoy argued at the time that Wiggins's victory was the greatest achievement by any British sportsman.
"I stand by that," he said. "Like Andy Murray winning Wimbledon, Bradley winning the Tour de France was such a monumental achievement psychologically. He wasn't just the first British winner, he was the first Briton ever to have been on the podium. And now we have the two greatest endurance cyclists in the world."
Hoy believes that Wiggins can come back to win the Tour again but he adds: "It is one thing becoming a champion. The hardest thing is replicating it."
This seems a strange thing from a man who has won six gold medals at three Olympics but Hoy has found the constant pressure to reproduce near-perfect performances intensely draining. It is one reason why when it came to fulfilling his ambition to bow out at the Commonwealth Games in Glasgow, he found he could not do it.
He is sitting in a room above the Velodrome that bears his name just across the way from Parkhead, where beneath the stands honouring Jock Stein and the Lisbon Lions, the opening ceremony will take place a year from now. Surely, he could have managed one more outing on the polished Siberian pine?
"That was my dream," he said. "I wanted to keep going for two more years after London and finish here but you have to be realistic about yourself. The event I do is very objective and clear cut. Sprint cycling does not allow for 'maybes'. You see your figures and you see your times and I knew I was not going to be at the level I needed.
"I had peaked and I had held on to my position at the top – just – and I had to ask myself whether I wanted to turn up, wave to the crowd and sign autographs while making up the numbers. In the old days I would probably have turned up, soaked up the culture and not worried too much about winning but sport has changed and rightly so."
It seems a pity that sport's sentiment and romance should have been squeezed out like toothpaste from a tube. "No, it's not a pity," said Hoy. "There will be an athlete who will step into my shoes and compete in the keirin. He may not win but he will have a future in a way he would not have done if I'd wanted this as part of a farewell tour."
Unusually, with a year to go, there have been no stories predicting that the facilities will not be ready or that they will bankrupt the city. The Velodrome and the Emirates Arena, which will host gymnastics and basketball, are finished in sleek dark materials. Ibrox will host the rugby sevens, Tollcross the swimming, and the athletics will take place on a removable track at Hampden Park.
There is, however, another factor. The closing ceremony takes place six weeks before Scotland votes on independence. The Saltire will be everywhere in Glasgow next summer. The chances of this being a non-political games seem slim.
"Maybe I am being very naïve but I would hope people see it as just a sporting event," said Hoy. "People will make something of it and I am sure politicians will do all sorts of things on the back of the Games but for the athletes it will only be about sport."
Scotland's last Commonwealth Games, at Edinburgh in 1986, were intensely political, wrecked by a boycott of African and Caribbean nations protesting that the Thatcher government's were not doing enough to combat the apartheid regime in South Africa. It had to be rescued by Robert Maxwell, who gloried in the role of saviour despite contributing a tenth of the money he promised.
Hoy remembers it for different reasons. "I saw sprint cycling for the first time – Eddie Alexander winning the bronze for Scotland. I was 10 years old and I couldn't understand why they were going so slowly. I had no idea about the tactics until they started this mental sprint. I never put two and two together and thought: 'This is on my doorstep' because I was so into BMXs but it must have planted a seed because a few years later I was competing in it."
And now he has stopped and is spending an increasing amount of time in cars, having driven a 1951 Jaguar XK 120 in this summer's Mille Miglia from Brescia to Rome. He and co-driver Andy Wallace, a Le Mans champion, finished 137th out of the 407 finishers.
"What has gone from my life is the pressure to repeat what you have already done," Hoy said. "What I have enjoyed most in my career is the learning process, the upward slope where you get better at something. I have never enjoyed it when you have reached a target and had to maintain it. I am not going to become the best driver in the world but I am seeing myself improve.
"I couldn't do the cars when I was cycling, not for insurance purposes but because there simply wasn't the time. The training is so intense. When you are not training, you are recovering, literally sitting with your feet up, taking the weight off your legs.
"That is your life as a cyclist. You sleep, you eat and you train. There is no room for anything else. An external life was something you just didn't do."
Sir Chris Hoy was launching the Official Ticketing Guide to the 2014 Commonwealth Games. Tickets go on sale on 19 August. For more information go to www.glasgow2014.com/tickets
Commonwealth countdown
Today – Sunday
Final week of World Swimming Championships in Barcelona.
10 – 18 August
Athletics World Championships held in Moscow, Russia.
19 August
First phase of ticket sales begins, running through to 16 September
15 – 22 September
Cycling's Tour of Britain takes place, running from Peebles to London.
26 February – 2 March 2014
Track Cycling World Championships in Cali, Colombia.
March
British Gas International Swimming Meet.
21 – 22 June
European Athletics Team Championships.
23 July – 3 August
Commonwealth Games take place in Glasgow.
Join our new commenting forum
Join thought-provoking conversations, follow other Independent readers and see their replies