Sport Relief 2014: Greg Rutherford jokes that he is more nervous about attempting Saracens 'Catch a Million' challenge than he was about his winning Olympic gold medal at London 2012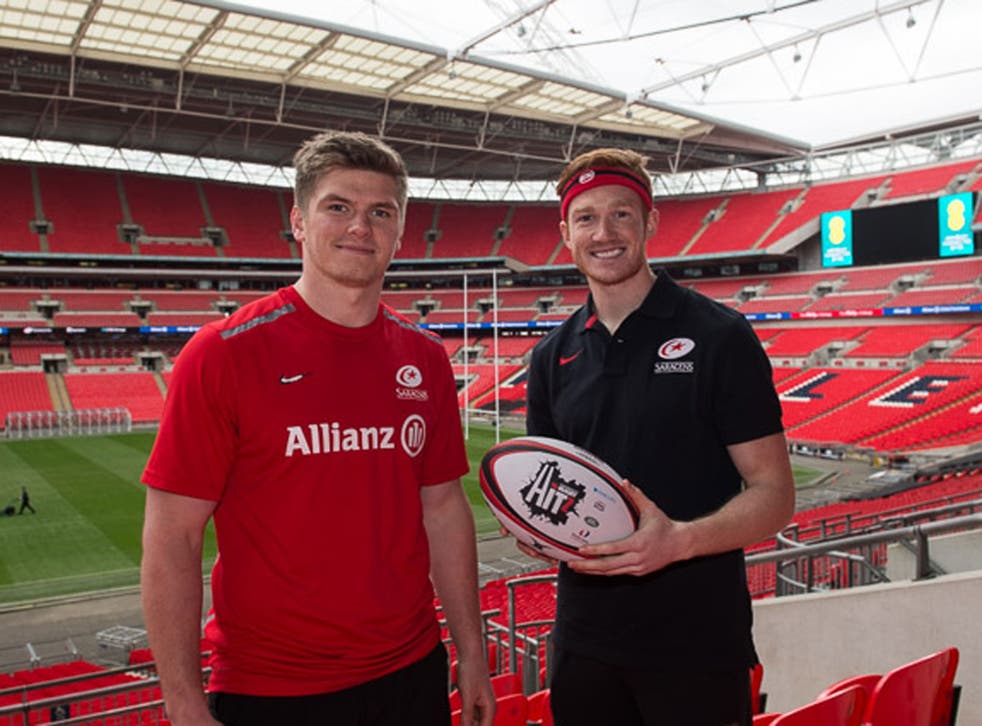 On Saturday Olympic long jump gold medallist Greg Rutherford will attempt Saracens 'Catch a Million' challenge in an attempt to win £1 million for Sport Relief, a task he has said he is more nervous about than his winning leap at London 2012.
Rutherford steps out in front of the biggest crowd for a club rugby union match in history at Wembley Stadium on Saturday to try and complete the half-time task, which will also be broadcast live on BT Sport. He has little rugby experience, has not been allowed to practise or receive any advice from the Sarries players, only being allowed to watch on as they trained ahead of their match against Harlequins at the home of football on Saturday.
The deck is certainly stacked against the Olympian as he looks raise a considerable amount of money for Sport Relief in front of over 80,000 people and he admits he has been taken completely out of his comfort zone and knows that there is a lot riding on him catching the three balls.
"I'm more nervous for this then I was for the long jump event at the Olympics, this task has got me completely out of my comfort zone, I don't do this, I don't train for this, where as if I'm going into a long jump competition I'm more relaxed as I've trained a lot and completed a lot and I'm ready to do it.
"Put me on a track and I'll be absolutely fine and I'll be fully confident, but put me in the middle of Wembley stadium in front of 80,000 people shouting at a rugby game, we will have to see what happens.
"It has been about 12 years or more since I've played a game of rugby let alone catch any high balls. I played a little bit for my school and a local club for a short period of time. But I was more into football and more obviously athletics" he said.
"I agreed to it and then I sat back and thought it could go really bad and if I don't catch all three I'm going to get absolutely battered by everyone so the pressure is on.
"If I don't catch all three then I'm going to be very upset and everyone is saying to me that if I catch two it will be fine and one is manageable but I have to expect to get all three, or else I'm setting myself up for failure already.
"My original thought when I agreed to it was I thought I was just going to catch and drop but apparently not. I wouldn't take two, I'm too competitive I'd have to go for the million; it's such a big difference from 10,000 to a mil and what a difference that amount of money would make from Sport relief" he added.
"It's a brilliant thing to do for charity but the more that's going on the more I'm realising how tough it is going to be. I'm really excited to try and do it and I'm wiling myself to win but I know it's going to be tough."
After attempting Saturday's challenge the real effort starts. Rutherford will travel to America to complete a six week training camp ahead of this summer's Commonwealth games. Since winning his gold the athlete has had his doubters, most notably Jonathan Edwards and Denise Lewis, he is aiming to prove them wrong and go one better than the silver he one at the last games and says that he is feeling confident.
"Really well, I leave for America on Monday for the training camp. I had a pretty good first competition when I came out and it was good to blast off the cobwebs after my injury, I want to upgrade the silver medal I got last time to gold and that's the aim for this year.
"When it comes to track and field I'm always confident, as long as I'm fit and healthy and I stay away from injuries then hopefully I can have another good summer.
"We will have to wait and see nothing has changed for me I'm training as hard, if not harder than before and I've got a good team around me so there is no reason why I can't do it again all I can say is watch out for me.
Greg Rutherford takes on the Catch-a-Million challenge for Sport Relief at half time during Saracens v Harlequins at Wembley on March 22nd. The match kicks off at 3pm and is exclusively live on BT Sport
Join our new commenting forum
Join thought-provoking conversations, follow other Independent readers and see their replies