Usain Bolt insists he is 'clean' following failed drugs tests for Asafa Powell and Tyson Gay
The Jamaican sprinter is in London to take part in this weekend's Anniversary Games at the Olympic Stadium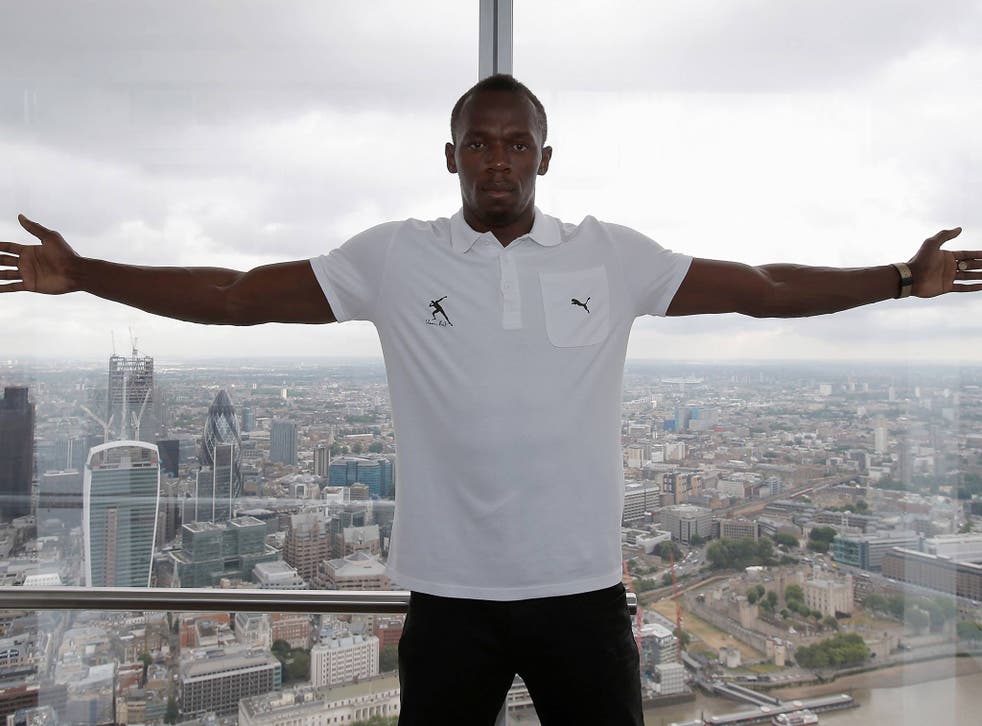 Usain Bolt is the first to admit that Jamaica is still reeling and the sport of athletics damaged by the latest drug scandals but the world's fastest man insists his results are down to talent and hard graft alone.
Inevitably there have been insinuations about the 100m and 200m world record holder following the positive tests of fellow Jamaican and former world record holder Asafa Powell and the fastest man on the planet this year, America's Tyson Gay.
But Bolt's message to those questioning his past performances that have earned him six Olympic gold medals and five world titles was irrevocably clear - "I'm clean".
Speaking for the first time since the failed tests by Gay, Powell and four other Jamaican athletes, Bolt admitted his surprise at the news but told the public they could dare to believe in him.
The 26-year-old, who was last tested by anti-doping officials on Tuesday, said: "I was made to inspire people and made to run. I was given a gift and that's what I do. I know I'm clean so I'm just going to continue running and using my talent.
Bolt is back in London to compete at the Sainsbury's Anniversary Games over the next two days and excitement of his return to the scene of his triple gold last summer has been tempered by insinuation currently flying around in a sport riled by a series of failed drugs tests.
He has repeatedly stated his case that he is clean and on Thursday pointed to his past results over more than a decade to point out that, while his track achievements have been exceptional, that as been the case from the age of 15.
"How long have people been following Usain Bolt?" he asked. "If you've been following me since 2002 you would know I've been doing phenomenal things since I was 15.
"I was the youngest person to win the world juniors. I ran the world youth record at 17. I've broken every record there is in every event I've ever done. For me, I've proven myself since I was 15."
Bolt is the figurehead for athletics - unquestionably the biggest draw - and as a result knows he will take a barrage of questions on the issue of doping. He admitted the latest negative news was "going to set us back a little bit".
Of the personal insinuation, he added: "For me, it happens. I'm not going to stress about it or worry about it. I've got a job to do and that's the focus. As a person I can't really focus on this. I still have the World Championships ahead of me. I have to really focus on that. That's what I'm trying to do."
As the time news broke of the five failed tests in Jamaica, their most high-profile athlete was training in Europe - he uses London as a base during the summer months.
While surprised at reports, he said he would not cast aspersions, insisting "there are a lot of details left to be discussed" and adding "I'm just sitting and awaiting the results. There are lots of things that haven't been done yet".
Bolt and Powell are good friends and were expected to run the 4x100m relay at the World Championships next month. Bolt revealed the pair had exchanged some text messages, Bolt telling his countryman to "stay strong and hopefully everything will work out".
As for Jamaica as a whole, he said: "I know it must be hurting. Jamaica are very proud of their athletes as they brought glory to our country but now it's kind of rough. Hopefully this will work out. I'll continue working hard and trying to make my country proud."
Join our new commenting forum
Join thought-provoking conversations, follow other Independent readers and see their replies