Usain Bolt plays in rain, but David Rudisha's world record bid is a washout
Jamaican wins again and Grabarz grabs high jump prize, but no glory for Kenyan 800m star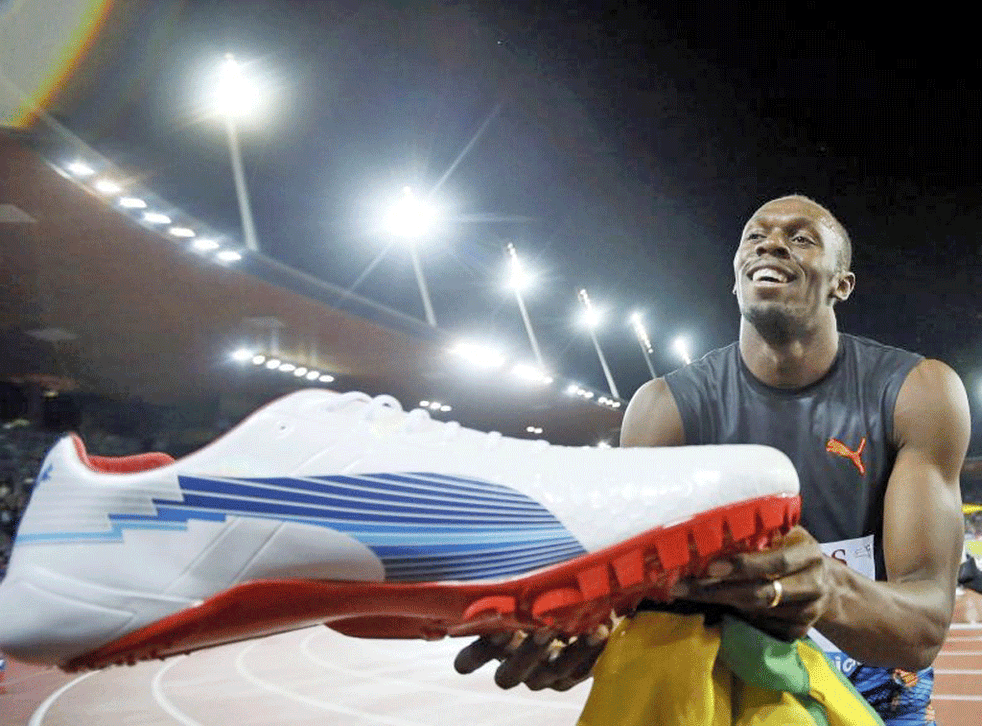 There was no metaphorical raining on Usain Bolt's latest post-Olympic parade in Zurich last night. It was different for the athlete who produced the standout run of London 2012.
While Usain Bolt produced another Swiss stroll of a 200m win, Yohan Blake racked up a routine 100m victory and the burgeoning Brit Robbie Grabarz claimed the Diamond League high jump prize of $40,000 (£25,000), despite a defeat on the night), David Rudisha was beaten by the clock and by a teenage rival on the rain-sodden track at the Letzigrund Stadion.
The Swiss rain certainly put paid to any hopes of Rudisha improving on the stunning 800m world record he set at the Olympic Games, 1min 40.91sec. The Kenyan had remained in Europe after the Games specifically to have a shot at his two-lap time in Zurich but the wet conditions were not to his liking.
Rudisha made no attempt to stick on the heels of pacemaker Sammy Tangui on the opening lap and when his fellow Kenyan dropped out he was gradually closed down by Mohammed Aman of Ethiopia. Aman, just 18, scented blood around the final turn and sprinted past in the home straight to win in 1min 42.53sec, an Ethiopian record.
"I never feel good when the track is wet and it is raining," confessed Rudisha, the runner-up in 1:42.81. The Maasai warrior has lost just twice in three summers, on both occasions to Aman, who beat him in Rieti in September last year but could finish only seventh in the Olympic final in London. There were two Britons in the field last night, Andrew Osagie finishing fifth in 1:44.94, with Michael Rimmer sixth in 1:45.06.
Grabarz needed only to beat the American Jesse Williams to claim the Diamond League high jump prize and managed to do so with a second-time clearance at 2.28m. He was beaten by Olympic champion Ivan Ikhov, the only man to succeed at 2.31m, but had the consolation of a $40,000 cheque at the end of a breakthrough season – a year after almost quitting the sport to take the offer of a job restoring classic cars.
"It's been an incredible year – European champion, Olympic bronze medallist and Diamond League winner," Grabarz reflected. "It's crazy. It hasn't quite sunk in yet."
It has not been a bad year for Bolt, with three Olympic gold medals. Last night he played to the gallery, making shivering gestures on the start line before ambling around the turn and picking up the pace in the home straight to make 19.66sec look like a jog.
"It's been a long season for me," he said. "It's been up and down." It has also included a visit to Old Trafford – last weekend – to see his beloved Manchester United.
"I definitely think I can do a good job for them," Bolt said. "I sat down and talked to Sir Alex. He said if I want to come and train for a couple of days I can. I think I'll be a winger."
No doubt Blake would be happy if the clowning Bolt did become a Premier League winger. He won the 100m in 9.76sec last night, after Tyson Gay had been disqualified for a false start.
There were third-placed finishes for Britons Steve Lewis in the pole vault (5.55m) and Shara Proctor in the long jump (6.80m) but Christine Ohuruogu was eighth and last in the 400m, clocking 52.41sec.
Join our new commenting forum
Join thought-provoking conversations, follow other Independent readers and see their replies