World Athletics Championship 2015: Mo Farah puts difficult year behind him by storming to 10,000m gold
Farah's coach Alberto Salazar has been accused of doping but the two-time Olympic gold medalist did his talking on the track in Beijing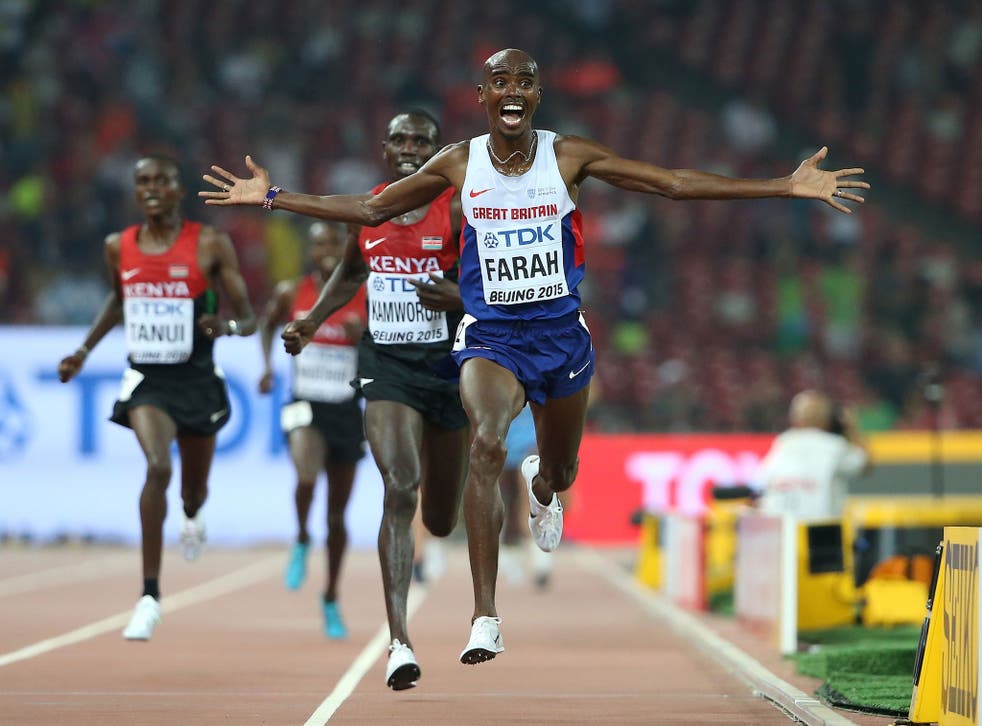 Mo Farah knew it, his coaching team knew it, even the Kenyan athletes who tried to derail him mob-handed knew it.
As brilliant a run as it was, there was a sense of inevitability about Farah's 10,000 metres gold and that is not to denigrate the achievement, simply to highlight the manner in which he has so consistently dominated distance running.
Farah's victory inside the Bird's Nest was his sixth global title, fitting in a stadium that had previously been one of heartache, as he agonisingly missed out on a place in the final of the Olympic 5,000m in 2008.
He left those Games with his head down. Irrespective of what happens in the 5,000m, he will leave this time with his head high. He has the chance to further cement his name in the pantheon of athletics greats and turn heartbreak to history by becoming the first athlete to win double gold over 10,000m and 5,000m at three successive global championships.
Not even a dramatic stumble at the last-lap bell after being clipped by Geoffrey Kamworor – a heart-stopping moment that briefly curtailed Farah from his trademark kick for the line – could deny him.
In the build-up, the Londoner had laid down the gauntlet to the Kenyans with a "come and get me" plea, and the trio of Kamworor, Paul Tanui and Bedan Muchiri responded from lap three of 25.
That, coupled with the turbulent year that Farah has endured off the track – amid doping allegations against his coach, Alberto Salazar, and training partner Galen Rupp, who finished in fifth – made it the hardest of his four world title wins, although perhaps just marginally below London 2012.
"I think the Olympics were pretty tough because of the pressure; being at home, I felt that a lot," he said. "But at the same time it was never that quick so it always came down to the last bit, but tonight it was hard. I knew it was going to be hard."
Half the battle, it seemed, had been won before the start line. An email had done the rounds between Salazar, British Athletics' performance director, Neil Black, and the body's endurance chief, Barry Fudge, on Farah's final training session, leading to exclamations of "Wow!"
Such was the confidence that Black admitted beforehand there would have been a mentality of "bloody hell, if Mo can't win then no one can", and once more he duly delivered to give Britain the perfect day one springboard to the championships.
But there were nervous moments on track, notably when he took on water in the early laps – not usually part of the plan – when the Kenyan trio collectively tried to up the tempo, a trick they bemusingly had failed to do in past championships, and again with the late trip.
Farah had hinted all season that all the required facets were there: the endurance from winning over the same distance in Oregon to the pace shown in finishing fourth in an electrically fast 1500m in Monaco last month.
The bigger issue appeared to be his mental fortitude in the wake of stories of his missed drugs tests in the lead-up to London 2012 and the United States Anti-Doping Agency (Usada) investigation into Salazar. But those around him have talked about the manner in which he can shut that all out when it comes to training – from Ethiopia to Portland and Font Romeu – as well as competition. The partnership has been one of controversy in recent months but also one of remarkable success: the only championship race Farah has lost outdoors with Salazar was their first in Daegu in 2011.
With such a tumultuous backdrop, which included a recent five-hour interview by Usada, Farah admitted afterwards: "For sure, it means a lot because there's sometimes certain things that happen out of your control. You can only control what you do and I am controlling what I am doing and winning races and it's really nice to be able to do that and I really enjoy it."
For the first time at a major championships, the family were absent, his pregnant wife, Tania, at home in Portland with their three daughters but getting up to watch the race.
It followed the usual pattern, Farah seemingly at ease as the Kenyans mixed the pace, Muchiri setting much of the tempo with occasionally aggressive tactics towards the isolated Farah.
But after 25 laps the finale was just the same, Farah moving into the lead in the home straight and crossing the line with a wide smile and arms outstretched half a second ahead of Kamworor, with Tanui taking the bronze.
Of his near-tumble to the track, Farah said: "At one point, I honestly thought I was gone as I stumbled and I was thinking, 'Not 24 laps into it, the last lap'. I was trying to go round and the Kenyan guy Geoffrey [Kamworor] caught my leg. So I almost stumbled and managed to stay on my feet, go round to the front and make sure I had something left at the end. It was close, it wasn't easy."
Whether the double is on is another matter, the ensuing days allowing him and Salazar to see how well his body has recovered from a quick race (just over 27 minutes) in the hot and humid conditions.
He was modest in his own predictions: "It is possible," he said. "It all just depends on how the race happens. I've got to get through to the final and, once I get there, I've got to beat them."
Past scripts suggest it will play out in similar fashion.
Join our new commenting forum
Join thought-provoking conversations, follow other Independent readers and see their replies