World Athletics Championships: James Dasaolu only wants to go fast – not be known for frailty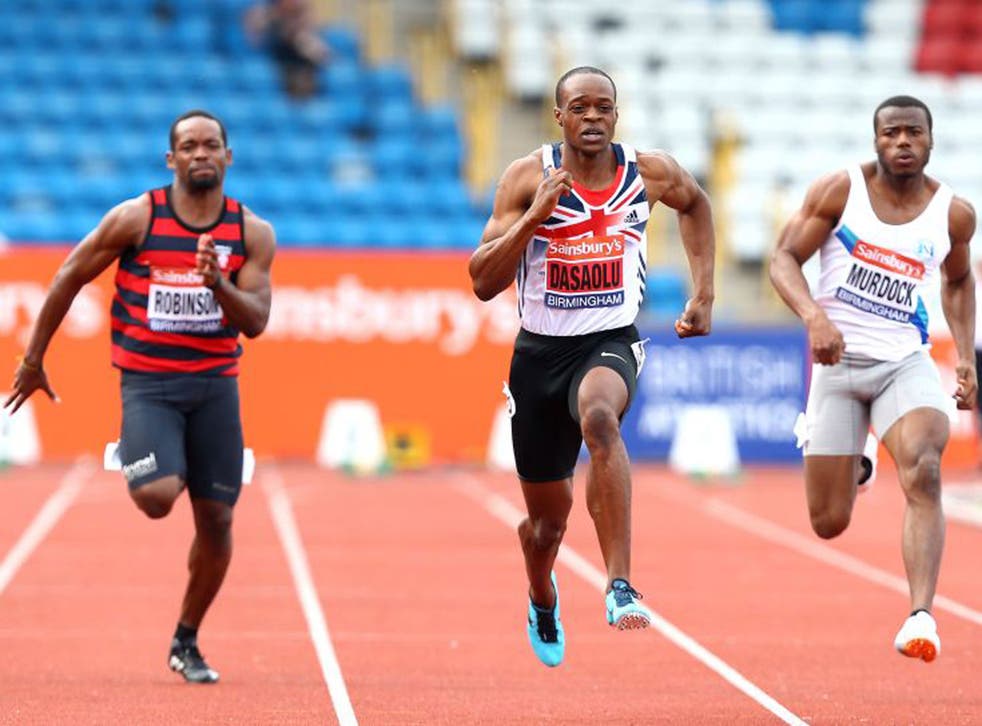 There is one big question hanging in the air from a Great British perspective as the blue riband event of the 2013 World Championships approaches. Is James Dasaolu just a one-heat wonder – or a real deal speed merchant who can last the course when the heat of global battle is on?
We shall find out in the Luzhniki Stadium tomorrow and Sunday over the three-round course of the men's 100m. It is one thing for the Croydon Harrier to go crashing through the 10-second barrier with a vengeance when the pressure is off in the semi-finals of the British trials in Birmingham. It is quite another to back up that blistering 9.91sec clocking, or go even quicker, when World Championship medals are on the line and Usain Bolt and Justin Gatlin are in the lanes beside you.
Not that the new kid on the world-class blocks has any doubts about his ability to stay the course and endorse his credentials – despite withdrawing from the final of the British trials with cramp and from the Anniversary Games in London because of a tight hip, and a history of physical frailty stretching back to his initial breakthrough as a sub-10.10sec sprinter four years ago.
"It doesn't matter what happened leading up to Moscow," Dasaolu insisted. "I am very confident that I can do the rounds out here. If you look at the 60m at the European Indoor Championships in Gothenburg in March, I got through the rounds okay [taking silver behind Jimmy Vicaut of France in the final]. It has been all about being as ready and fresh for Moscow. That's why we haven't pushed it so far this season."
The harsh reality is that the south Londoner will need to push himself to the limit in both semi and final on Sunday – if not in the first round tomorrow – to have any hope of forcing his way into the medal mix. He might lie sixth in the world rankings (fourth, if you exclude the absent Tyson Gay and Asafa Powell), but any frailty is liable to be ruthlessly exposed.
The F word has come to annoy Dasaolu. "Me and my coach are trying to get away from this tag," he said, when asked about being pegged as perpetually frail. "I have people around me who believe in my body and their opinions are all I really care about."
There are those who believe – and not without good reason – that Dasaolu is more than capable of becoming the first Briton in 10 years to make the World Championship 100m podium. "I think I'm a progressive athlete," Dasaolu himself said. "I've run 9.91sec and I expect to run quicker, so yes, it's a good opportunity."
At 25, for all of his trails on the injury front, Dasaolu is already the second fastest British runner of all time. His ultimate aim is to become the fastest. "My career goal be to break Linford Christie's British record [9.87sec]," he said. "I feel I have a lot more to improve on."
Flying Brits: Leading 100m times
Linford Christie dominated the list of fastest Britons before James Dasaolu shot into second place last month:
1 L Christie (1993, Stuttgart) 9.87sec
2 J Dasaolu (2013, Birmingham)9.91
3 Christie (1994, Victoria) 9.91
4 Christie (1991, Tokyo) 9.92
5 Christie (1992, Barcelona) 9.96
6 Christie (1988, Seoul) 9.97
7 Christie (1993, Stuttgart) 9.97
8 Christie (1995, Johannesburg) 9.97
9 D Chambers (1999, Seville) 9.97
10 Christie (1994, Victoria) 9.98
Join our new commenting forum
Join thought-provoking conversations, follow other Independent readers and see their replies