World Athletics Championships: Usain Bolt sprints away from questions about doping
World's fastest man shuns media as Jamaica team-mates stay upbeat despite accusations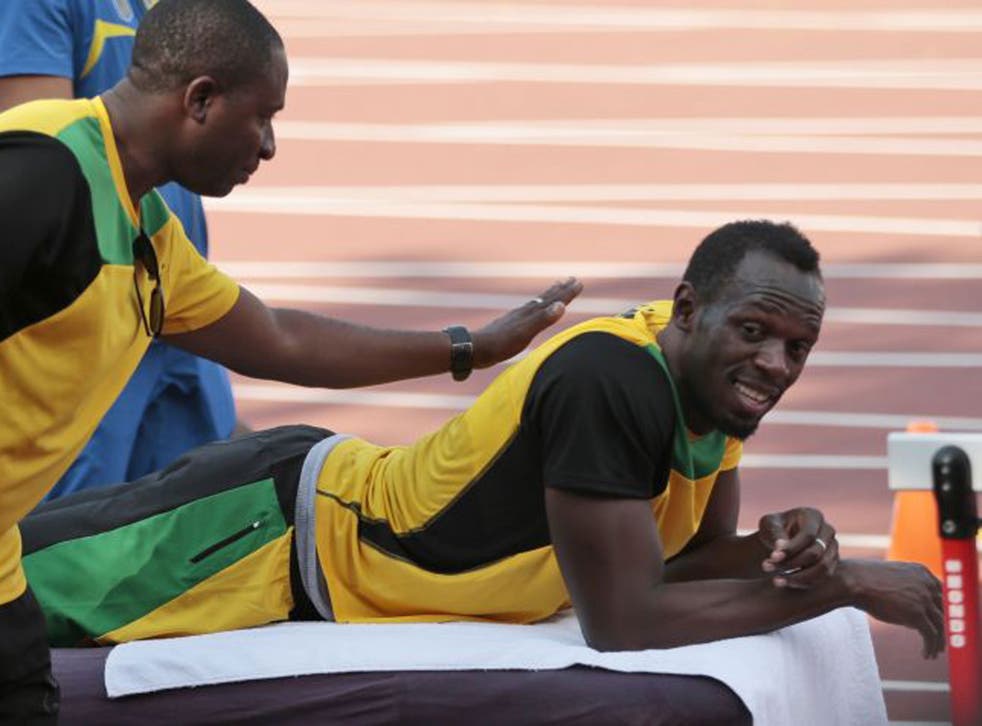 The quickest Usain Bolt moved in the final half an hour of the Jamaican team training session at the warm-up track in the shadow of the Luzhniki Stadium was when he sprang up from the massage table and bolted off in the opposite direction to the waiting press corps.
Instead of the world's fastest man, who was said to be "in good shape to run very well", according to his coach Glen Mills, it was left to one of his training partners to face the cameras and the microphones at the hastily-arranged Jamaican team media day – and the inevitable questions about doping.
"It's always good to give people good news after the bashing our sport has gotten," said Warren Weir, the 23-year-old who completed a Jamaican clean sweep of the medals behind Bolt and Yohan Blake in last year's Olympic 200m final. "People want to see people running fast and clean and it's always good to show them there are still clean ones out there."
With the tally of Jamaican positive tests having reached 16 in four years with the recent crop that included Asafa Powell, questions have been asked about the legitimacy of the Caribbean isle's sprinting dominance. Writing in the New York Daily News earlier this week, Victor Conte, the chemist behind the Balco drugs scandal, stated: "The sudden rise to world dominance by numerous male and female Jamaican sprinters, coupled with such a number of positive drugs tests, is highly suspicious in my opinion."
Weir, however, insisted: "Yes, you can still believe there are good athletes out there. I myself am one of the clean ones. You can't bash all for some.
"It doesn't affect us. We're a country that rallies together and whether it's good news or bad news we always look on the positive side of life and not let the bad news hold us down or not let us perform."
Asked if the lingering doping cloud had affected morale among the Jamaica squad, head coach Michael Clarke said: "From what I have seen thus far there doesn't seem to be any negative impact." Asked if he "had a message for people who have doubts about Jamaican athletes," Clarke was told by the team media liaison officer: "Answer no questions about doping."
After this 'Don't tell them your name, Pike' moment, Clarke was permitted to elaborate on the general mood in the Jamaican camp. "It's very good," he said. "It's very calm. It's like a volcano waiting to erupt."
Join our new commenting forum
Join thought-provoking conversations, follow other Independent readers and see their replies