World Championships 2013: Yelena Isinbayeva claims she was 'misunderstood' over comments condemning homosexuality and promoting Russia's anti-gay propaganda law
Russian pole vaulter back-tracks and blames the quotes on her poor English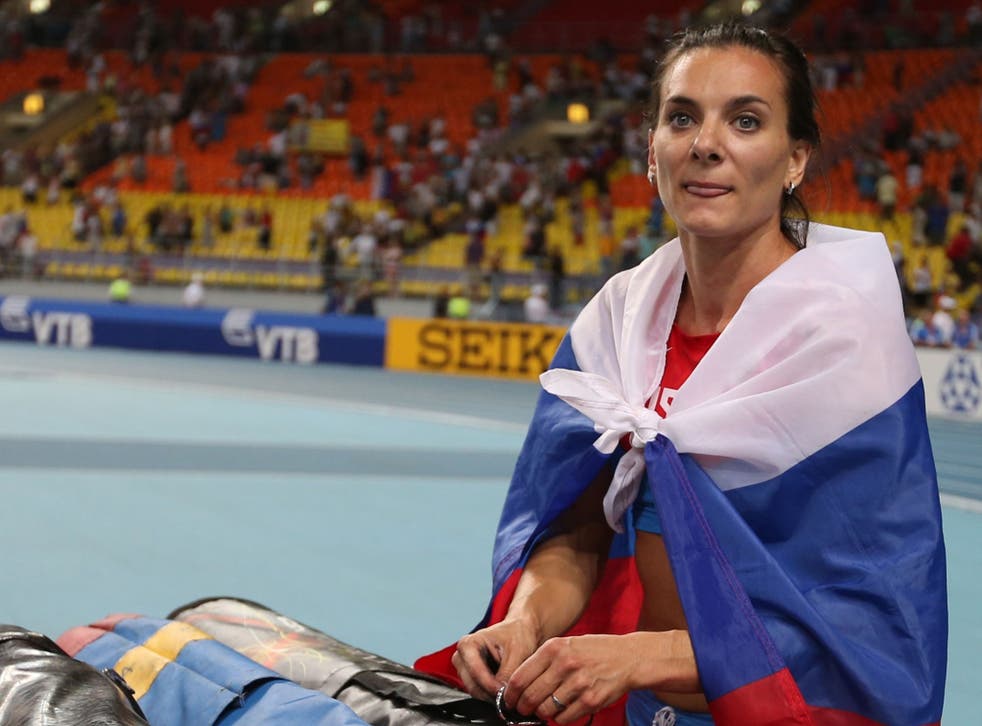 Yelena Isinbayeva has back-tracked after condemning homosexuality yesterday, claiming her comments had been misunderstood. The Russian pole vaulter Isinbayeva had criticised athletes competing at the World Championships in Moscow for supporting gay rights and defended Russia's controversial anti-gay propaganda law.
The law, which makes it illegal to give under-18s information about homosexuality, continues to hang over the championships like a dark cloud.
With Russia due to hold the Winter Olympics next year and also the football World Cup in 2018, the government's stance, popular at home but fiercely at odds with many of the countries due to take part is likely remain a touch-paper for protest.
The International Olympic Committee (IOC) has asked the Russian government for a clear translation and a clarification of how the law will be applied during the Sochi Winter games.
"English is not my first language and I think I may have been misunderstood when I spoke yesterday," the newly-crowned pole vault world champion said in a statement.
"What I wanted to say was that people should respect the laws of other countries particularly when they are guests.
"But let me make it clear I respect the views of my fellow athletes, and let me state in the strongest terms that I am opposed to any discrimination against gay people on the grounds of their sexuality (which is against the Olympic charter)."
Isinbayeva, who has now won the world title three times to add to her two Olympic successes, had said on Thursday that Russian people did not want to see homosexuality promoted in their country.
The 31-year-old had told reporters: "Maybe we are different than European people and people from different lands. We have our law which everyone has to respect. When we go to different countries, we try to follow their rules," said the vastly experienced athlete who regularly speaks English to journalists.
"We are not trying to set our rules over there. We are just trying to be respectful.
"We consider ourselves like normal, standard people, we just live boys with women, girls with boys... it comes from the history."
Isinbayeva, who now faces calls for her resignation as an Olympic youth ambassador, had been asked for her views after several Swedish athletes had painted their nails in rainbow colours in support of the gay movement.
Register for free to continue reading
Registration is a free and easy way to support our truly independent journalism
By registering, you will also enjoy limited access to Premium articles, exclusive newsletters, commenting, and virtual events with our leading journalists
Already have an account? sign in
Join our new commenting forum
Join thought-provoking conversations, follow other Independent readers and see their replies