The Independent's journalism is supported by our readers. When you purchase through links on our site, we may earn commission.
World Championships 2013: Yelena Isinbayeva finally gives Russian crowd a reason to be cheerful in Moscow
Pole-vaulter rolls back the years to take gold as controversial LaShawn Merritt is surprise winner of 400m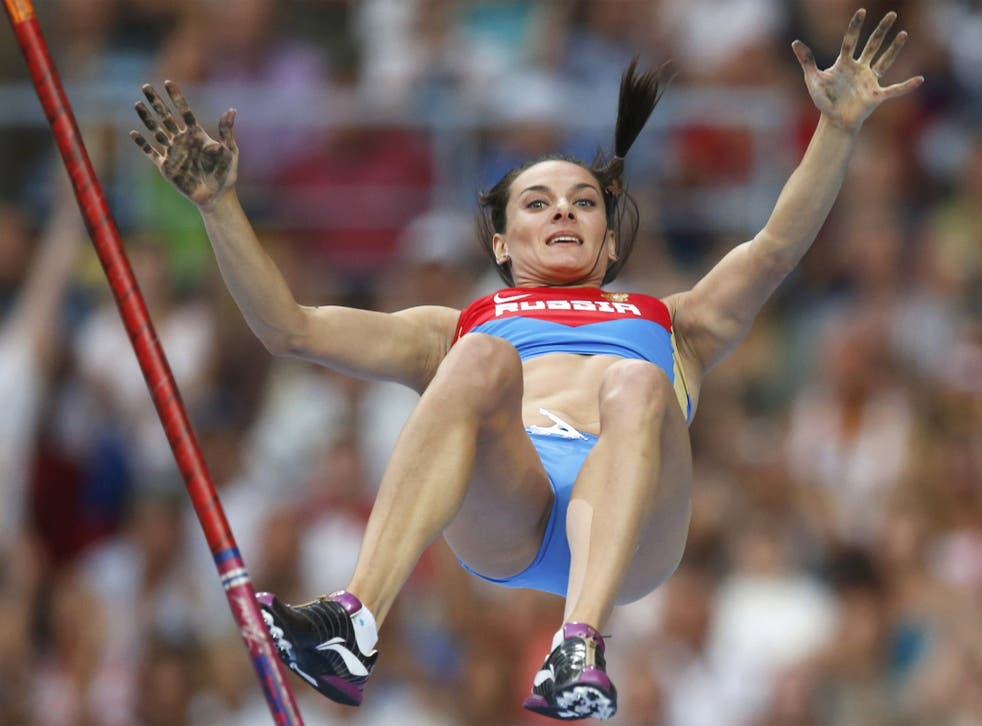 Shock! Horror! Hold the back page! After three and half days and seven sessions when the atmosphere at these World Championships rivalled that of the Sea of Tranquillity, where Neil Armstrong took his small step for man, something reminiscent of London 2012 fever suddenly broke out in the Lukhniki Stadium.
There were chants from the crowd, huge, great roars for the resurgent Yelena Isinbayeva, and bums on more than three-quarters of the seats in the 59,000-capacity arena. There was even a Russian version of a Mexican Wave. Who would have thought it?
Certainly not Felix Sanchez. After running in the first-round heats of the 400 metres hurdles in a near-deserted arena on Monday, the two-time Olympic champion who competes for the Dominican Republic lamented: "It's dead. There's no atmosphere. Like night and day compared to London 2012." The reason for the transformation? The drawing power of Isinbayeva.
There was a time when the Russian national treasure was the untouchable queen of the pole vault. The world record holder, at 5.06m, and a two-time Olympic and world champion, the pride of Volgograd is 31 now and contemplating what was at first announced as retirement but has since been clarified as a pregnant pause. "I'm not ending my career," she said. "I want to start a family and try to return to reclaim all my titles."
Going into the final, all of Isinbayeva's outdoor titles had gone since 2008, the year in which she claimed her second Olympic gold. The only one remaining in her possession is the world indoor crown she won in Istanbul last year, before taking Olympic bronze in London behind Jenn Suhr of the US and Yarisley Silva of Cuba.
A failure on her first attempt at 4.65m did not exactly bode well for Isinbayeva, but she cleared that height at the second time of asking and had the crowd in raptures again as she sailed over 4.75m, 4.82m and 4.89 first time. "Ye-lena! Ye-lena!" they chanted.
There was another roar when Suhr dislodged the bar at her third and final attempt at 4.89m. That left Silva with one attempt to launch herself over the upright and remain in contention for gold. And who would have thought that? A potential Cuban missile crisis in prospect right here in the Russian capital.
It was duly averted. Silva defaulted and Isinbayeva launched herself over the trackside advertising hoardings and into the crowd to embrace her coach, Yevgeny Trofimov. Ever the diva, playing to the gallery, she had the bar raised to 5.07m. She was unable to rise to the challenge of a new world record height. Not that the crowd cared much.
Suhr took the silver – ahead of Silva – but there was no consolation prize for another champion from London 2012. The young Grenadian Kirani James faded to ninth in the men's 400m final. LaShawn Merritt, famed for failing a drugs test because of a male enhancement product, went out hard and kept it going all the way – winning by a whopping 0.23sec in 43.74sec.
Join our new commenting forum
Join thought-provoking conversations, follow other Independent readers and see their replies