World Championships: Chris Tomlinson fury after Greg Rutherford falls short in Moscow
Shunned long-jump rival erupts on Twitter as Olympic champion fails to reach final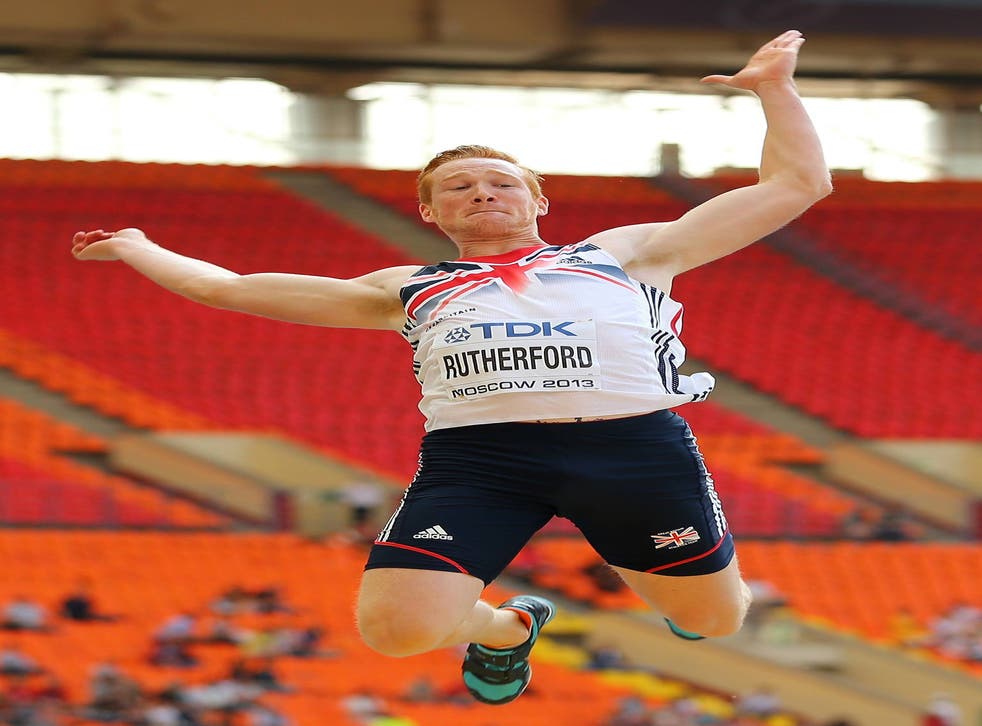 It was a storm not so much in a tea cup as in a sandpit. No sooner had Greg Rutherford emerged from the long-jump strip adjacent to the back straight here – down in 14th place in qualifying and out of the 12-man final by 5cm – than Chris Tomlinson, overlooked for the one discretionary place available in the British team in the event, launched into the Olympic champion by the medium of Twitter.
"Words can't describe my anger," the spurned Tomlinson tweeted from back home. "Season ruined on media profile & not current athletic form. Thanks for the support from the athletics community."
The accusation, clearly, was that Rutherford's media profile as one of the home heroes of London 2012 had been responsible for securing his place – after both men had failed to achieve the A standard of 8.25m that would have secured them a berth in the British team, leaving the selectors to decide between the two.
Tomlinson swiftly deleted the post, replacing it with the following message: "Thanks for the support. Choosing not to tweet (again). Will regret it when my blood pressure settles!! Good luck to all the team. I'll see u soon."
Rutherford himself shrugged his shoulders when told about Tomlinson's tweet after managing only 7.87m in the qualifying round, five weeks after suffering a hamstring tear that threatened to curtail his season. "Ultimately, I'm still British No 1 as it stands," the Milton Keynes athlete said, "and still jumped further multiple times than him this year. I've beaten him every time apart from when I got hurt.
"I think in any event, if you're looking at somebody better who has failed the championship qualifying distance that year but won more head-to-heads and still has a major title behind them, then it's a no-brainer. Surely you'd pick anyone, in any event, in the same scenario.
"Chris is obviously going to be upset but there's nothing I can do about that. We both put ourselves in a not great position by not jumping an A qualifier, so that's what it comes down to.
Rutherford added: "We had plenty of opportunities and when speaking to Neil Black [the UK Athletics performance director], he gave us a two-week extension so we should have got the job done. It just gave me enough time to get fit after being injured.
"I'm feeling pretty good but just not jumping far enough at the moment. I'm not too concerned about tweets and whatever else."
Rutherford, however, subsequently took to the Twittersphere himself, posting the following: "Thanks so much for the support. I fully expected to jump far today but it wasn't to be. UKA and my family and friends have worked so hard getting me to this point. I have no regrets at all. I'll be back to winning ways soon. Just need some more time."
He then added the following message: "Oh and to the trolls... Imagine a picture of my bum hole. I'm waving it at you."
It was not clear whether that addendum was aimed at Tomlinson or any other critics. It is understood that Tomlinson deleted his original message of his own volition but UK Athletics has refused to comment on the matter.
The domestic governing body has had enough Twitter trouble in recent times. When Phillips Idowu withdrew from the European Team Championships in 2011, the now former head coach of UK Athletics, Charles van Commenee, publicly criticised the triple jumper for making the announcement on Twitter, saying: "Twitter is for clowns and attention-seekers with too much time on their hands." The row between Van Commenee and Idowu rumbled on and dominated the build-up to London 2012.
There is no history of animosity between the 26-year-old Rutherford and Tomlinson, 31. Indeed for a long time there has been a close but healthy rivalry between the pair, who jointly hold the British record, which stands at 8.35m, and they also happen to be former training partners.
They worked together in the elite group of long jumpers and triple jumpers guided by Frank Attoh in north London and there is a possibility that they may do so again.
Having decided to ditch his plan of working with his most recent coach, Dan Pfaff, in Phoenix, Arizona, Rutherford confirmed in the aftermath of his bitter disappointment yesterday that he intends to link up with a new coach in either Loughborough or London this winter. Tomlinson works under the guidance of the American Rana Reider in Loughborough.
Tomlinson's frustration at missing the selection boat for Moscow was undoubtedly compounded by the fact that his rival had been picked despite having not been able to compete since he suffered his hamstring injury at the Diamond League meeting at the Stade de France in Paris on 6 July. Tomlinson finished second at the meeting and Rutherford fourth.
In their other two head-to-heads this summer, Rutherford came out on top. He also had the superior season's best, but only just – 8.22m to 8.21m.
Join our new commenting forum
Join thought-provoking conversations, follow other Independent readers and see their replies