Eric Bristow: A flawed maverick champion who checked out a little sooner than we expected
The same no-filter, no-holds-barred approach to life that made Bristow such a flawed human also made him the most feared darts player of his generation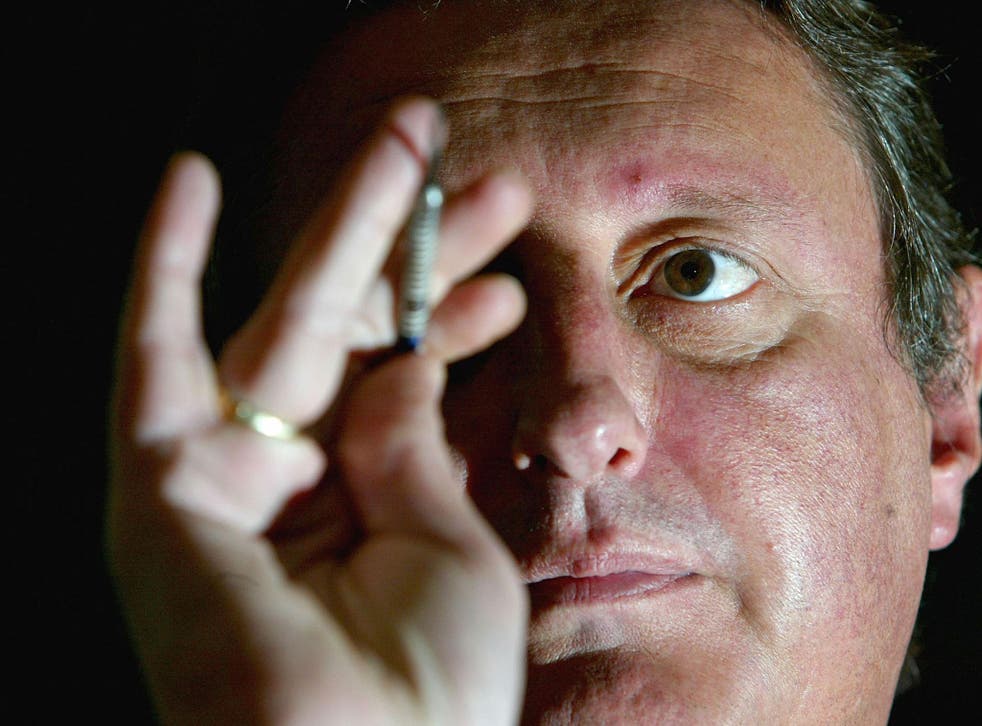 Perhaps the most lucid insight into the character of Eric Bristow came not from one of the many playing rivals with whom he sparred - and usually beat - during his 1980s heyday. Nor did it come from one of the superstars of the current generation of darts, which owes its predecessors like Bristow so much. Nor even from the late, ornate Sid Waddell, the legendary commentator whose verbal flourishes gilded so many of Bristow's finest days at the oche.
No, it came from a woman who barely knew Bristow at all: the pop star Ashley Roberts, once of the Pussycat Dolls, who in 2012 spent three weeks in the Australian jungle with Bristow as part of ITV's reality television show I'm A Celebrity, Get Me Out Of Here.
"There's no filter," was Roberts's observation. "When he thinks something, he just goes and says it. He doesn't process it before he delivers the thought. He just says whatever is on his mind. Helen is the baby of the group, and she needs the most care. Eric uses that in a way to poke at her and push her buttons, and it's been getting to her a little more than usual."
The Helen in question was Helen Flanagan, the Coronation Street actress and model who had been reduced to tears by Bristow's terse comments about her skin and her diet, and when it came to her own assessment of the five-time world darts champion she was certainly less charitable with her words. "You're such a strange cretin," she retorted, a description that while lacking in nuance may also have struck a chord with those who made a passing acquaintance with Bristow over the years.
Yes, Bristow certainly had a tongue on him, and it got him into trouble more than once. Most recently, and most infamously, it got him into trouble in November 2016, when he tweeted thoughtless slurs about some of the victims of football's sexual abuse scandal. The resulting furore cost Bristow his much-cherished job at Sky Sports as a pundit and spotter, and ultimately constituted an unhappy coda to a life that will nonetheless be defined by its achievement rather than its abasement.
This was, after all, Bristow through and through. If you liked him, great. If you didn't, he could care less. It was ever thus, on the oche and off, and it is no appeasement of his more egregious views on sexuality and race to observe that the same no-filter, no-holds-barred approach to life that caused him such grief also brought him such success. The qualities that made Bristow such a flawed human also made him the most feared darts player of his generation.
Bristow got up your nose and under your skin. He had no compunction about riling a crowd if he thought it would help his cause, most notably when he beat Jocky Wilson in front of an audience of partisan Glaswegians and had a full can of beer thrown at him. In an age when professional darts was still a close sibling of the smoky pubs and clubs from which it emerged, rather than the distant cousin it is nowadays, Bristow made it his job not simply to throw his best darts, but to stop you throwing yours.
And so when Bristow was in game mode, he displayed the same sneer and swagger, the same instinct for weakness, that Roberts would so perceptively observe three decades later in the jungle. Few players, even back then, would have had the nerve to plant a kiss on their opponent's cheek after they had missed a crucial dart in a world championship final, as Bristow did to Bobby George in 1980. He strutted into an arena like he owned it, threw darts like he invented them, leaning towards the board, pinky outstretched: that regal, borderline-camp stance that was "fit to grace any garden party", as Waddell put it. In a sport populated by gruff middle-aged men, Bristow was the thrusting young buck who relished putting noses out of joint.
Sporting deaths 2018

Show all 27
Above all, Bristow understood the fundamental truth about darts: that it was combat, boxing without the punches, a game played on wits and guts as well as a steady hand and a sturdy shoulder. It was an idea that would eventually find its fullest expression in the man who Bristow took under his wing and sponsored in the late-1980s, and who would supplant him as the game's pre-eminent force: Phil Taylor.
The relationship between Britain's two greatest-ever players was a complex one, defined as much by mutual respect and business impulse as genuine personal affection. It was Bristow who loaned Taylor £10,000 to get his career off the ground when he was just a struggling ceramics factory worker in Stoke-on-Trent, and never let him forget it, even as the rewards and renown began to roll in. The pair did not speak for months after Taylor demolished Bristow 6-1 to win his first world title in 1990. And yet you suspected Bristow was always prouder of his protege than he let on. "I played in exactly the same way he taught me," Taylor would later write. "Like a bully."
The pair would play one more great game: the 1997 World Championship semi-final that Taylor agonisingly won 5-4, the last time we ever really glimpsed the great Bristow in action. Certainly he was never really the same player after the psychological affliction known as 'dartitis' gripped his game in 1986, and for a player widely regarded as one of the greats, it is often forgotten how fleeting Bristow's era of dominance was in the broader picture. All five of his world titles, and the vast majority of his others, were won in that extraordinary six-year purple patch when he became one of Britain's most recognisable sportsmen, the face and the grin of darts' first golden age.
His passing, tragically young, severs one of the last umbilical links with its second. Bristow was one of the rebels who broke away from the main tour in 1992 to form what would eventually become the Professional Darts Corporation, and yet he never really managed to rake in the riches from the revolution he helped start. Maybe that had a bearing on his occasionally sour demeanour; maybe, perhaps he ended up becoming the man he had grown up beating, the resentful middle-aged bloke in the pub railing at how easy young people have it these days.
But just as Bristow was always a nicer guy than he came across, he was always more loved than he realised. And as the news of his death swept across a stunned sport on Thursday night, the Echo Arena broke into a spontaneous chant of "There's Only One Eric Bristow": a fitting tribute to the flawed and brilliant player who, in life as in darts, checked out just a little sooner than you were expecting.
Join our new commenting forum
Join thought-provoking conversations, follow other Independent readers and see their replies