UFC 196: Conor McGregor's shock defeat by Nate Diaz symbolises why MMA is the fastest growing sport in the world
After a stunning and unpredictable night in Las Vegas, James Edwards shares his experience from ringside at the MGM Grand Garden Arena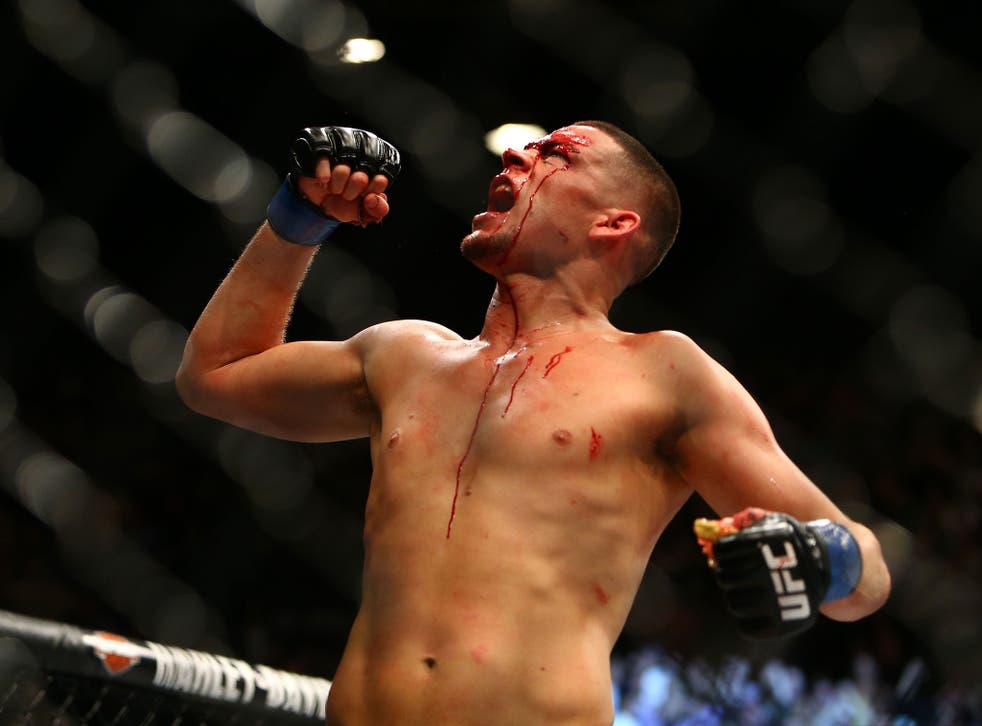 Last evening, UFC 196 was a stark reminder of just why the sport of mixed martial arts is the fastest growing sport in the world. With highlight reel knockouts, submissions, blood, sweat, tears, highs, lows and dreams made and broken, it had everything you'd want from a Hollywood blockbuster.
UFC 196 was no scripted film though. This was as real as it gets and for fans, media and fighters alike it was a humbling experience for the so-called 'experts'.
While some were picking the odd fighter to overcome the odds I've yet to come across anyone who picked all of the eight winners who started their fights last night as underdogs. If someone did, I really hope they had £10 on it as they deserve to be on a beach somewhere sipping a cocktail with that foresight.
As we try to make sense of the madness that went down at UFC 196 it's important to remember the fundamental basis of the sport and that's when the Octagon door closes two people are on their left on their own with only their mixed martial arts abilities left to determine a winner.
No media hype, marketability or favourable treatment can help them then. It's down to their skills as a mixed martial artist and yesterday we saw two of the UFC's biggest stars defeated with the shocking defeats of Holly Holm and Conor McGregor.
Holm's defeat was a little bit more predictable than the Irishman's, but how it played out was every bit as shocking. Following her incredible defeat of Ronda Rousey, Holm was the new star of the company but in Miesha Tate, she had an opponent that was a stylistic nightmare with her superior wrestling and grappling.
Nate Diaz beats Conor McGregor at UFC 196

Show all 10
After weathering the storm of round two it appeared as though Holm would cruise to victory as she established her dominance back in round three and four but them Tate took a chance and took the back of the champion. From there, Holm showed a hole in her game and her inability to defend the rear naked choke was plain for all to see as Tate choked her unconscious in front of a shocked MGM Grand.
If seeing Holm defeated wasn't enough for the crowd in attendance and the millions watching around the world, what followed was even more shocking though.
Heading into this fight Conor McGregor was untouchable. Knocking out ten-year reigning champions and cashing cheques some of us could only dream - the Irishman was on top of the UFC and arguably the company's most vital asset.
Whilst he started well, landing left straight after left straight, the momentum of the fight changed in a single swing of Diaz's own left hand as midway through the second round he connected to the chin of the Irishman who immediately had a glazed looked in his eyes.
From there it was rapidly downhill for McGregor as Diaz applied the pressure and overwhelmed with accurate pinpoint strikes. As soon as the fight hit the mat the writing was really on the wall. The jui jitsu black belt needed no second invitation to lock in a choke and get the tap from McGregor.
Nate Diaz beats Conor McGregor at UFC 196
Not many predicted the result but one man was quick to point out to reporters like myself in the media room just minutes after the fight finished that he had called the fight down to the round.
Storming into the media room, Nate Diaz's brother, Nick, walked in with a big smile on his face saying loudly: "I told you motherf*****s second round, second round motherf*****s - I told you."
In typical Diaz fashion, all of us were quickly reminded of just how little we all know about this young sport as it develops and grows in its infancy.
For us 'experts', last evening was a humbling experience as once again the unpredictable happened and a lot of pundits didn't see both of those results coming.
Personally, I can take that. If I have to accept every now and then I'm going to be in wrong in exchange for the amazing excitement and scenes we witnessed last night, I'll take that every day.
I'm sure UFC 196 won't be the last time MMA has our jaws on the floor.
Join our new commenting forum
Join thought-provoking conversations, follow other Independent readers and see their replies