Welshman Jack Marshman ready for a step-up in quality as he takes on Thiago Santos at UFC Fight Night 105
Marshman made his UFC middleweight debut back at UFC Fight Night 99 with a KO win against Magnus Cedenblad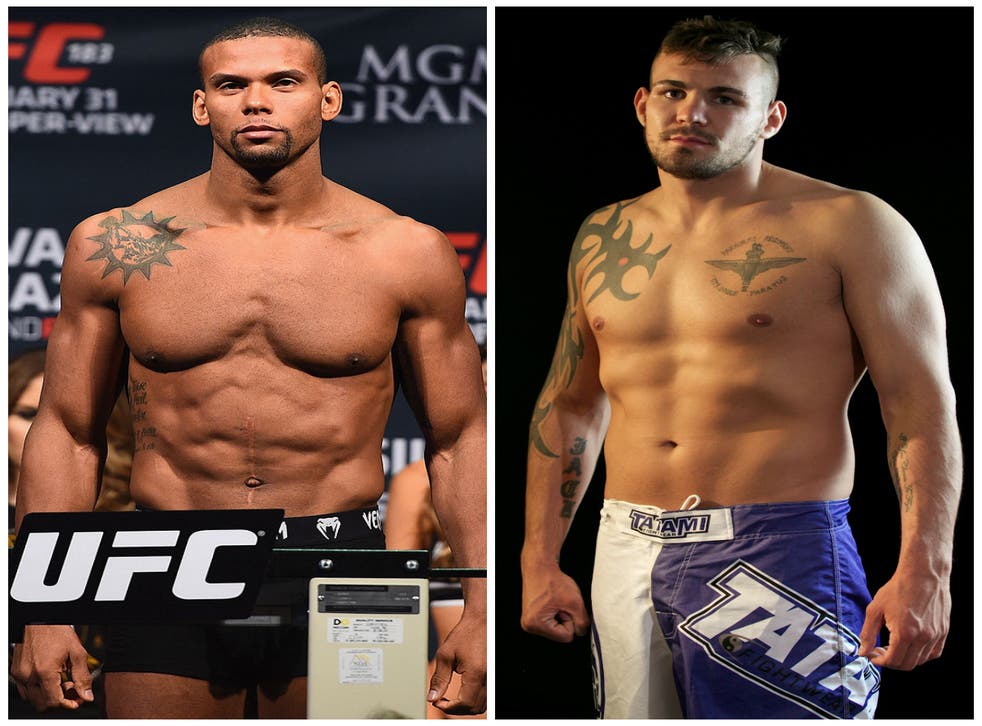 Welshman Jack Marshman this weekend heads to Halifax, Canada for UFC Fight Night 105, where he steps into the UFC Octagon for the second time.
Marshman made his UFC middleweight debut back at UFC Fight Night 99 last November in Belfast, Northern Ireland when he defeated Swede Magnus Cedenblad via knockout in the second round. Having made a good first impression with UFC fans in his first appearance, the 27-year-old this weekend takes a step up in competition when he faces the Brazilian, Thiago Santos.
In an exclusive interview with The Independent​, Marshman spoke about the fight, Santos and said that he was in the shape of his life having now started training full time now he was in the UFC.
"Camp has been brilliant, I know it's sort of cliché to say, but I'm in the shape of my life," Marshman said. "I've genuinely had the best camp ever I've ever had. Visually you can see it just looking at me. I'm in a different category to what I used to be. I've been putting some serious hours in at the gym at I'm just busting to get in there right now.
"It's really helped going full time because I can just focus more on training— this is all I do and love it. That's obviously made me even better and in my last couple of fights I've been putting in good performance. I'm sure everyone is going to see the benefits of that in my fight."
Santos, 33, has a record of 13-5 and walks into the bout coming off two consecutive losses to Gegard Mousasi and Eric Spicely. Prior to that, the Brazilian had been in good form with four wins in a row against high level opponents. Suffice to say, Marshman will have his work cut out this weekend and he's well aware that Santos is a dangerous opponent.
"Thiago Santos is decent and he was in the top-15 until his last fight," Marshman said. "He's coming off a loss, but yeah he's a great fighter, a Muay Thai guy that throws a lot of kicks. I throw more punches so I think together we should make for a good clash of styles.
"He's an interesting fight and I've watched him a lot on tape in the gym. I think it's going to be a good fight for the fans to watch so I hope they enjoy it as much as my last one."
Marshman will be fighting outside of the UK for the first time since 2013 in what is his only his second transatlantic bout. While other fighters choose to make the trip over the pond much earlier to help battle the time zone difference, the Welshman instead to travel just earlier this week so he could benefit from finishing his training in more familiar surroundings.
"I've tried not to change much to be honest with you," Marshman said. "We're are going to be out here a day or two so that should be more than enough to get over the jet lag and stuff. My weight is really low already so we don't need to have to worry about getting in extra training to get that down.
"All my training was really done before we came here so to be honest to be honest I'd happily fight tomorrow. It's unfortunate I'm fighting abroad and not in London [UFC Fight Night 107 on March 18], but fighting here in Canada means I get to introduce myself to a totally new crowd and I get to showcase my skills in front of people that haven't seen me before. I take it as a huge compliment that the UFC want to take me to markets like this. I'm not just there because I'm a local guy—I'm here because I put on exciting fights that people want to watch."
Having finished all of his twenty-one careers wins inside the distance, Marshman certainly has a case to make when it comes to being classified an exciting fighter. The former Cage Warriors middleweight champion said to expect of the same this Sunday and said that he was looking to make a big statement on his debut in Canada.
"Everyone knows I leave it all in there with the fights," Marshman said. "I'm never in a boring fight and I take pride in that. Whether I won or lost I'm always going to put on a show. I've had plenty of tough fights, but I feel I'm the best version of me there's ever been.
"I'm living the life of an athlete now and I'm training full time and just getting better at everything every day. I really think people are going to see the best me in there on Sunday and I plan on making a lot more fans."
Watch Jack in action at UFC Fight Night: Lewis vs. Browne, live on BT Sport 2 from midnight GMT on Sunday February 19th, or watch the Early Prelims exclusively on UFC Fight Pass<https://www.ufc.tv/page/fightpass> from 11pm GMT
Join our new commenting forum
Join thought-provoking conversations, follow other Independent readers and see their replies