UFC Fight Night: Charles Oliveira and Max Holloway are both young and tenacious - winner will accelerate towards title, writes Dan Hardy
This week, British UFC welterweight and UFC commentator, Dan Hardy, looks ahead to a featherweight showdown between two rising stars of the division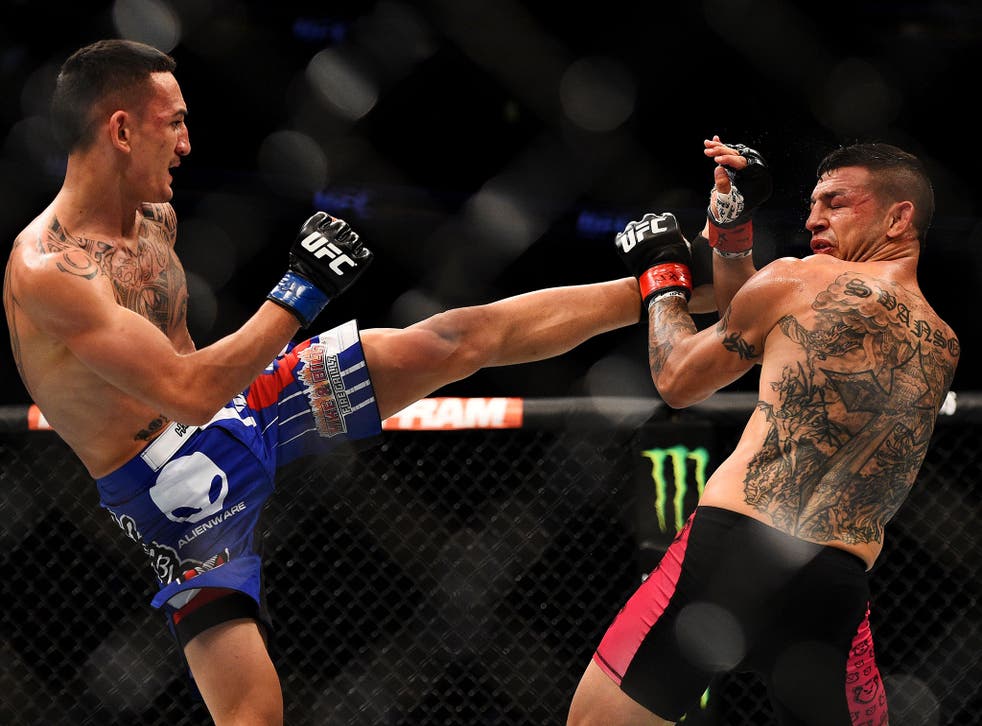 This weekend's headlining bout is a contest between two of the most promising rising featherweight stars on the UFC roster. Both Max 'Blessed' Holloway and Charles Oliveira are young and skilled, and both near the beginning of their athletic careers. At 23 and 25 respectively, a loss at this stage would not be a major setback. A win for either of these athletes, however, will bring about an immediate acceleration towards the title.
It would be easy to make big statements about either fighter. They have only lost to top-flight opposition, and have a record of exciting bouts that end in spectacular finishes. They must be a dream for the UFC's marketing team and matchmakers alike. Never shying away from tough tests, they can easily afford to spend another couple of years gaining experience before thinking about title contention. Still, so early on in their careers this match up could be the beginning of another epic trilogy. As Frankie Edgar will tell you, the first bout is often a 'get to know each other' situation, and I can't help but feel that these two will be side by side in the rankings for some time to come.
Holloway, a native of Waianae, Hawaii, has shown a mature and diverse striking game. His fluid combination attack finds its way through most opponents' guards, breaking them down over time or stopping them outright. His confidence is growing in each outing, becoming reassured each time that his training is paying off. Currently riding a six-fight winning streak and having only heard the final bell once in those bouts, he seems to be finding his stride and settling into the stacked featherweight division.
His last loss was to 'The Notorious' Conor McGregor, and he is still the only fighter to take the new interim champion the distance. Since then he has smashed his way through every man the UFC have placed in his path, picking up three performance bonuses in the process. It's clear that he belongs among the best in the division and his most recent win over Cub Swanson is proof of that. If he can defeat Oliveira in impressive fashion, he will solidify his position inside the top five and will have made a strong argument for a contender fight.
Charles Oliveira, currently sitting at #7, will be looking to leapfrog Holloway and put himself in amongst the big dogs in the division. Much like Holloway, Oliveira is young and tenacious, and since joining the UFC five years ago it's been clear that he is on a trajectory to the top. Kicking things off with a 0.41 second arm bar of Darren Elkins, his ground game has become the most respected part of his game. Submitting three of his last four wins, all by some variation of choke, Holloway will know to stay away from a grappling exchange.
As busy as the featherweight division is, not many men at 145lbs (66kgs) are capable of competing with them. These are exciting times in mixed martial arts, and the simultaneous emergence of two promising contenders makes for not only a good fight, but a good storyline to go with it.
Every great fighter benefits from a closely matched rival, just as we had with Chris Eubank and Nigel Benn back in the day. They help to bring the best out of each other, and I think this will be the case for many months if not years to come for Holloway and Oliveira. They are both going places and it just so happens that they will likely be in each other's way for much of it.
To catch all the action from UFC Fight Night Holloway vs. Oliveira, tune in to BT Sport 1 from Midnight on Sunday
Join our new commenting forum
Join thought-provoking conversations, follow other Independent readers and see their replies