UFC Fight Night: Stephens vs. Choi preview - Knockout artists scrap it out to determine title fight trajectory
UFC commentator and analyst Dan Hardy looks ahead to the first UFC event of 2018, as the Octagon touches down in St. Louis, Missouri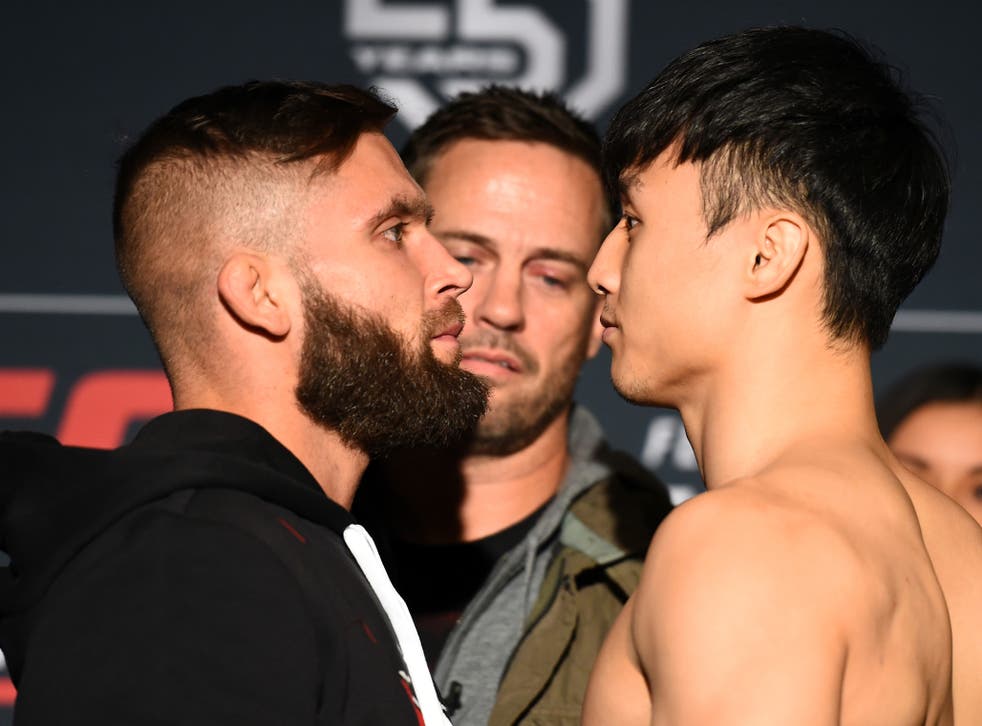 Kicking the new year off in style, the UFC matchmakers have put together a fight card full of match-ups that keeps a fan like me champing at the bit for the weekend to arrive. The headlining bout pits two proven knockout artists against each other, in a fight that will determine which of the two is on a title fight trajectory in 2018.
New careers are gathering speed all around us. Kamaru Usman has proven himself capable six times in the Octagon so far and is yet to experience defeat within the organisation. His strong wrestling base gives him the confidence to throw hands with power and that translated into his first knockout in his budding UFC career. It took less than three minutes to dispatch Brazilian Jiu Jitsu world champion, Sergio Moraes, back in September, and he plans on replicating that kind of dominance is his upcoming fight with Emil Meek.
The Norwegian standout gained huge notoriety back in 2016, when he stopped Rousimar Palhares in just 45 seconds. Soon after he signed with the UFC and before the end of the year, had a unanimous decision win over the talented, Jordan Mein, at UFC 206. He has struggled with injuries and visa issues since then but now the stars have aligned and he returns to competition in what should be a very testing fight.
Usman is a strong and controlling fighter. He uses his wrestling well to dictate the pace and range of the fight and he's been fighting consistently which can count for a lot at this level of competition. That familiarity with the stresses of a fight can lead to a much better performance.
Meek needs a big comeback and a stoppage over Usman will get the attention of the entire division. His following outside the Octagon stretches across Scandinavia and when the international fans become more familiar with him he will surely be a very popular athlete worldwide. This could be his time to shine but Usman could be the ultimate spoiler here. He is the fighter in the division that everyone is hoping to avoid until it is absolutely necessary. Meek either drew the short straw, or he'll show us that 170lbs has a new contender.
The next fight up sees the returning UFC starlet, Paige VanZant, taking on Aussie scrapper, Jessica-Rose Clark. Its another bout where VanZant is all set for a big return but has potentially a very tough night ahead of her.
Jessica-Rose Clark made her UFC debut on short notice, when she stepped in to face fellow Australian fighter, Bec Rawlings in Sydney last November. After a three round battle, Clark emerged the victor. Now training at the Syndicate MMA gym in Las Vegas, Clark is improving on a daily basis and plans on giving VanZant a message from the rest of the flyweights, as Paige makes the move up a division to test her skills in the newly formed female 125lb division.
Whilst Paige has been busy with various reality TV projects, the rest of the girls on the roster have been in the gym. This may well be a rude awakening for VanZant, but her toughness and scrappy nature should make this competitive either way. Perhaps Paige will be stronger at 125lbs and will have benefited from the 12 month break from fighting. Time will tell.
And finally the main event! It needs no real hyping to be honest. Jeremy Stephens has already made the walk 25 times and every one of those walks has led to a wild fight. On his best days he's knocked out the likes of Rafael dos Anjos, Marcus Davis and Dennis Bermudez. In his latest fight against Gilbert Melendez, at UFC 215 in September, he showed patience and maturity, clearly sticking to a very effective gameplan against a very experienced opponent. This time he's taking on "The Korean Superboy", Dooho Choi, an unassuming knockout artist looking to get back in the win column after Cub Swanson ended his 12 fight win streak back at UFC 206.
In what was voted 'Fight of the Year' in 2016, Choi showed a grit and determination that cannot be taught and even though he didn't get the victory that night, he will become a better fighter because of it. When a young talent is coming back after their first significant loss, they tend to take on a whole new level. If he is to defeat Stephens he will need some of that toughness from the Swanson fight, as well as some discipline to not go rushing in and get put to sleep. If this goes the distance it will surely be an early contender for 'Fight of the Year'. It's more likely to end suddenly though, with one fighter snoozing on the canvas.
Watch UFC Fight Night: Stephens vs. Choi live on BT Sport 2 from 1am GMT early on Monday, January 15, or catch the Early Prelims exclusively on UFC Fight Pass from 11:30pm GMT on Sunday
Join our new commenting forum
Join thought-provoking conversations, follow other Independent readers and see their replies