American Football: Fast-learner from Croydon Lawrence Okoye keen to repay the San Francisco 49ers' punt
British 21-year-old, who competed in the discus at the Olympics, is confident he can succeed after being taken on by San Francisco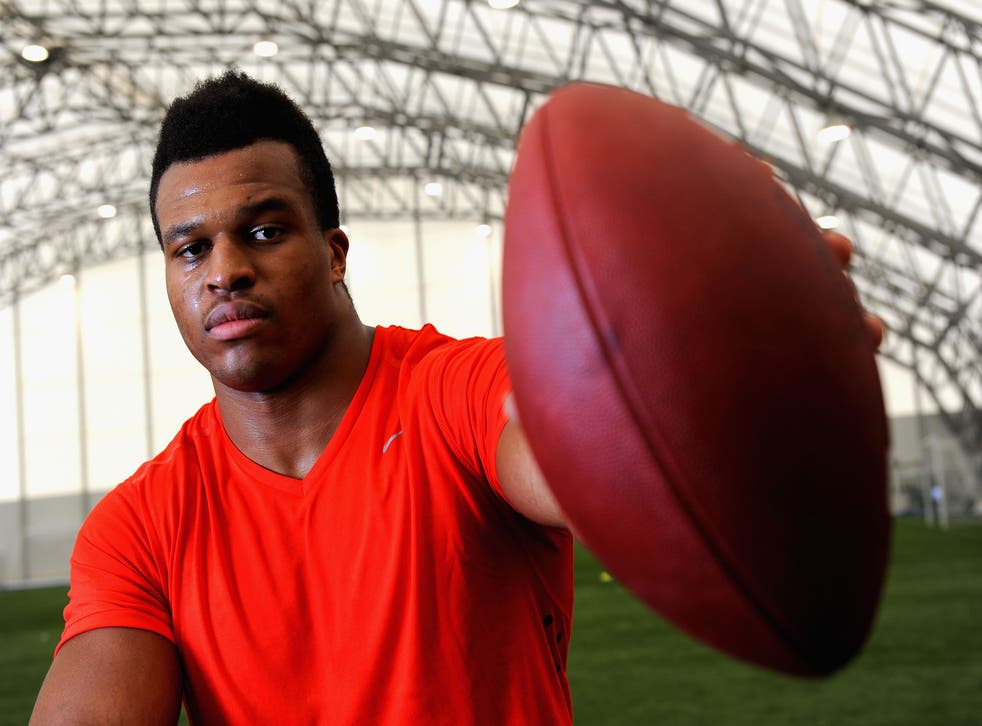 Prior to his quest to join the NFL and pursue a third venture of his nascent sporting career, Lawrence Okoye was immersed in his own collection of history books.
The point of study at the start of the year for surely one of Britain's most mercurial sportsmen – William The Conqueror – was apt, considering the dramatic path he has taken at his latest career crossroads. The 21-year-old from Croydon, who once scored a try at Twickenham, ran the 100m in under 11 seconds as a teenager and became one of the leading discus-throwers in the world competing in the London Olympics, is trying to conquer San Francisco, having signed for the 49ers as an undrafted free agent following this weekend's draft.
"I like getting involved in my own studies to keep my brain ticking over," Okoye explains from his base in Atlanta, Georgia, from where he will relocate to San Jose next week to start rookie training. It's some journey from Croydon to California.
"I've got a lot of history books at home and I'm currently interested in early British history. I'm trying to complete my own personal notebook of British history from 1,000 to 2,000 AD. It's just for fun, for my enjoyment. A lot of that's William The Conqueror. He was just a guy that came over from to the UK from France and wanted it to take it over. I find it funny I've chosen him as a point of interest when I guess I'm trying to do something similar with this."
For the last two months, he says there's been no time for studies, instead his mind has been focused on NFL. For someone who has never even played the sport, the second most successful franchise in NFL history has taken an almighty punt on Okoye.
Had things gone differently at last year's Olympics, he admits he might not be packing his bags to relocate to the American West Coast at all. The British record holder in the discus, he had qualified fourth for the final but faltered on the big day inside the Olympic Stadium and ended up rank last, with the athlete left ruing what might have been.
"I've thought about that recently," he says. "I was extremely disappointed after the Olympics as I'd fought so hard to get to the final but I didn't produce anything like my best. I was a metaphorical millimetre away from getting it right in the Stadium and, who knows? If it had worked out, I might have gone the other way. Life is about tiny margins and there's a fine line between success and failure, between opportunity and despair. But I'm not one for 'what ifs'. It's a case of one door closes and another opens."
To have got to the Olympic final was some achievement. Okoye had only taken up the discus full-time two years before. From next week, the latest door opening is even bigger.
"The Niners have told me this is going to be the hardest thing I've ever done," Okoye, who is 6ft 6in and 20st, says, not that he is unduly concerned. "That excites me. They've taken a gamble on me and I'm looking forward to it. It's up to me to prove I can do anything I put my mind to."
Already, the signs are good. He sailed through the physical elements of the Super Regional Combine – effectively his NFL trial – and he is desperate to find out how he fared in what was essentially an IQ test. In addition, 49ers head coach Jim Harbaugh has already likened his newest recruit to "Adonis", adding: "Our Creator created a beautiful man".
He takes the compliment, as he seems to everything, in his stride and admits his celebrations on the 49ers deal were shortlived. "It's good to hear things like that but there's been no celebrating," Okoye says, whose place at Oxford University, where he will be studying law, is being held for him until 2017. "We went out for a couple of drinks on Sunday night but there's nothing to celebrate yet. I've not even started."
Okoye is remarkably modest about his latest achievement, however much in its infancy, but admits there have at least been occasions when he's allowed himself to dream big. "Of course, you dream about being in a Super Bowl and I hope one day that will come," he says. "But for now that can't be in my mind. It doesn't benefit me at all. But I feel like I can do it, I feel like I can do some damage but I need to crawl before I can even walk."
Okoye's size lends itself to the role of defensive linesman for the 49ers and it is clearly in his genes to play the sport – his father played American football while at college in Nebraska.
And Okoye Jnr admits his parents have been hugely supportive in his latest decision. "They're amazing as they never doubt me, they back me 100 per cent and leave me to make my decisions," he says. "They've given me support. But they know it's not been a quick decision. It might seem like it's snowballed but it's not that way at all. It's not like I woke up a couple of months ago and I said, 'I'm going to be in the NFL'. I put a lot of thought into it and, like all my decisions, it was calculated. I feel like I've done my research."
He is hopeful it is the dawn of a golden age for Brits in the league with Menelik Watson having been drafted by Oakland and Tom Wort signed as a free agent by Tennessee.
It is, though, a blow to British athletics. Okoye had golden potential for Rio in 2016. He has yet to have talks with his former employers at UK Athletics but spoke to coach Peter Eriksson about his decision to switch sports. And the response? "I told him as soon as I knew what I was going to do and he wasn't bad about it," says Okoye. "He understands I have to do what's right for me."
There is a chance that he will return to discus but that would mean his latest venture had failed and he has no plans for that. He mentions some issues but will only say "it's just structural stuff", before adding: "But it's not about the past, it's about the future".
From next week, his immediate future involves the physical demands of NFL training allied to endless DVDs of matches. Another thing to study.
Having swapped a niche sport for a vast global audience – the average viewing figure for February's Super Bowl, in which the 49ers were on the losing side, was 110 million in the States alone – the spotlight is on him more than ever. It would be a conquest of 1066 proportions if he pulls it off.
Follow Lawrence Okoye: @Okoye
Join our new commenting forum
Join thought-provoking conversations, follow other Independent readers and see their replies