Baseball: Will this cap save pitchers' skulls?
Chapman's injury has fuelled the debate about protective headgear for hurlers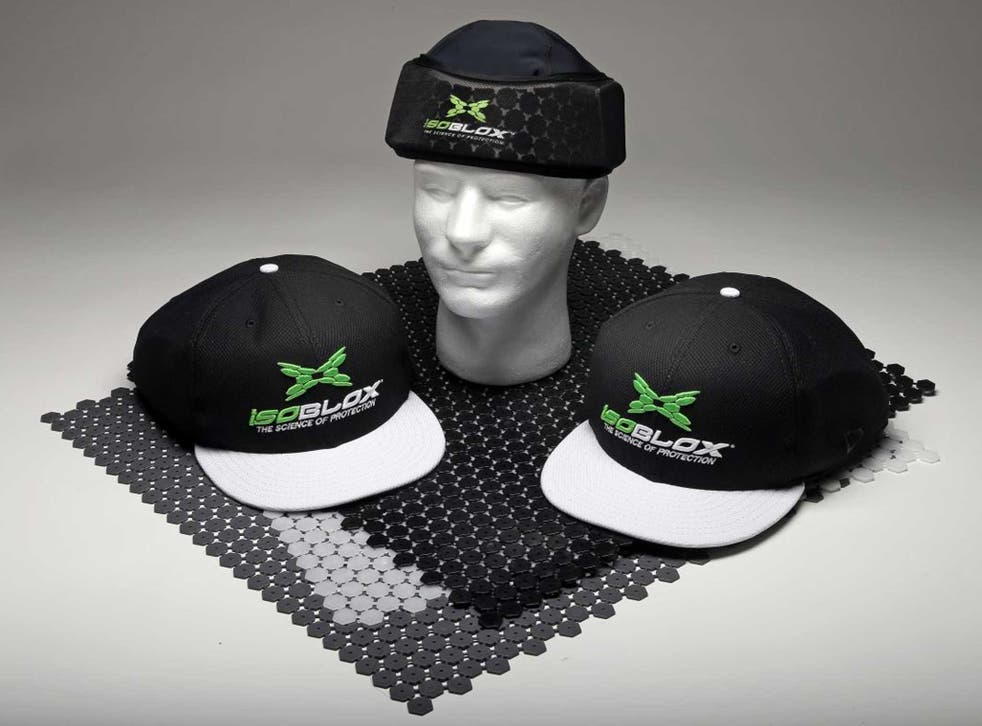 Aroldis Chapman should have been making final preparations this weekend for hurling his fastball past the bats of the St Louis Cardinals in the Cincinnati Reds' opening game of the 2014 Major League baseball season tomorrow.
Instead, the pitcher known as the Cuban Missile will be taking the first two months of the season off to recover from concussion after being struck in the face by a ball in a spring training game 11 days ago. He was lucky.
Chapman, 26, threw the fastest recorded pitch in Major League history, just over 105mph, in 2010, and reached 106 last season according to one unofficial reading.
So when Salvador Perez of the Kansas City Royals, 60 feet away at home plate, hit one of Chapman's pitches straight back at him with interest, there was no time for evasive action.
The ball struck Chapman so hard that it rebounded around 100 feet. Although he did not lose consciousness, he lay on the field for eight minutes before being carried off on a stretcher. Perez, horrified, sank to his knees. Chapman managed to recover well enough from a two-and-a-half hour operation – in which a titanium plate was used to help facial fractures knit – to post a picture of his heavily stapled scalp on his Instagram account. But already there were calls for action in the wake of a series of similar accidents.
Last year, pitchers Alex Cobb of the Tampa Bay Rays and J A Happ of the Toronto Blue Jays were both hit in the head by batted balls. Happ's skull was fractured, Cobb suffered concussion and missed two months of the season. In September 2012, Brandon McCarthy, then of the Oakland Athletics, needed emergency surgery to relieve bleeding that was causing life-threatening pressure on his brain after a similar mishap, and suffered a seizure related to the injury nine months later.
Such incidents are rare compared with, say, the repeated impacts experienced by NFL players. But the risk posed by the speed and hardness of a batted ball is severe – Mike Coolbaugh, a Minor League coach, died after being hit in 2007 – and there are calls for protection every time a "comebacker" injures a pitcher.
Catchers and home-plate umpires were wearing protective masks by 1900. Helmets for batters were first used in the Major Leagues by the 1941 Brooklyn Dodgers, 21 years after a hitter was fatally injured by a pitch, and made mandatory in 1971.
So you might expect that pitchers would be clamouring for similar protection, but they are reluctant to consider helmets, with their restriction to range of vision and motion.
Instead, Major League Baseball (MLB) and the Players' Association have authorised a padded version of the ubiquitous cap, designed to withstand impacts of 90mph at the front and 85mph at the side, but it remains a work in progress. "The process of refinement with input from MLB pitchers with whom we've met in spring training is ongoing," a spokesman for manufacturers IsoBLOX said. "Direct feedback from pitchers has been positive."
McCarthy, who helped IsoBLOX develop the cap, admitted it was not "Major League ready" – still too bulky – while in any case it would not have helped Chapman, who was struck below the peak of his cap. And even this limited protection has met with resistance – including, improbably, on aesthetic grounds. "I'll pass on the Super Mario Brothers-inspired padded hat," Brett Anderson of the Colorado Rockies tweeted.
Cobb, as one might expect, welcomed the development, but felt it was too late for this season. "I'm not going to try anything now, unless it's something that's just completely unnoticeable. With something that you're not used to, it's going to throw you a little bit."
Mexican baseball has approved a catcher-style pitchers' facemask, but some believe the best long-term plan is to mandate the use of helmets for junior pitchers and wait for them to rise to senior level.
Unless more take a lead from Clayton Kershaw of the Los Angeles Dodgers. "The padded cap really doesn't feel much different once you get used to it," he said. "If you're that guy who gets hit, there's some help."
Join our new commenting forum
Join thought-provoking conversations, follow other Independent readers and see their replies