Boxing: Revenge for Carl Froch with unanimous decision over Mikkel Kessler
London's O2 Arena sees impressive victory in much-hyped unification bout with Dane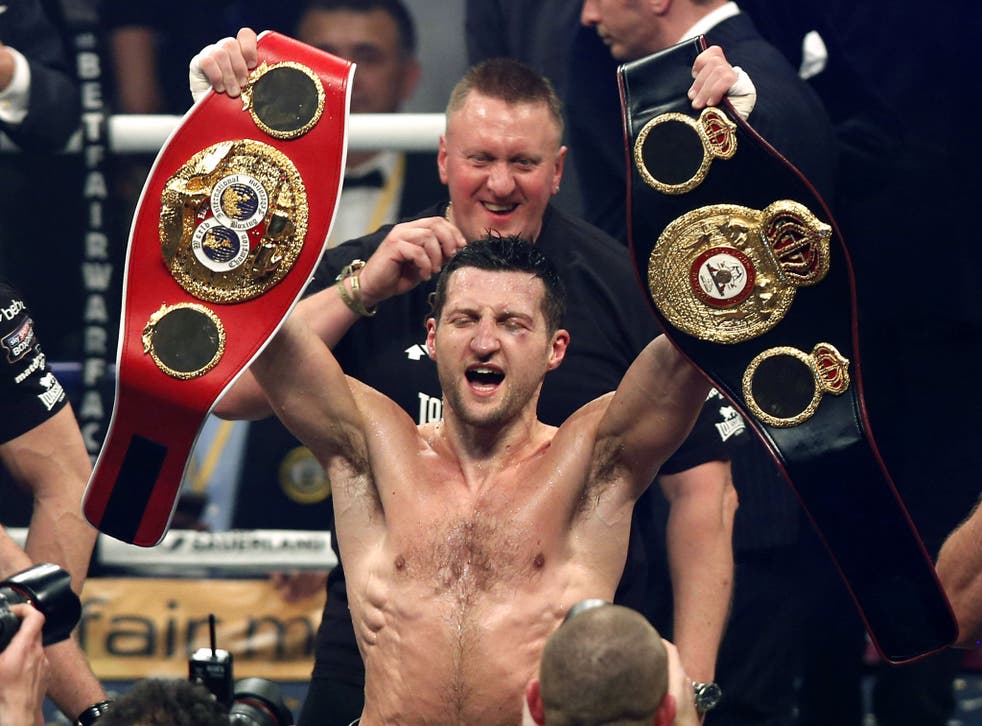 Finally they met again, and the tension was enormous. Three years after a pitched battle had seen Nottingham's Carl Froch lose his WBC super-middleweight crown to Mikkel Kessler in his Danish homeland, the boxing buddies faced up to each other at London's O2 Arena in a much-hyped unification bout. And the fight did not disappoint. The intensity was exquisite, the punches kept on coming. By the end it was a war in the ring.
Froch won on a unanimous decision, gained his revenge for one of the two blemishes in his 33-fight career and grabbed a version of the WBA belt at the same time. He richly deserved all three outcomes. He had begun the campaign in orderly fashion, dominating the early exchanges, smiling at his opponent as he landed a succession of left jabs. He looked confident, fighting with controlled aggression and concentrating fiercely, all the while keeping Kessler at a distance.
At the start of the fourth round, Froch landed his first big right hand, which may have awoken the great Dane somewhat. Kessler clawed his way back into the fight and unleashed a big right of his own midway through the fifth. Then a low blow in the sixth left Froch gasping for a few seconds, and Kessler took advantage of his opponent's discomfort with a left-right combination.
Froch reasserted himself thereafter, starting to jab from distance again as he had to start with. When Kessler did make contact, the Briton's granite jaw saw him walking through the hits. Then came the last 30 seconds of the seventh when both fighters unleashed a furious flurry of blows. It was to be a taste of what would unfold in the rest of the fight.
The trading began a round or two earlier than it had done three years ago, and the pace was relentless. In the 11th, Kessler unfurled a left hook as if it was in slow motion but it clattered into Froch next to his left eye and cut him. He managed to keep the wound away from the flailing fists of Kessler as the fight disintegrated into an all-out brawl.
The final round was simply thrilling. It was almost as if Kessler felt he had to get a knockout to secure a decision on foreign soil. Or maybe the old adversaries just couldn't resist having a right old go at each other. The crowd went wild, and such was the ferocity that the referee seemed as though he might step in with just 15 seconds remaining. Except he would not have known which fighter to stop.
At the final bell, the fighters fell into each other's arms in a meaningful embrace. Froch was a generous victory, saying: "The only thing that feels bad is that I've had to beat a real gentleman in Mikkel Kessler, and a real warrior. The fight was unanimously mine but he hit me hard a couple of times, as you could see.
"He made the mistake of telling me a few weeks ago that my arms of too long," he added with a wink at his opponent, who was sitting beside him. "No excuses," he concluded, "We've made it right, that's one apiece. You fancy another one?" Kessler wondered where it might happen but after their riveting home-and-away displays it should be staged in some kind of puglisitic paradise.
Join our new commenting forum
Join thought-provoking conversations, follow other Independent readers and see their replies