Bunce on Boxing: Four kings who ruled before desperate days
Duran would tell me how he had knocked out a horse one night, for a bottle of whisky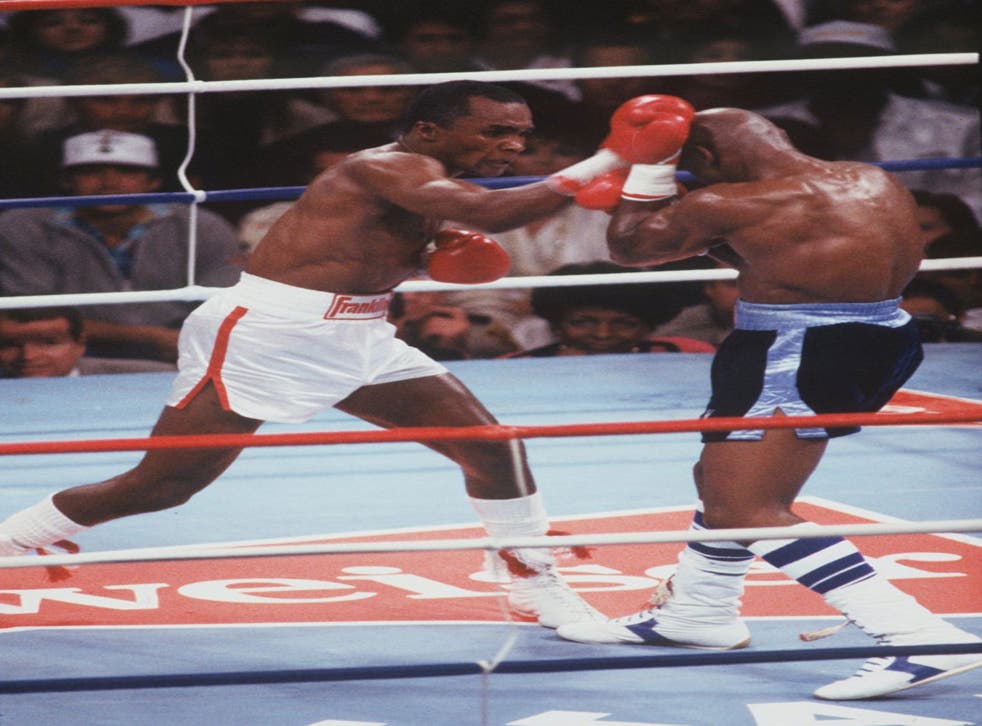 Last week saw the 25th anniversary of the Marvin Hagler and Sugar Ray Leonard fight. It was a world title fight that took place one mystical night outside, behind the casino neon in glorious Las Vegas, and it set financial records. But, far more than the money, it was a fight that defined a quartet of boxers that will never be forgotten.
Leonard beat Hagler on that particular occasion but the pair also tangled with Tommy Hearns and Roberto Duran in a series of nine spectacular fights that started in 1980 and ended in 1989. Has there ever been a rivalry in boxing to match what these four kings of the rings achieved? The four fighters were not afraid of meeting each other, not scared of losing their protected records or their golden baubles; they just wanted to fight and they each directed their promoters, agents and managers to make the fights that mattered happen. The boxers were the stars.
My old friend George Kimball, a cantankerous scribe of the highest order, wrote a book about their nine years of wars, called simply The Four Kings. It chronicles an age of genuine rivalry, with all four fighters surrounded by true boxing people. Their corners on fight nights were packed with gentlemen of the ancient game.
Duran had Ray Arcel and Freddie Brown as cornermen; Hearns had Manny Steward; Leonard had Angelo Dundee; and Hagler had the Petronelli brothers, Goody and Pat. They formed a holy collection of blue-collar heroes on both sides of the ropes, each with extraordinary tales of poverty, hardship, starvation and direct links with generations of fighters. Arcel worked with Benny Leonard in the 1920s; Brown had been Rocky Marciano's cutsman; Dundee had overseen Muhammad Ali's greatest moments; the Petronelli brothers were fighting royalty; and Steward was building the sport's greatest ever dynasty at his Kronk gym in Detroit.
Since the four boxers dominated the sport, filling the void between Ali's decline and Mike Tyson's rise, bigger fights have happened, but nothing has come even close to the sequence of fights between them. They had a total of 72 real world-title fights, including dozens away from each other's fists that were memorable. Duran first won a world title when he kneed Ken Buchanan in the groin in front of over 20,000 at Madison Square Garden in 1972; Duran had turned 21 just 10 days before that fight and his last world title fight was in 1998.
The four still occasionally get together and the smiles and welcomes are as fraught now as they were when they were touring America in planes, trains and helicopters, touting their fights.
It seems that Duran and Hearns get on quite well, Leonard claims to love everybody and Hagler, well, he's just Marvin and he never liked anybody to start with. I toured with Duran and Hearns, interviewing them over six nights in fancy leisure centres and glorified working men's clubs and they like each other. However, they still get edgy before the event starts and I swear I saw Duran eyeing Hearns with real menace one afternoon in Doncaster; Hearns had just been explaining to me how he stood aside to let Duran fall in their brutal 1984 fight.
Duran always won the chatshow format because he would tell me how he had knocked out a horse one night, for a bottle of whisky. Punters loved that tale and I believe it. It turns out that there is a point on the far side of the ear that leaves a horse vulnerable to a left hook.
They were glory days. It just makes the often foul-mouthed squabbles between Manny Pacquiao and Floyd Mayweather seem increasingly desperate.
Join our new commenting forum
Join thought-provoking conversations, follow other Independent readers and see their replies