The Independent's journalism is supported by our readers. When you purchase through links on our site, we may earn commission.
Cycling: Bradley Wiggins: Lance Armstrong is a 'lying bastard'
British rider outraged by Armstrong's claim to have rode clean against him in 2009 and 2010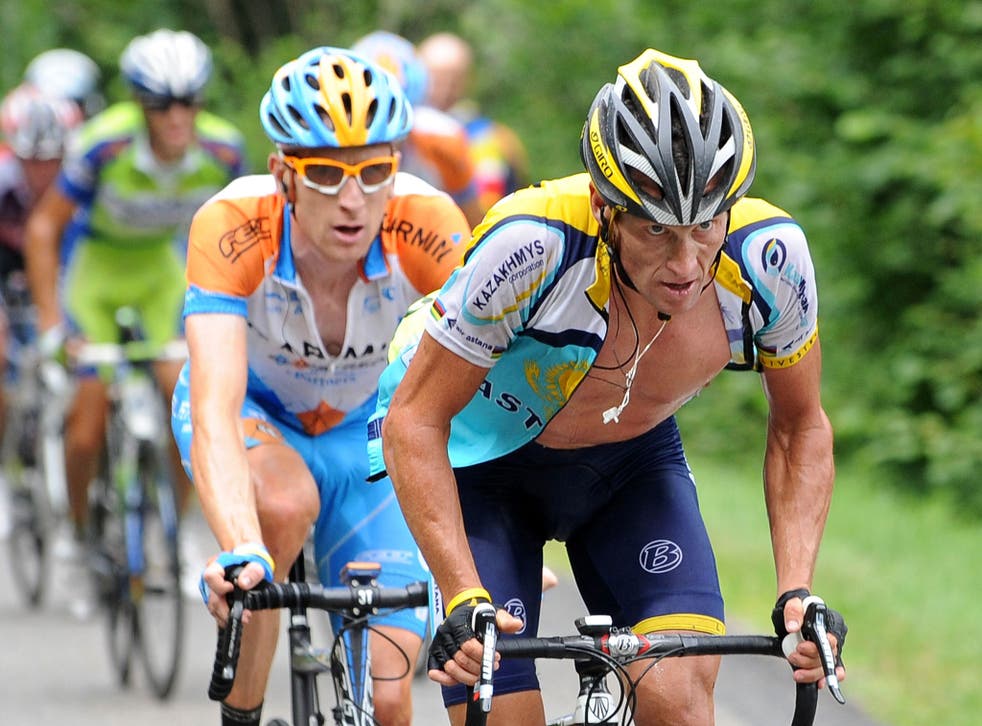 Bradley Wiggins has rubbished Lance Armstrong's claim that he has not doped since 2005. Speaking for the first time about the Texan's confession to Oprah Winfrey last week, Wiggins accused Armstrong of being a "lying bastard" over his suggestion that he rode his final two Tours de France clean.
Wiggins described how he grew increasingly angry as he sat with his seven-year-old son, Ben, watching the Armstrong interview during a return home from pre-season training in Majorca. Armstrong, said Wiggins, "deserves everything he gets".
After an initial sadness at seeing a man he portrayed as an inspiration confess to systematic doping, Wiggins' emotions changed once Armstrong claimed he had not doped in 2009 or 2010, when Wiggins also rode the Tour. In 2009, Armstrong finished third, one place ahead of Wiggins.
There was one moment in particular in that race that has stayed with Wiggins. The Briton finished the 15th stage to Verbier, in the Swiss Alps, 29 seconds quicker than Armstrong. Six days later the American climbed to the top of the formidable Mont Ventoux 21 seconds quicker than Wiggins.
"What upset me the most was [Armstrong talking] about 2009-10 - I thought you lying bastard," said Wiggins. "I can still remember going toe to toe with him and watching the man I saw on the top of Verbier in 2009 to the man I saw on the top of Ventoux a week later when we were in doping control together - it wasn't the same bike rider. You only have to watch the videos of how the guy was riding. I don't believe anything that comes out of his mouth any more."
Wiggins had not intended to watch Armstrong on Oprah but changed his mind. He said: "I was a fan of Lance Armstrong - I remember watching him win the worlds in '93 in Oslo. I was 13. Then he got cancer and then he came back and won the Tour de France in '99 when I was 19 years of age. I remember it was so inspirational at the time, having seen what he had come from, all those pictures of him with cancer and then he has won the Tour de France.
"Part of me didn't want to watch [the interview], the fan in me didn't want that perception of him to be broken as this amazing athlete. Then I had to watch it - I watched it with my son - so those initial questions, the yes/no answers, just watching him suddenly cave in after all those years of lying so convincingly it was a lot of anger, a lot of sadness and slightly emotional. It was difficult to watch - my wife couldn't watch it, she walked out of the room.
"It was heartbreaking in some respects for the sport, but then the anger kicks in and you start thinking what a f***ing a***hole. It's very difficult - then I have to explain to my son what it's all about. He's won the same race your dad's won... but by the end I had the best feeling in the world when [Armstrong] starts welling up about his 13-year-old son having to ask what's this all about. I never have to have that conversation with my own son - his father has won the Tour clean. There was this element of being quite smug about the whole thing to be honest. Then I got quite 'you deserve everything you get' about it, and feeling no sympathy whatsoever."
Armstrong last week admitted to doping throughout his record seven Tour victories from 1999 to 2005. The 41-year-old was banned for life last year, and had his titles stripped, following the publication of a raft of evidence and testimony collected by US anti-doping authorities. Armstrong did not contest the charges brought by Usada but had always denied doping until last week when he sat down with Winfrey in a hotel in Austin, Texas. Armstrong maintained though that he had not used banned substances or any other forms of doping since he first retired from the sport after his 2005 Tour triumph.
Usada has accused him of doping during his comeback in 2009 and the following year, saying it has evidence of blood doping. It has been suggested, notably by those close to him, that Armstrong wants to engineer a reduction in his ban by making some form of confession - and by denying doping from 2005 any reduced ban could then be backdated to 2005. An eight-year backdated ban for confessing would leave him free to compete in triathlon or Ironman events - his favoured arena - this year. But any reduction could only follow a full confession under oath to Usada, and there is little confidence in his claim to have stopped in 2005.
Wiggins is currently preparing for the season with Dave Brailsford and the rest of Team Sky at their training base on Majorca's north coast. Brailsford, Team Sky's principal, believes their sport is now in the "last-chance saloon".
Brailsford has led a zero-tolerance policy to doping in the Sky team that has seen the departures of sports director Steven de Jongh and coach Bobby Julich. He said: "Cycling has got to move on - I don't think we have an option. This is the last-chance saloon for the credibility of cycling. There is enough information now coming out to really allow the authorities to make absolute concrete, clear preventive interventions. That will mean the sport is never allowed to go back to the place it was in the past."
* Britain's Geriant Thomas saw his lead in the Tour Down Under trimmed to five seconds by Dutchman Tom-Jelte Slagter.
Join our new commenting forum
Join thought-provoking conversations, follow other Independent readers and see their replies