Cycling: Brailsford rejects top job offers to lead GB to Rio
Performance director opts to stay on after being excited by future prospect Barker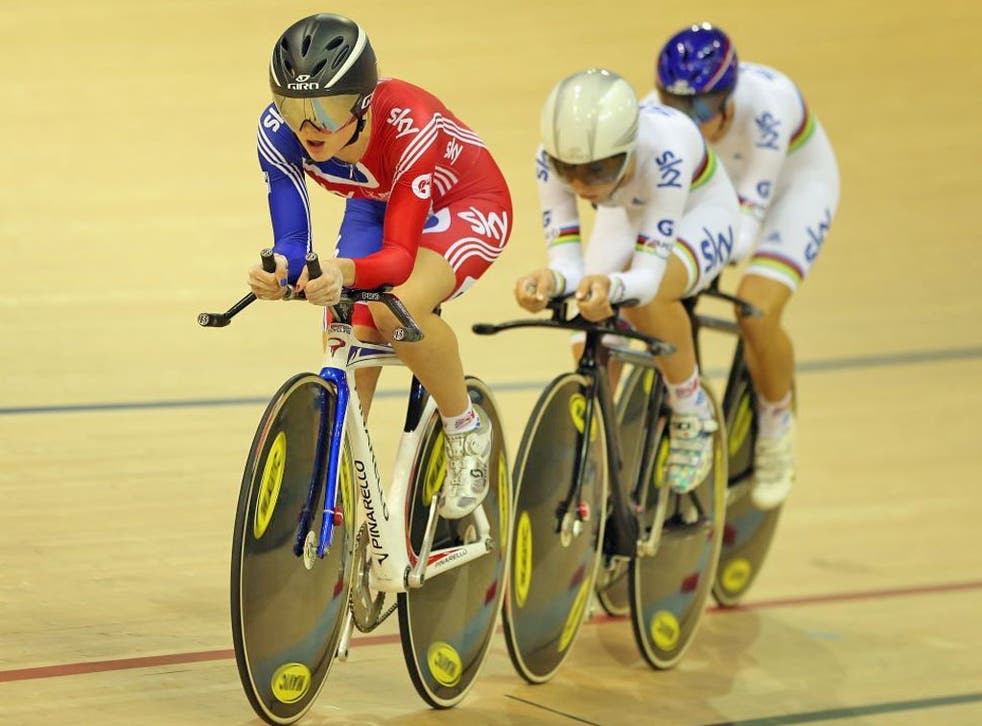 Dave Brailsford will remain in charge of Britain's Olympic team having turned down a number of offers to switch sports or even move into business.
As Britain's performance director, Brailsford has overseen the dramatic success of the last two Olympic Games, culminating in London's seven gold medals, and has been involved with the cycling team for four Games in all. He will continue to do so for a fifth in Rio in 2016 after considering his options since London.
His dual role as team manager of Team Sky is key to his decision to stay on, as is the emergence of yet another crop of talented youngsters – Brailsford described 18-year-old Elinor Barker's World Cup debut this weekend as "outstanding" – as the track team faces a period of change following the retirement of Victoria Pendleton, the impending end of Sir Chris Hoy's career and with a number of other track riders switching on to the road.
"I thought about it," said Brailsford of taking one of the "whole range of things in other sports and business" that were available to him. "You stop, assess things, work out what you want to do. That's a natural thing to do. It was the same after Beijing – you get a bit of success and people are interested, keen to know how you do it. Had I wished to change, I could've changed. If I wasn't enthusiastic I'd stop, because I don't need to do this. The moment I stop enjoying it I won't do it."
Brailsford has been a man in demand since London 2012 crowned a remarkable year that included overseeing Sky and Bradley Wiggins' historic success in the Tour de France. He has also had to deal with the fallout from the Lance Armstrong scandal that has seen Sky shed a number of key personnel thanks to the team's unwavering anti-doping stance. There is an acceptance that might harm them in the short term, but there will be no change of policy. "I'm very clear what we are doing and where we are going long term," said Brailsford.
Having returned to the track in Glasgow for the first time since the Olympics, a number of riders head to Australia on Tuesday for endurance training in Perth under the direction of head coach Shane Sutton.
It signals the start of an intense period of preparation for February's world championships in Minsk. The team were given the choice of easing back into what Brailsford acknowledges is a "tricky season" post-Games but chose instead to immerse themselves fully for the world championships, which will mean training across the Christmas period.
Laura Trott, identified by Brailsford as one of the new leaders of the squad, Becky James and Jess Varnish, the oldest of the three at 22, all enjoyed good performances in Glasgow but it was Barker's bow at this level that made the most impression on Brailsford.
"The way Elinor Barker rode is probably one of the best debuts I've seen in the senior ranks in the years I've been here – that was a very, very impressive ride," he said. "In the final [of the team pursuit] when she did a lap and a half turn [as Dani King struggled] – the decision-making and the confidence to do that at such a young age, in your first final ride, such a nip-and-tuck ride – that's Laura Trott territory. Very, very exciting."
Another 18-year-old, Jon Dibben, who impressed despite finishing outside the medals in the omnium, also stood out for Brailsford. Barker had been scheduled to ride in the next round of the World Cup in Mexico in January as part of the Welsh trade team but may yet find her focus diverted to Belarus a month later. Brailsford is currently assessing a post-Games review into the team's Olympic performance and preparation. It was conducted anonymously to give athletes and coaches the freedom to raise any concerns.
Join our new commenting forum
Join thought-provoking conversations, follow other Independent readers and see their replies