Cycling: Can Bradley Wiggins win the 2013 Tour de France?
It is very hard to win both Giro and Tour so Brit's chances in France depend on how he copes in Italy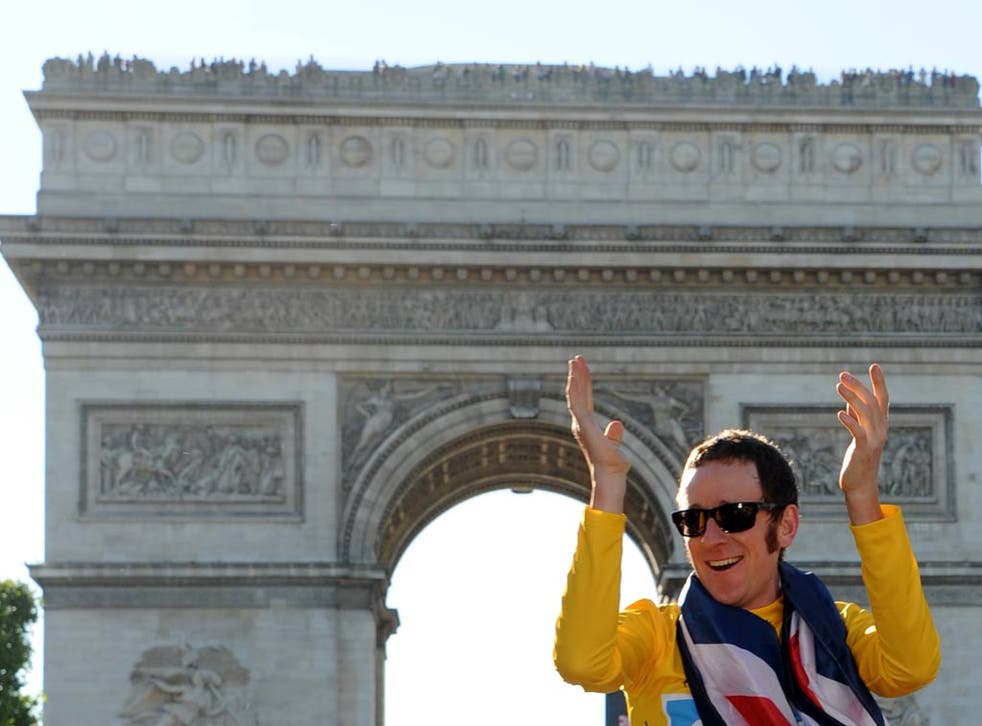 This autumn, when I asked Alberto Contador - cycling's top stage racer of this generation and a double Tour winner - about what he made of Bradley Wiggins' chances of repeating his 2012 victory in 2013, he looked shocked. But probably only because I had even bothered to ask.
"He [Wiggins] is going to be a clear candidate for the win," was his answer. Simple as that.
At this point in time, before all the imponderables of every rider's Tour build-up kick in - and they range from illness and injury to training crashes to miscalculations about hitting peak condition - it's hard to disagree with Contador. A quick glance back at 2012's Tour confirms that. Wiggins was never out of the top two overall in the whole three weeks, and from the moment the first big climb at the Planche des Belles Filles saw the Londoner take yellow, the Tour was his to lose.
Arguably, the planets lined up for Wiggins - the route was very favourable to his time trialling strengths; no unexpected rivals in enemy teams emerged; his team were almost uniformly on top of their game. But Wiggins own contribution was what the essential ingredient in Sky's recipe for Tour success - from his ability to handle the pressure (on and off the bike) to maintaining a consistency of form throughout (from February onwards, lest we forget) to playing a sound, if somewhat monotonous, strategic game.
All of these factors, reinforced with the experience of winning the 2012 race, could well be in Wiggins individual favour again in 2013. Yes, the route will be a lot tougher, as will some of his rivals (the return of Contador is probably the most important) and Wiggins will be 33, older than many past Tour winners. But on the plus side, there is the extra confidence that having won the race once so resoundingly and knowing how to do it, will bring both the Londoner and Team Sky.
Far too much has been made too soon about whether Wiggins and Froome can act as joint leaders in the Tour de France. It's true that Froome's impulsive attacks when Wiggins was leading last summer were one of the very few moments of the Tour when Sky's plans seemed potentially awry. On top of that, the pressure cooker atmosphere of the summer recedes and Wiggins old motivation to win the Tour returns, Wiggins switches of plan this winter from becoming Britain's first Giro winner to a possible Giro-Tour double have provided extra fuel to this debate. But at this point in time it's a wholly artificial one.
In fact, probably the single biggest controllable factor concerning Wiggins' chances of winning the 2013 Tour is not Froome or Contador, it's his decision to race the 2013 Giro d'Italia - and at no point has the Londoner said that trying to become Britain's first ever winner of cycling's second biggest stage race is going to be shelved.
To 'do the double' and take Giro and Tour is an extraordinarily difficult ask - the last rider to succeed was Marco Pantani in 1998. Contador failed in 2011 (winning the Giro, but finishing fifth in the Tour, prior to losing both results because of a retro-active doping sanction); 2011 Tour winner Cadel Evans failed in 2010; Giro winner Denis Menchov failed in 2009.
For Wiggins, 2013 will be something of a voyage in the dark. But 'the double' has been done before. And in 2011, after building up for the Tour so well and then crashing out, he bounced back in style at the Vuelta, taking third. But realistically, how much the Giro will take out of Wiggins physically and mentally, and how much it may eat into his chances of a second Tour victory, will only first become clear as the curtain falls on the race in Brescia on May 26th next year.
As Contador put it to me about Wiggins, "you don't win the Tour by chance." And Wiggins certainly didn't. All things being equal, though, the first real indication of whether Wiggins can win it again will come over a month earlier than the Tour's start in Corsica on June 27th - in Italy.
Join our new commenting forum
Join thought-provoking conversations, follow other Independent readers and see their replies