Cycling: Sean Yates insists retirement has no connection to Team Sky doping probe
Sports director denies investigation caused his departure, despite Armstrong links
Cycling: Sean Yates insists retirement has no connection to Team Sky doping probe

Show all 2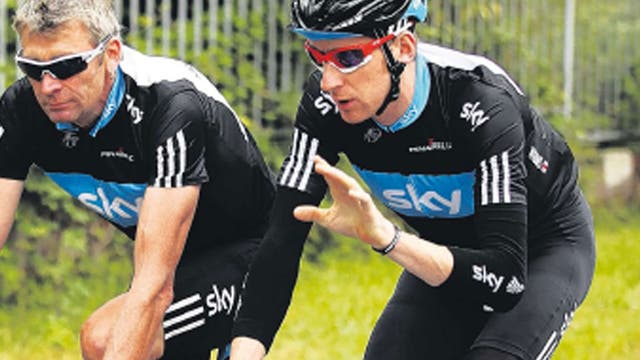 Just three months after guiding Bradley Wiggins to Britain's greatest-ever victory in the history of road cycling, when the Londoner captured the country's first-ever Tour de France win, Sky's lead sports director, Sean Yates, has quit the team.
Yates's sudden resignation comes in the midst of the team's full-scale enquiry into management and riders' potential links to doping, but both the former Tour de France leader and his – now – ex-team insist that the his departure is purely for health and family reasons.
His past as a former team-mate of Lance Armstrong's and sports director on the American's team from 2005-7 had led to questions being raised about Yates's future at Sky when the British team announced their anti-doping probe – designed to ensure that anyone revealing past connections to banned drugs use, however distant, would be asked to leave.
However, Yates today insisted his departure had nothing to do with that investigation. "I have suffered with my health in recent years and have spent a lot of time away from my home so I feel the time is right to focus on myself and my family," he said.
"I realise the timing of my retirement will lead to speculation given what is currently going on in the sport but I can walk away with my head held high knowing I have done nothing wrong."
Yates has had a series of heart problems following his retirement from the sport in 1996, needing at least one operation and forcing him, on occasions, to stop riding at amateur level. His resignation from Britain's squad follows hard on the heels of the exit of Bobby Julich, another Team Sky coach, after the 1998 Tour de France finisher confessed to taking the banned blood-booster EPO for two years in the 1990s.
It is not known if others apart from Julich will leave the squad as a result of Sky's enquiries, with the Team Principal, Dave Brailsford, saying earlier this month that the investigation could take "years" to complete. Yesterday, Sky refused to comment on other possible cases. Repeated calls by The Independent to the team's press officer and Sky management were not returned.
"Sean has been interviewed and there were no admissions or disclosures that would have required him to leave the team," read a press statement issued by the team.
Yates, 52, was one of Britain's best-known and popular professionals from the 1980s and 1990s, leading the Tour for one day in 1994, and winning stages of both the Tour de France and the Vuelta a España. From 1992 to 1996, at the American squad Motorola, he was a team-mate of Armstrong's, where he was valued as a top domestique – team helper – and also secured fifth place in cycling's toughest one-day classic, the Paris-Roubaix.
After retiring, Yates then worked as sports director in the ill-fated Linda McCartney team – Bradley Wiggins's first-ever pro squad for a few weeks of 2001 before it collapsed when sponsors unexpectedly pulled out – as well as having the same role in Discovery Channel – Armstrong's team – from 2005 to 2007 and Alberto Contador's Astana squad in 2008, guiding the Spaniard to victory in the Giro d'Italia.
Yates claimed earlier this month that he saw nothing untoward at his time in Armstrong's squad, insisting his duties were purely on the logistical side of the team.
Signed by Sky as a manager in 2010, Yates worked closely with Wiggins as the Briton honed his approach to stage racing. When Wiggins clinched his breakthrough victory at the Critérium du Dauphine, the Tour's main warm-up race, in 2011, Yates was behind the driving wheel of the main support car and he was there again when the Londoner completed his series of historic wins for Sky this year with victory in the Tour.
With the new season due to start in just three months, the question of who will fill Sky's top director's spot is an increasingly pressing one for Brailsford. A significant percentage, though by no means all, of cycling's top managers have had direct or indirect links to banned drugs in the past and Sky's hardline anti-doping policy could make for a potentially long, painstaking search for Yates's replacement. But with the season's first major race, the Tour Down Under in Australia, in late January and training camps soon to get under way, time is not on their side.
Sean Yates' career in the saddle
Born Ewell, Surrey
Age 52
Years riding 1982-1996
Discipline Road (Domestique)
Professional teams
Peugeot (1982-1986)
Fagor (1987-1988)
7-Eleven (1989-1990)
Motorola (1991-1996)
Titles
British National Road Race Champion 1992
Wore the Maillot Jaune in the 1994 Tour de France
Managerial teams
Linda McCartney Racing Team (1996-2001)
Discovery Channel (2005-2009) Team Sky (2010-2012)
Yates after the publication of USADA's doping evidence against Lance Armstrong: "It's all pretty damning for Lance and the whole history of his seven Tour wins. My opinion is one of disappointment, I'm upset, really. [I'm shocked] at the depth of the whole system. I worked with Lance but never had any indication this practice was going on. I never saw any indication of anything dodgy going on."
Join our new commenting forum
Join thought-provoking conversations, follow other Independent readers and see their replies