The Independent sports quiz of the year
The gold medals and the glory have come thick and fast in 2012. How closely have you been paying attention? Test yourself with Simon Turnbull's gruelling set of questions from the world of sport... (answers below)
Wednesday 26 December 2012 10:54
comments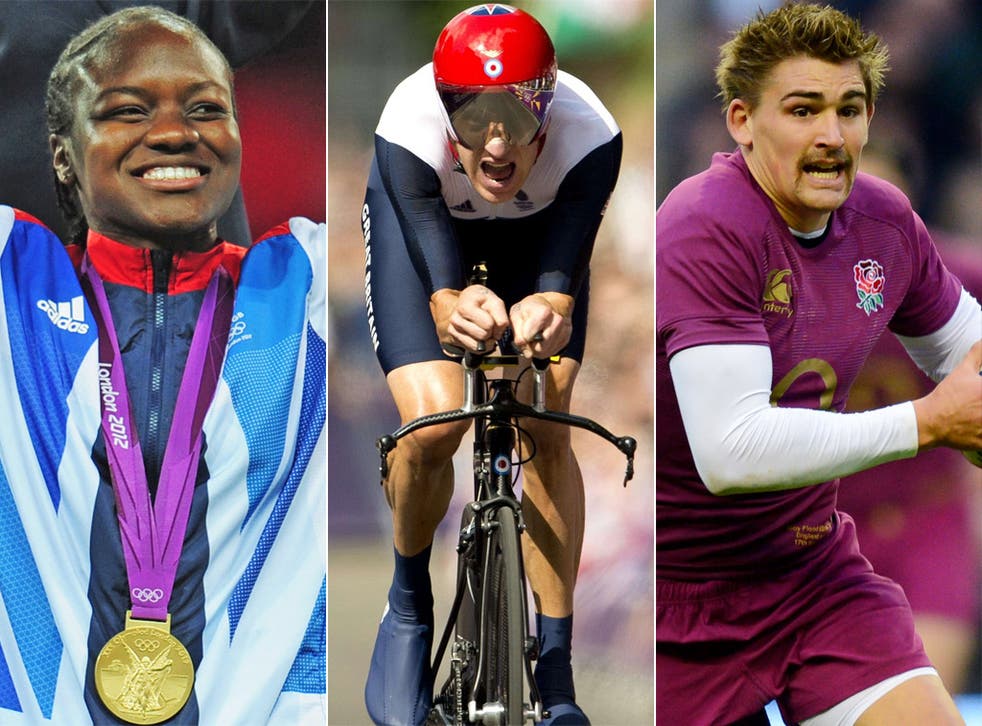 ONE: WHO AM I?
1. My grandfather was a famous Doctor. I lifted a major piece of silverware in 2012.
2. I made my first start for my country in December. It was not quite a perfect day.
3. I have got the longest running streak in world sport, 48 years and counting. I had a brush with a serial killer.
4. I am a Premier League goalkeeper. My dad was state wrestling champion of Baden-Baden.
5. I am a former judo champion of Limburg. I have just returned to the Premier League.
6. Joe Root was surprised that I won the sports pupil of the year prize ahead of him at King Ecgbert School.
7. I wore the number 13 shirt for my country. I have just lost a long-standing record.
8. I am a Premier League footballer. I sponsored my sister's bid for Olympic selection in 2012. My cousin is an Olympic silver medallist.
9. I won the men's 10,000m at the British Olympic trials in Birmingham in June.
10. I made my international debut in June. My aunt is a former Commonwealth badminton champion.
TWO: WHERE IN THE WORLD?
1. In which city did Scotland beat the Wallabies in June?
2. In the suburb of which city did the miracle of Medinah take place?
3. On which race track did Sebastian Vettel clinch the F1 title?
4. Where did Carl Froch beat Yusaf Mack to retain the IBF super middleweight title in November?
5. Where did Usain Bolt and Yohan Blake train in the last few weeks before the Olympic Games?
6. In which city was a GB team captain asked to recite the words of the national anthem at a pre-event press conference?
7. Where were the 126th Olympian Games staged in 2012?
8. Where did Jonny Wilkinson take the Webb Ellis Trophy on a pilgrimage in October?
9. Where did the Giants beat the Patriots to win Superbowl XLVI?
10. Where did Laura Robson become the first British woman to reach a WTA main tour final since Jo Durie in 1990?
THREE: LONDON OLYMPICS TRACK AND FIELD
1. Who won Grenada's first Olympic gold in any sport?
2. What was Greg Rutherford's winning distance in the long jump?
3. Mo Farah, born in Somalia, won 5,000m and 10,000m gold for GB. His coach competed in the 1984 Olympic marathon for the US but was born in which country?
4. Who were Jessica Ennis's two British team-mates in the heptathlon?
5. Who beat Christine Ohuruogu to gold in the women's 400m final?
6. David Rudisha won the men's 800m in world record time. What is the name and nationality of his coach?
7. Name the training partner who picked up 10,000m silver behind Mo Farah.
8. Who held the British record that Jessica Ennis broke in the opening event of the heptathlon?
9. With whom did Robbie Grabarz share the third step on the medal rostrum after the men's high jump?
10. Which overseas gold medal winner has a mother from Kent?
FOUR: THE LONDON OLYMPICS, GENERAL
1. Who won Ireland's only gold medal?
2. Who reprimanded the spectator accused of throwing a bottle on to the track before the start of the men's 100m?
3. Who was selected ahead of world No 1 Aaron Cook to compete for Great Britain in the 80kg men's taekwondo division?
4. Which US gymnast had the president turning up his nose at the White House?
5. Who did Nicola Adams beat in the flyweight final to become the first Olympic women's boxing champion?
6. Who did Sir Chris Hoy pip to win the keirin and eclipse Sir Steve Redgrave as a six-time Olympic champion?
7. Who was Kath Grainger's partner in the winning double sculls team?
8. Who set the first world record of London 2012 – on the morning of the opening ceremony?
9. Who edged out Michael Phelps to win the 200m butterfly?
10. Michael Phelps won four golds but how many silvers at London 2012?
FIVE: PARALYMPICS
1. Which former Olympic champion competed in a track and field event?
2. Who presented David Weir with his T54 800m gold medal?
3. Who was the fellow blade runner who left Oscar Pistorius so cut up after the T44 200m?
4. Who was the 7/7 victim who represented Team GB?
5. What was so notable about the men's T38 400m in track and field ?
6. What was notable about the men's C4/5 1km time trial in the Velodrome?
7. Name the Welsh discus thrower presented with a gold medal by the Duchess of Cambridge.
8. Which 15-year-old from Jarrow struck gold in the pool?
9. Jonnie Peacock, winner of the T44 100m, shares the same coach as which Olympic medal winner?
10. Name the Dutchwoman who won her 471st successive match to claim wheelchair tennis gold.
SIX: STAGE AND SCREEN TEST
1. The father of Paul Blake, winner of two Paralympic silver medals in athletics, appeared in which 1977 film?
2. The Tyneside Schools' 100m title was won in 1966 by Gordon Sumner of St Cuthbert's Grammar – the future Sting. Which future television celebrity won it in 1956?
3. Archer Alison Williamson, now in the record books as a six-time Olympian, beat which Oscar winner in the Golden Arrow tournament in Sydney in 2000?
4. Who invented Mo Farah's Mobot celebration?
5. Who predicted the world would end in 1997 but attracted a sell-out crowd at Wembley Arena in October?
6. Who played Isambard Kingdom Brunel at the Olympic opening ceremony in 2012?
7. Who presented BBC Scotland's coverage of the autumn rugby international between Scotland and Tonga?
8. Toby Flood's maternal grandfather appeared in which film 1961 film, alongside Gregory Peck?
9. What was staged at the Gielgud Theatre in July 2012?
10. Which 2012 film featured a British relay team?
SEVEN: 2012 BADDIES
1. Which Saint became a sinner over Mo Farah?
2. Which Championship footballer got into trouble for posting an anti-Israeli tweet?
3. Which hooker landed a first-minute knockout blow?
4. Which track and field athlete lost 2012 Olympic gold because of a positive drugs test?
5. Who was jailed for sabotaging the Boat Race?
6. Badminton players from which three nations were disqualified for trying to engineer sham results in group matches at London 2012?
7. Who was nominated as a 2012 Texan of the Year finalist by the Dallas Morning News this week?
8. Who was named Anti-Sportsman of the Year by Sports Illustrated ?
9. Who was disqualified from the Olympics after jogging home in his 800m heat?
10. Who kept his Olympic gold after admitting breaking the rules?
EIGHT: THE BEAUTIFUL GAME
1. Which outfield Championship player wears a rugby scrum-cap?
2. Stoppage-time goals by which players won the Premier League title for Manchester City?
3. Who scored Celtic's goals in their 2-1 win against Barcelona?
4. Who headed Bayern Munich in front in the 2012 Champions League final?
5. Who scored for Hibernian in the 2012 Scottish Cup final?
6. What was Steve Clarke's first job?
7. Who scored Leeds United's goals in their 2-1 League Cup win against Everton?
8. Who scored a 93rd-minute New Year's Day winner against Manchester City?
9. Adel Taarabt represented which country at youth level?
10. Who appeared in a Champions League win against Milan in 2000 and now plays for Oxford United?
NINE: THE OVAL BALL GAME
1. Who scored a hat-trick of tries against Ireland on his international debut in June?
2. Name the three men who were successively in charge of playing affairs at Newcastle Falcons in 2012.
3. England started with three different full-backs in each of their summer tests in South Africa. Who were they?
4. Where did Andy Robinson preside over his final match as Scotland head coach?
5. In 2012 Tim Visser became the latest product of Barnard Castle School to make the senior international grade. Name four others who have done so – all with England.
6. Which two cousins went head to head in the autumn internationals?
7. Why was the opening day of the 2012 Six Nations such a special day for a former Scotland under-19 flanker?
8. Who took Australia's one conversion attempt against Wales in November?
9. Which Wales international has an England under-19 cricket cap?
10. Who scored New Zealand's tries against England in November?
TEN: LEATHER ON WILLOW...
1. Which former international bowler played on loan for Yorkshire in July?
2. How many runs did Hashim Amla score against England in South Africa's first innings at the Oval in June?
3. Who won the man of the match award in the CB40 final at Lord's in September?
4. Which actor and comedian wrote a book about gate-crashing an England tour posing as a cricket journalist?
5. Who rang the five-minute bell before the start of play in the third and final Test between England and South Africa at Lord's in August?
6. Andrew Strauss finished his England career with a batting average of what, after 100 Tests?
7. Who scored the most runs in the ICC World Twenty20 tournament in 2012?
8. Who top scored in the World Twenty20 final in Colombo on 7 October?
9. Who presented Jonny Bairstow with his cap before his England Test debut against West Indies at Lord's in May?
10. Nick Compton, who made his England debut in 2012, was born in which city?
ELEVEN: HERE WIGGO...
1. Where was Bradley Wiggins born?
2. Which famed British Tour de France rider settled in the same city where Wiggins was born?
3. Wiggins' father, Gary, won the European Madison title in partnership with which rider?
4. What was Gary Wiggins' nationality?
5. With which team did Bradley Wiggins sign as a professional in 2001?
6. In 2004 Wiggins became the first Briton to win three Olympic medals at one Games since 1964. Which track and field athlete achieved the feat in Tokyo?
7. When Wiggins finished fourth in the 2009 Tour de France he became the joint highest ever British finisher in the race with which rider?
8. Who beat Wiggins in the 2012 Tour de France prologue?
9. On which stage did Wiggins take the lead in the 2012 Tour de France?
10. Who took silver and bronze behind Wiggins in the 2012 Olympic time trial?
TWELVE: 2012 OLYMPIC FINALE
1. Who won the 100m and 200m at the Jamaican Olympic track and field trials in June?
2. Team GB finished third in the Olympic medals table behind which two nations?
3. How many Olympic medals did Team GB win?
4. How many of those medals were golds?
5. Who ran the anchor leg for the US women's 4 x 100m relay team that broke the world record which had been held by East Germany since 1985?
6. US swimmer Missy Franklin won four golds. How old was she?
7. Who became China's first men's Olympic swimming champion?
8. Who followed up his decathlon world record in June with Olympic gold?
9. Andy Murray beat Roger Federer to take gold in the men's tennis singles. Who won the bronze?
10. Who was beaten by Serena Williams in the women's singles final?
ANSWERS
One 1. James Troughton, captain of Warwickshire, cricket county champions – grandson of Patrick Troughton, the actor who played Doctor Who on television from 1966 to 1969. 2. Lou Reed, Cardiff Blues lock. Made his first start for Wales in their 14-12 defeat against Australia at the Millennium Stadium in Cardiff on 1 December. 3. Ron Hill, former Commonwealth marathon champion. Has run at least one mile every day since December 1964. Lives in Hyde – once had treatment from local GP, Harold Shipman. 4. Mark Schwarzer of Fulham. His father, Hans, was a wrestler. 5. Boudewijn Zenden, three times judo champion of Limburg and interim assistant manager of Chelsea. 6. Jessica Ennis, Olympic heptathlon champion. She was in her final year at King Ecgbert School in Sheffield when Joe Root was in his first. 7. Gerd Muller, West Germany and Bayern Munich goal poacher supreme. His record of 85 goals for club and country in 1972 was broken this month by Lionel Messi. 8. Jason Roberts, Reading striker. His sister Yasmine Regis was Britain's fourth best triple jumper in 2012. She failed to achieve the Olympic qualifying standard. Their cousin John Regis won Olympic silver in the 4 x 100m relay in Seoul in 1988. 9. Kenenisa Bekele, world record holder for 5,000m and 10,000m. The Ethiopian ran as a guest at the British Olympic trials, winning the 10,000m in 27min 02.59sec. 10. Alex Goode, Saracens and England full back. Made his England debut against South Africa in June. His aunt, Joanne Goode, won two Commonwealth badminton gold medals.
Two 1. Newcastle, New South Wales. 2. Chicago. 3. Interlagos, Sao Paulo. 4. The Capital FM Arena, Nottingham. 5. The University of Birmingham, where the Jamaican track and field team was based. 6. Istanbul, where the US born and raised Tiffany Porter captained the British team at the world indoor athletics championships in March. 7. Much Wenlock, Shropshire. 8. To the grave of William Webb Ellis at Menton in France. 9. The Lucas Oil Stadium, Indianapolis. 10. Guangzhou, China.
Three 1. Kirani James, winner of the men's 400m. 2. 8.31m. 3. Alberto Salazar was born in Cuba. 4. Katarina Johnson-Thompson and Louise Hazel. 5. Sanya Richards-Ross of the USA. 6. Brother Colm O'Connell . Irish. 7. Galen Rupp of the USA 8. Tiffany Porter, 100m hurdles. 9. Moutaz Essa Barshim of Qatar and Derek Drouin of Canada also won bronze. 10. Sally Pearson, the Australian winner of the 100m hurdles.
Four 1. Katie Taylor, women's lightweight boxing. 2. Edith Bosch, Dutch judoka, bronze medallist in the 70kg division. 3. Lutalo Muhammad. 4. McKayla Maroney. President Obama mimicked the unimpressed expression she pulled when receiving silver for the vault. 5. Ren Cancan of China. 6. Max Levy of Germany. 7. Anna Watkins. 8. Im Dong-Hyun of South Korea, in the ranking round of the men's archery at Lord's. 9. Chad Le Clos of South Africa. 10. Two.
Five 1. Ilke Wyludda, 1996 Olympic discus champion from Germany. 2. Eddie Izzard. 3. Alan Oliveira of Brazil. 4. Martine Wright. 5. George Osborne was booed at the medal presentation. 6. Favourite Jason Cundy was denied a re-start after slipping. 7. Aled Davies. 8. Josef Craig, winner of the S7 400m freestyle. 9. Peacock and Greg Rutherford, Olympic champion, are both coached by Dan Pfaff. 10. Esther Vergeer.
Six 1. His father, also Paul Blake, played Greedo – a bounty hunter shot by Han Solo - in the original Star Wars movie. 2. Darts commentator Sid Waddell, who died in 2012. 3. Geena Davis. 4. Clare Balding, as a fellow guest on James Corden's A League of their Own show. 5. Former Hereford United goalkeeper and Grandstand presenter David Icke. 6. Kenneth Branagh. 7. Dougie Vipond, drummer in the band Deacon Blue. 8. Albert Lieven appeared in The Guns of Navarone. 9. A recreation of the Oscar-winning film Chariots of Fire. 10. Fast Girls.
Seven 1. Northampton Saints hooker Brett Sharman was reprimanded after a racist tweet relkating to Farah. He subsequently left Northampton and joined Bath. 2. Mido of Barnsley. 3. All Black Andrew Hore on Wales lock Bradley Davies in Cardiff in November. 4. Belarus Shot putter Nadzeya Ostapchuk. 5. Trenton Oldfield. 6. China, South Korea and Indonesia. 7. Lance Armstrong. The Dallas Morning News reasoned in an editorial: "Armstrong's crash to Earth in 2012, with all its painful reverberations, leaves a Texas-size crater that qualifies him as a finalist for this year's distinction. His fall wasn't pleasant to behold. If nothing else, it's a lesson about the perils of hero worship." 8. Lance Armstrong. 9. Taoufik Makhloufi of Algeria claimed he had a knee injury. He was reinstated and won the 1500m. 10. South African swimmer, who admitted making more than the one permitted dolphin kick en route to 100m breaststroke gold in world record time.
Eight 1. Sheffield Wednesday central defender Miguel Llera. 2. Edin Dzeko and Sergio Aguera. 3. Victor Wanyama and Tony Watt. 4. Thomas Muller. 5. Tony McPake – in a 5-1 defeat against Hearts. 6. Apprentice instrument technician with Glaxo in Irvine. 7. Aidan White and Rodolph Austin. 8. Ji Dong-won of Sunderland. 9. France. 10. Michael Duberry played for Leeds in a 1-0 home win against Milan in 2000.
Nine 1. All Black winger Julian Savea. 2. Alan Tait, Gary Gold and Dean Richards. 3. Mike Brown, Ben Foden and Alex Goode. 4. Pittodrie Stadium, Aberdeen, where Scotland lost to Tonga in November. 5. Rob Andrew, Rory Underwood, Tony Underwood, Mathew Tait. 6. Hookers Richardt Strauss of Ireland and Adriaan Strauss of South Africa. 7. In his first match as England head coach, Stuart Lancaster guided England to victory against Scotland at Murrayfield. 8. Lock Nathan Sharpe, on the occasion of his 116th and final Test. He missed. 9. Scarlets flanker Aaron Shingler, who started his sporting career on Glamorgan's books, played for the England under 19 cricket team in a one-dayer against Bangladesh. 10. Julian Savea (2) and Kieran Read.
Ten 1. Steve Harmison. 2. 311 not out. 3. Hampshire captain Jimmy Adams. 4. Miles Jupp, of Rev, Balamory and Have I Got News for You fame. 5. Jamaican sprinter Yohan Blake. 6. 40.91 runs. 7. Australian Shane Watson. 8. Marlon Samuels of West Indies with 78. 9. Geoffrey Boycott. 10. Durban.
Eleven 1. Ghent, Belgium. 2. Tom Simpson, who died during the 1967 Tour. 3. Tony Doyle. 4. Australian. 5. The Linda McCartney Racing Team. 6. Mary Rand. 7. Robert Millar. 8. Fabian Cancellara. 9. Stage 7 – from Tomblaine to La Plaine des Belles Filles. 10. Tony Martin of Germany and Chris Froome of GB.
Twelve 1. Yohan Blake. 2. USA and China. 3. 65. 4. 29. 5. Carmelita Jeter. 6. 17. 7. Sun Yang. 8. Ashton Eaton of the USA. 9. Juan Martin del Potro of Argentina. 10. Maria Sharapova.
Join our new commenting forum
Join thought-provoking conversations, follow other Independent readers and see their replies