Kevin Garside: Boxer Evander Holyfield has always been a sucker but, despite his fall to reality TV depths, is worth remembering for when he was the 'real deal'
At least his appearance on car-crash TV is preferable to stepping back in the ring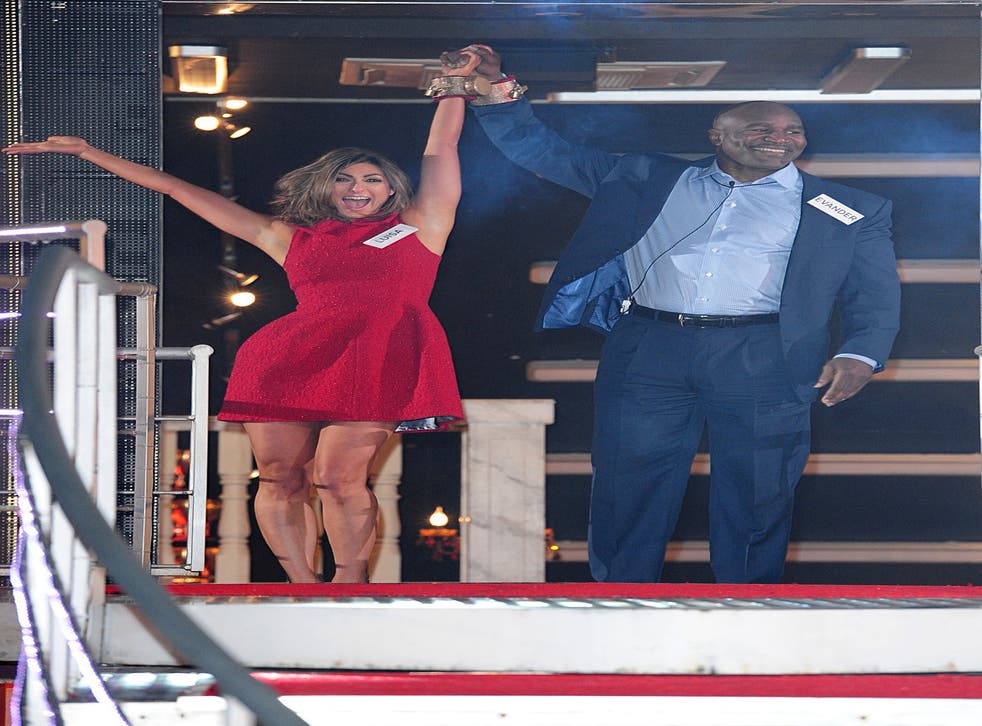 There is scraping the barrel and then there is the Big Brother House. Few are the indignities as dispiriting as the sight of a great fighter wandering around the shallow drivel-scape that is celebrity TV chained to a Barbie doll.
Luisa Zissman's idea of depth appears to extend no further than a one-night stand, unless a treatise on heated rollers counts as evidence of a developed intellect. It could have been worse. Evander Holyfield might have been locked together with that other paragon of authenticity, Casey Batchelor, who flaunts breast implants for a living while chirping the brilliantly crafted catchphrase, "Should I get 'em out?" Please no, Casey.
Holyfield is a sucker for the busty punch, having fathered 11 children by half a dozen different mothers. There is nothing in Ms Zissman's locker that Holyfield has not previously encountered in a career bedding all-comers. That is partly why he wound up keeping company with Channel 5's bevy of needy underwhelmers in the first place.
The $230m fortune amassed breaking noses is long gone. Holyfield, a victim of his appetites and poor judgment, could keep neither penis nor pennies in his pants. What he did not give away to family, friends and charitable causes he blew on bacchanalian excess. An upbringing of grinding poverty in America's South left Holyfield hungry for anything and everything, never imagining that the tsunami of cash washing over him at his peak would one day subside.
To his eternal credit, Holyfield confessed he had never heard of the show. To be fair to the producers, they probably knew little of him save for the fact he had lost part of an ear to the omnivorous teeth of Mike Tyson. One of the great careers in the history of boxing boiled down in this context to one infamous episode perpetrated 16 years ago.
Of the epic stuff – the trilogy with Riddick Bowe, the four world heavyweight titles, the undisputed reign at cruiserweight – not a mention as he walked down those stairs to meet his fate and Ms Zissman's silicone-enhanced persona.
Holyfield did not have to say much to impress. Waiting inside were sundry testosterone-busters of questionable calibre such as rapper Dappy, ex-comedian Jim Davidson and Ollie Locke, the "star" of something called Made in Chelsea. Of the women Ms Zissman was typical, with the honourable exception of a Nolan sister, who does not measure self-esteem in cleavage.
Unfortunately for Holyfield, the winner does not get to keep the cash prize, which is given to a charity of the victor's choice. Perhaps the aim is to fail nobly, as he did in the ring, in order to attract a charitable donation himself. Holyfield is presently selling everything he owns to clear a debt mountain of unpaid tax, alimony and child support. His 109-room house was bought for $7.5m by the bank JP Morgan Chase. Next up is what is left of his personal possessions and career baubles.
So the journey from nothing comes full circle, returning Holyfield to relative poverty, save for the reputation built in the ring, and on which he trades now. The son of illiterate parents, brought up by a disabled mother after the father had split, Holyfield found a route out of the ghetto via the fight game, giving legs to the First World myth that hard work and dedication will always have their reward. Like a lot of disadvantaged kids made good, Holyfield is paying the price of poor choices.
"I think it was my lack of education," he said during a speaking tour to the UK in October. "You make a lot of money but you don't know how money works, you don't know how to calculate. I gave more than I should have. People talk you into doing things that you're not accustomed to doing. Nobody told me I had to ask questions."
As bad as it is, at least his appearance on car-crash TV is preferable to stepping back in the ring. Holyfield turned 51 last October. He last fought in 2011, a decade or more past his sell-by date. He called himself the "Real Deal". The waistline of his shorts was inscribed "Warrior". It is hard to argue with either description.
Those tempted to tune in to the reality rubbish would be far better served logging on to YouTube instead and typing in "Holyfield-Bowe I". It was Holyfield's first professional loss but in defeat against a physically younger and bigger man he demonstrated to his bootstraps the courage, commitment and talent that made him the star he was. That bout in 1992 was voted Ring Magazine fight of the year and the 10th round the best of the year.
That's how I shall remember Holyfield, engaged in towering endeavour not parading around a purpose-built Bedlam clamped to an empty vessel.
Join our new commenting forum
Join thought-provoking conversations, follow other Independent readers and see their replies