The Last Word: Ted 'the Shred' at the centre of a slalom ski storm
Ligety is doing all this on skis he has fixed to his boots with revulsion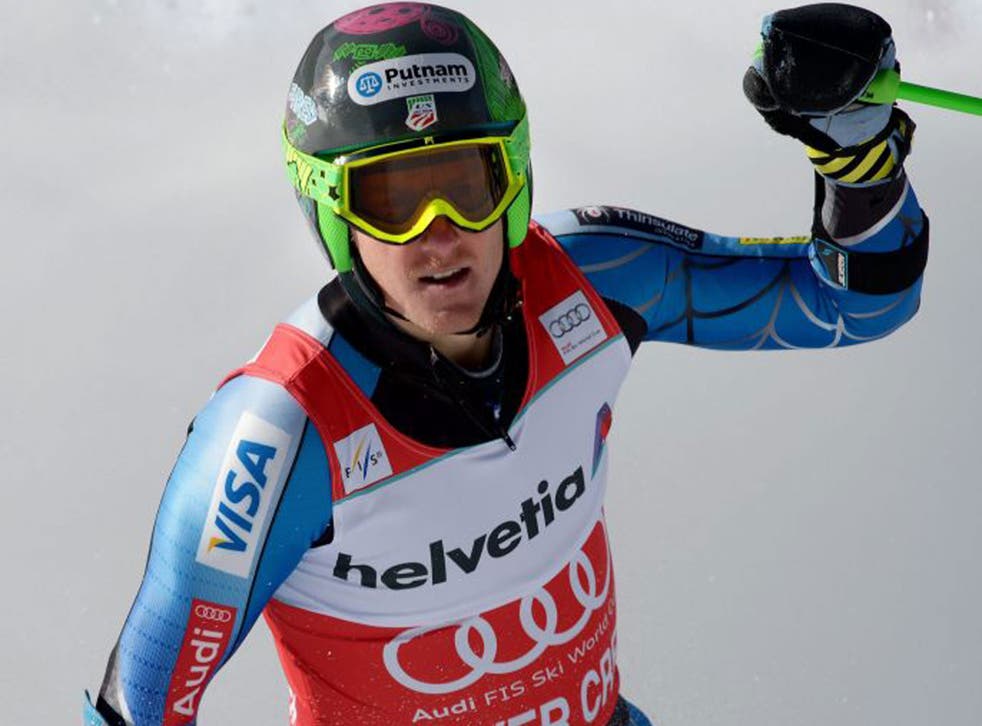 The occasional incursion of freezing air into the mild, dank isobars of the British winter can cause far deeper pain than to fingers and toes. In some hearts, it awakens an anguished yearning – not for sunshine or beaches, but for giddy swathes of snow and ice.
Yet these sporadic boreal blasts also bear us succour upon the airwaves. This weekend the core European leg of the Alpine skiing tour opens at Val d'Isere. And the television footage, which has tended in recent years to support apocalyptic theories about climate change, will this time look auspiciously deep and crisp and even.
At Val Gardena next week, admittedly, the men's downhill will disclose room at the top, following the retirement of Didier Cuche and injuries to Bode Miller and Beat Feuz. In another discipline, however, the season has got off to a sensational start – both on and off the piste.
At 28, Ted Ligety bestrides giant slalom as one of the great modern specialists. "Shred" has cut his pursuers to ribbons in both the first races. In a blizzard at Soelden, he won by 2.75 seconds – a scarcely credible margin, the biggest in 34 years. He followed up at Beaver Creek by 1.76sec.
In a sport where hundredths are often decisive, this is the equivalent of lapping his rivals, a domination unheard of since the days of Ingemar Stenmark. But that is not even half the story. Ligety is doing all this on a pair of skis he has fixed to his boots with revulsion and resentment.
Ligety has been the most vocal of many racers incensed by new rules introduced by the sport's governing body. After interviewing racers about their injury history, the FIS decreed that giant slalom skis should be extended from 185 cm to 195 cm – and their minimum turning radius from 27 metres to 35. There has been uproar.
"FIS is going out of their way to ruin the sport," Ligety thunders on his website. "FIS runs a dictatorship. They demand absolute control then try to butter their will in a fake cloak of benevolence." Eventually the new rules would "ruin" his sport.
An experienced ski engineer, David Dodge, has written to FIS officials suggesting that the changes will probably cause more injuries than they prevent. He reckons the same turn can be achieved on the new skis by tipping edges seven degrees steeper, loading extra pressure on the knee. Dodge believes "the FIS is recklessly endangering athletes … by irresponsibly ignoring or dismissing large bodies of scientific evidence." If this "bet" proves misplaced, the liability could be huge. "The FIS cannot say they were not warned," Dodge warned.
Ligety has openly wondered about an alternative tour, and counsels the younger sports of freeride and snowboarding to beware, lest the FIS "bleed your sport dry of what has made it cool".
All dangerous sports depend upon an implicit consensus on risk between athlete and regulator. Today the big fences at Aintree will be jumped for the first time since another traumatic Grand National. Regardless of the debate over "acceptable" peril for horses, some blatant negligence would plainly be required for an injured jockey to sue those who set the obstacles in a steeplechase. And anyone who now suffers injury in a giant slalom may find that the definition of "unreasonable" use of powers, in sport, is pretty demanding.
Even assuming things never reach that crisis, however, it does seem sad that the pure Alpine air should have been rendered so toxic. It is not as if skiers lack motivation to look after their own necks. Ligety himself often used skis exceeding the previous minimum dimensions: they were less fast, but permitted him better control. He just finds it preposterous that he should be forced to use skis that feel like wooden planks, compared even with the carvers that so flatter our own, inept recreation – the development of which has evidently improved mass statistics on knee injury.
Inevitably you hear mutterings of conspiracy, hunches at least that the changes would favour this team or that manufacturer. Ultimately the regulators of all hazardous sport have a balance to strike: between safety, on the one hand, and unfettered talent, on the other. Many, certainly, cannot see the point of Formula One when the best cars routinely beat the best drivers. So far as possible, superior technique should always be rewarded before superior technicians.
How gratifying, then, that Ligety has only magnified his supremacy on the new skis. Giant slalom is perhaps the most elegant of all disciplines: a compromise between the hectic zither-plucking of slalom, and the alpenhorn blast of downhill. Ligety shifts his weight in a continuous glissando, like a shepherd swaying down to pick edelweiss for his sweetheart without releasing her hand.
This is some dude. Had he been born in Hawaii, rather than Utah, he would doubtless have surfed like a god. Yet what he is doing now discloses not just flair but also dedication, graft, nerve. "Don't get mad," they say. "Get even." It takes someone pretty special to do both.
Join our new commenting forum
Join thought-provoking conversations, follow other Independent readers and see their replies