London Marathon 2016 winner Eliud Kipchoge misses out on world record by 7 seconds after 26.2-mile race
The Kenyan held his head in his hands upon seeing the time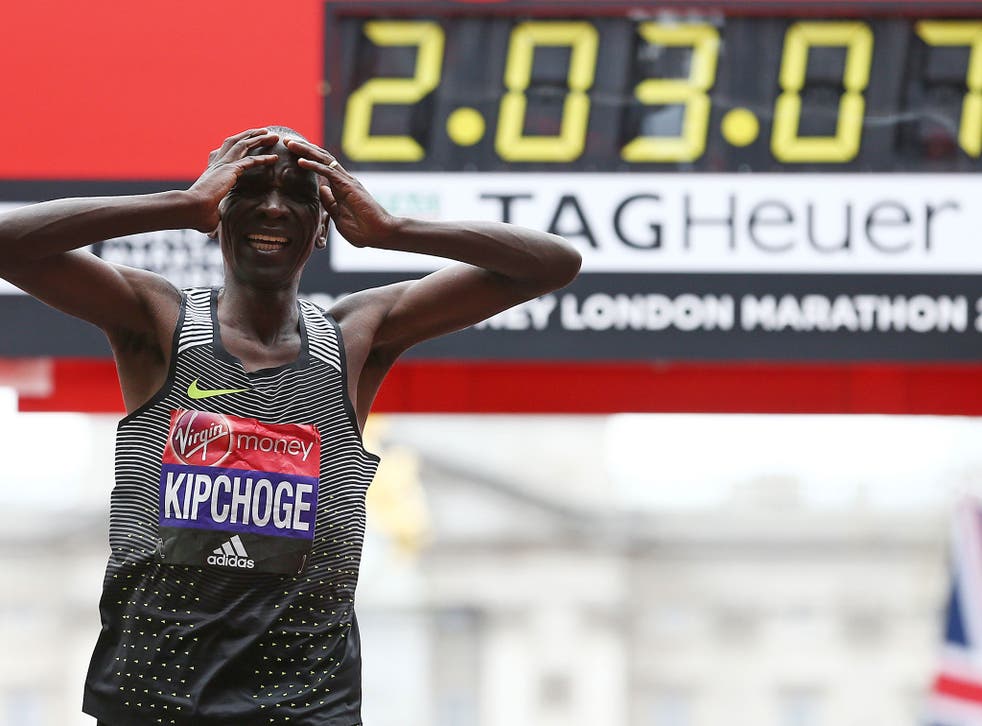 The winner of the 2016 London Marathon tried to look on the bright side after missing out on the world record by just seven seconds.
Eliud Kipchoge couldn't hide his disbelief at how close he was to the time as he crossed the line on The Mall following the gruelling 26.2mile race around the streets of London. He raised his finger in celebration as he made the final turn but appeared to realise just before the line that he could have broken the record. Kipchoge brought his hand to his forehead as he saw his time.
The Kenyan finished in 2 hours, 3 minutes, 5 seconds - just off the world record mark of 2:02:57 set by Dennis Kimetto in Berlin in 2014.
Kipchoge's time was a course record for the London Marathon and the 31-year-old insisted he was happy with that despite his initial disappointment.
"I realised I ran a world record for 30 kilometres, then between 30 and 40 I lost about 20 seconds," he said. "The record can be for the next time ... but I'm happy I ran the course record."
He added: "The crowd is what pushed me."
Fellow Kenyan Stanley Biwott was second with a personal best of 2.03:51, while Ethiopia's Kenenisa Bekele was third.
Kipchoge's compatriot Jemima Sumgong ensured a Kenyan double by winning the women's race despite banging her head in a heavy fall.
Sumgong took a tumble at around 22 miles, apparently tangling feet with Aselefech Mergia in an incident that also saw pre-race favourite Mary Keitany fall and never fully recover.
Jemima Sumgong falls near mile 22 during London Marathon 2016
Sumgong, who has been a runner-up in the Boston, Chicago and New York marathons, cracked her head against the road but ignored her clear discomfort to rejoin the leading pack and eventually pass them.
She finished in two hours 22 minutes and 58 seconds as defending champion Tigist Tufa failed to haul her in over the final 600 metres.
Join our new commenting forum
Join thought-provoking conversations, follow other Independent readers and see their replies