The return of wild swimming: Swimming in the Thames is becoming the norm again
Once, 'wild swimming' was the only kind you could do - and then only if you were a man. Now, it's moving outdoors again. As a 16th century bathing manual goes on show in London, Caitlin Davies looks at our history of taking to the water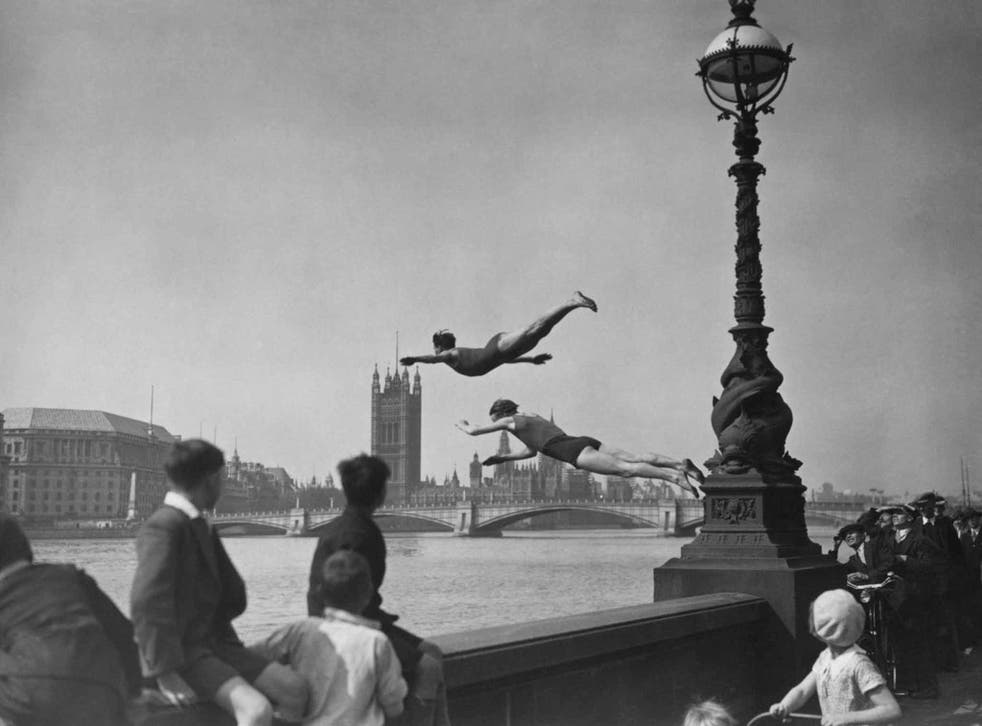 I'm waiting in a small, windowless meeting room on the second floor of the British Library, about to be shown a book that will strike joy into the heart of any swimmer. Resting on a table, supported by a set of wedges, is a centuries-old manual called A Short introduction for to learne to Swimme. Published in London in 1595, this slim, leather-bound volume contains everything a Tudor gentleman needed to know about disporting himself in the water.
It's the first book on the subject published in English and the first printed guide to any form of sport published in the English language. Bought by the British Library in 2007 from the library of the Earl of Macclesfield at Shirburn Castle, at a cost of £74,000, until now it has never been seen in public. But such is the resurgence of interest in outdoor swimming that from this week it will go on show for the first time in the Treasures of the British Library gallery.
The original version of the book, De arte natandi (the art of swimming), was written in Latin by Everard Digby and published in 1587. The book that I've come to see is Christopher Middleton's English translation and the only complete surviving copy in the world.
"It's very fragile," says curator Dr Karen Limper-Herz as she carefully opens the book.
"It was a manual and that means it was well used. It's not known how many copies were printed, but they were probably used to death and then thrown away. It's rare, but hardly anyone has taken any interest in it until now. I'm pleased it will finally be shown."
The book begins with advice on when and where to swim, with the focus entirely on rivers, though no specific locations are given.
The delights of swimming

Show all 5
Digby is aware of the possible dangers, warning against jumping in feet-first if the bottom is muddy and advising swimmers to take a companion in case they get into trouble, both still sound pieces of advice today. Swimming, he writes, is "so profitable a thing ... towards the preserving of man's life" for it is "amidst the furious billows of the lawless waters" that "neither riches nor friends, neither birth nor kindred, neither liberal sciences nor other arts ... can rid him from the danger of death".
To Professor Nicholas Orme, one of the few people to have seen and studied the book, Digby is a great pioneer of the history of sport. A Cambridge don, he was expelled the year the book was published, mainly for religious reasons, but also for his habit of blowing a horn and shouting in college. While his work follows on from a short book on swimming published in 1538 by Swiss writer Nicolaus Wynman, also in Latin and held by the British Library, Digby doesn't just discuss the value of swimming – he shows Tudor gents how to do it.
After a few pages of text, we are on to the fun part: 43 beautiful woodcut illustrations with landscape borders of trees, cows and a man on the bank removing his stockings. At the centre of each is a naked man demonstrating strokes and tricks, his privates suitably covered when he's lying on his back. Karen explains that there is also a waxy substance coated on the pages, perhaps to allow the reader to take it to the river without getting wet.
The first illustration is how to enter the river, wading in slowly until up to the waist. Once the bather can swim, he should put his hands on his neck, run to the riverbank, turn and fall in backwards. Alternatively, he can fall in on his side. The pictures get more dramatic, until the manual becomes one of the earliest examples of synchronised swimming. Here are instructions for Tudor gentlemen to roll side-to-side like a boat, turn in the water "like a Roach", swim like a dog, hang by the chin in the water and carry something dry – in this case a bird – over the water in his arms.
In short, every possible combination of limbs for swimming is there.
"Someone would have to be very advanced to do that," says Karen, as we study an image showing the man on his belly, one hand holding his foot. "That's more like a yoga or Pilates move." And does she think Digby knew how to swim? "I jolly well hope so," she says.
There's even advice on how to "pare (your) toes in the water" which involves drawing up the left foot, laying it over the right knee and with a knife ready in your hand, cutting your toenails. Diving is covered as well, as is how to seek something lost in the water – "which I would have thought would be useful," says Karen – and the book ends with how to swim like a dolphin.
One reader must have found the instructions a little tiresome, for there are tiny comments handwritten on the borders, such as "Is not ye water cold" next to the gentleman on the bank, something like a Tudor speech bubble.
"We guess someone read it and thought they would add some light relief for themselves or other readers," says Karen.
Digby's book must have been seen as very useful, for it was translated into several European languages, while by the Victorian era there were numerous swimming manuals available, such as one written by champion swimmer Charles Steedman in 1867. His manual, held at the Bodleian, is said to be the first text on competitive swimming and, like Digby's, its emphasis is on bathing in the wild. The best time to swim in the open air, it says, is the early morning, for then the "robust and healthy body" benefits most from the "shock of immersion", while the ideal training diet is underdone meat and home-brewed ale. Steedman devotes much of his book to the subjects of drowning and rescuing, at a time when "more than six persons" drowned on a daily basis in England and Wales.
Learning to swim was a necessary life skill. However, both Digby's and Steedman's books had just one intended audience: men. In Tudor times "it was not an expected thing for a woman to swim", says Karen, and things hadn't changed much by the 19th century. Walker's Manly Exercises, for example, published in 1847, recommends that bathers "should use short drawers" and learn to swim in jacket and trousers. No mention is made of what women should wear, because they were not supposed to be swimming.
But towards the end of the Victorian era came a new revolution in the story of swimming, as I discovered when I set out to write my book, Downstream: A History and Celebration of Swimming the River Thames. That's when I realised that contrary to common belief, not only did Victorian girls and women swim, but they did it competitively, racing for miles through oil and sewage. Agnes Beckwith is a prime example. In September 1875, at the tender age of 14, she dived from a boat at London Bridge and off she swam to Greenwich. The five-mile swim took her one hour seven minutes and she ended, reported the press, "almost as fresh as when she started".
I was astounded when I first read this. What was a teenage girl doing swimming in this filthy waterway dressed in a heavy Victorian bathing suit? Agnes Beckwith would become one of Britain's most famous swimmers and her 20-mile swim a few years later, from Westminster to Richmond and back to Mortlake, dressed in an amber suit and a jaunty little straw hat, received huge press coverage.
Born in 1861, Agnes had been swimming and performing since she was a few years old. She formed her own "talented troupe of lady swimmers" and was soon being billed as "the premier lady swimmer of the world".
Agnes was by no means the only girl swimming in the Thames, and, by the early 20th century, plenty of young women were making a name for themselves in the river. In 1905 the Australian champion and later Hollywood star Annette Kellerman chose the Thames for her British debut, swimming 13 miles downstream from Putney. "I shall never forget that swim through the flotsam and jetsam of London," she later wrote, "dodging tugs and swallowing what seemed like pints of oil."
In the summer of 1916, Eileen Lee "eclipsed all records made by men as to time", swimming 23 and a half miles in seven hours from Greenwich. Two months later she topped that by showing "wonderful endurance" and swimming 36 and a quarter miles from Teddington. At 25 miles she confessed to feeling "a bit tired", but announced her determination to "see it out". By the end of the swim, Eileen Lee was "long-distance lady champion of the world".
Another example is Mercedes Gleitze, the first British woman to swim the Channel, who trained for her historic swim in the Thames. On 18 July 1927, she left Westminster Bridge to swim a staggering 120 miles, down the Thames and around Beachy Head to Folkestone. It was a journey that would take her 12 days and establish her as a trailblazing open-water swimmer.
While many of these champions have been forgotten – men as well as women – swimmers in the Thames today are carrying on a grand tradition, whether they know it or not.
In 1985, Alison Streeter swam from Richmond to Gravesend. The next year, she did it the other way round, heading upstream. In 2013, Ness Knight became the first woman to swim the length of the non-tidal Thames. Yet neither had heard of the women who came before them.
But while knowledge of once-famous swimmers might have been lost, swimming in the Thames is now becoming the norm again, as I found out when I started writing Downstream. I swam with the holiday company SwimTrek in the lush upper Thames, entered the Great Swim Series in the Millwall Dock, and joined the Chalkwell Redcaps open-water club in the Essex estuary. In the process, I met regular Thames swimmers, those who have joined informal groups through the Outdoor Swimming Society, and some of the 10,000 people who each year sign up to do mass participation swims. And it's not just in rivers.
In north London, a pond is about to open in the middle of the Kings Cross construction site, proof of swimmers' desire to take the plunge just about anywhere. Of Soil and Water: King's Cross Pond Club is an art installation in the form of a 40m-long natural bathing pond with space for around 169 bathers. It is chemical free, using wetland and submerged plants to filter the water and keep it clear. Designed by Rotterdam-based architects Ooze (Eva Pfannes and Sylvain Hartenberg) and artist Marjetica Potrc, the installation aims to "make us think about the relationship between nature and the urban environment". The elevated pond becomes a stage, explains Eva, where "the swimmers perform the balancing act of coexisting with nature". From here, they can "watch the evolution of the surrounding neighbourhood and the ever-changing city". "Swimming is a primordial act," adds Sylvain. "The pond creates awareness of the fragility of our environment." It is due to open later this month and after two years will be dismantled and "might find another place in London where it could land".
Further evidence of our desire to swim in the river is the Thames Baths Project, designed by Studio Octopi, a lido to be positioned near Blackfriars Bridge with a 25m lap pool and a training pool, both "gently heated" to make them available all year round. The design involves a floating pontoon, which rises and falls with the tide. The pools will be filled with Thames water, filtered through a "bespoke filtration system making the water crystal clear".
Conceived 18 months ago it was originally envisaged to be ready in 10 years' time. But the "response has been so phenomenal", says co-founder Chris Romer-Lee, that Studio Octopi has now developed a lido that could be opened by the end of next year and is looking for an initial £125,000 through crowd funding on Kickstarter.
Today, there is a whole array of books on strokes and techniques, classes for those who want to swim outdoors and guides to the best wild swimming spots.
So what would Digby have made of this?
"I think he would have loved to know we're reading his book," says Karen. "Some of the strokes he shows we still do today, and also I think he would like the idea that we now swim in the wild, so to speak. Swimming got sanitised with indoor pools and chlorine, now we're moving back outdoors."
'Downstream: A History and Celebration of Swimming the River Thames' by Caitlin Davies (Aurum. £16.99) is out now. On Wednesday, from 6-8.30pm, London's British Library will host a panel discussion on urban swimming with Caitlin Davies
Join our new commenting forum
Join thought-provoking conversations, follow other Independent readers and see their replies