Steve Bunce on Boxing: 2014 will be all about cash as Amir Khan waits for jackpot shot in 'Mayweather sweepstakes'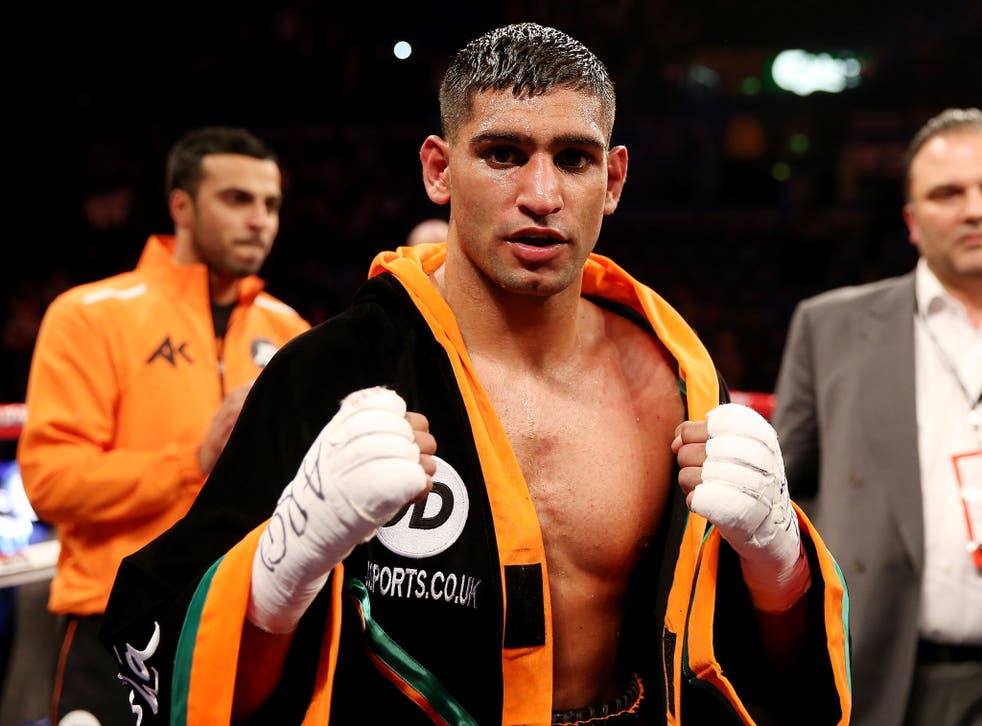 Floyd Mayweather is looking for somebody to make rich in 2014, knowing that he will leave somebody else frustrated and poorer at the snub.
There is every chance that in 2014 more fights that should happen will not happen because of the sums that are available in certain fights with certain fighters. A lot of boxers will simply sit, wait and hope for the call from one of the lucrative world champions.
There are also fights that simply refuse to get made because the boxers are too precious, their handlers too vain and their television backers too stubborn. The ongoing farce between Manny Pacquiao and Mayweather enters its sixth year of open and closed negotiations and is still no closer to happening. It is possible that during the last six or seven years about 12 fighters have received their biggest purses in fights against either Pacquiao or Mayweather; the pair remain boxing's bank.
Mayweather makes far more money than any other American sportsman and the opponents he selects instantly get a position in sport's top 10 earners. Mayweather calls the selection process the "Mayweather sweepstakes" and everybody wants a lucky ticket.
In 2014, good heavyweights will fight for world titles and split less than 10 per cent of what Mayweather receives, which explains why a dozen or more top fighters crowd the ringside whenever Mayweather fights. They look and act like preening teenage girls at a boy-band autograph session but it is worth the shameless behaviour if their number comes up.
In 2013, Mayweather's two victims, Saul Alvarez and Robert Guerrero, probably banked a combined total in excess of $25m (£15m). Mayweather paid himself more than $40m last time out and his opponent, Alvarez, was on a guarantee of $12m. It is thought Ricky Hatton left Las Vegas in 2007 with more than $17m in his pocket after losing to Mayweather. In the next two weeks, another Lancastrian, Amir Khan, will find out if he has the ticket for a fight in May against Mayweather. Khan withdrew from a world-title fight last month to secure the Mayweather money, which was a sensible move but one that denies fans other fights.
Speculation about a move from Las Vegas is interesting because Mayweather's last 10 fights have taken place in Las Vegas. His last fight away from the gambling city was in 2005 and talk of New York or Miami or Los Angeles as fight venues next time could be an acknowledgement that the old fight city is running short of dollars.
It could also simply mean that Mayweather wants to take his brand, which nobody can really explain in detail, on the road; it could also mean that there is no real desire to leave Las Vegas but that he has every intention of making the casino operators dig a bit deeper into their silk pockets to make him stay. Khan is still a player on American television, he will attract travelling British fans to any American city and he will help sell the fight to the pay-per-view public. Khan, like most of Mayweather's 45 opponents, will start as an underdog but he has the ability and Mayweather is getting older, slower and more careless.
All of the very best fighters lose when they forget some basics, take it easy in the gym and enter the ring with a sloppy head; Khan knows that Mayweather will need to play his part in any shock victory by making mistakes before and during the fight. "Mayweather is not the first unbeatable fighter to lose," said Khan. He is right and Khan is not the first fighter to wait, stay inactive and take the money.
Join our new commenting forum
Join thought-provoking conversations, follow other Independent readers and see their replies