Tour de France 2012: Will Britain's towers of power produce a twin tours de force?
Wiggins and Cavendish are seriously good in very different ways. Alasdair Fotheringham spots the differences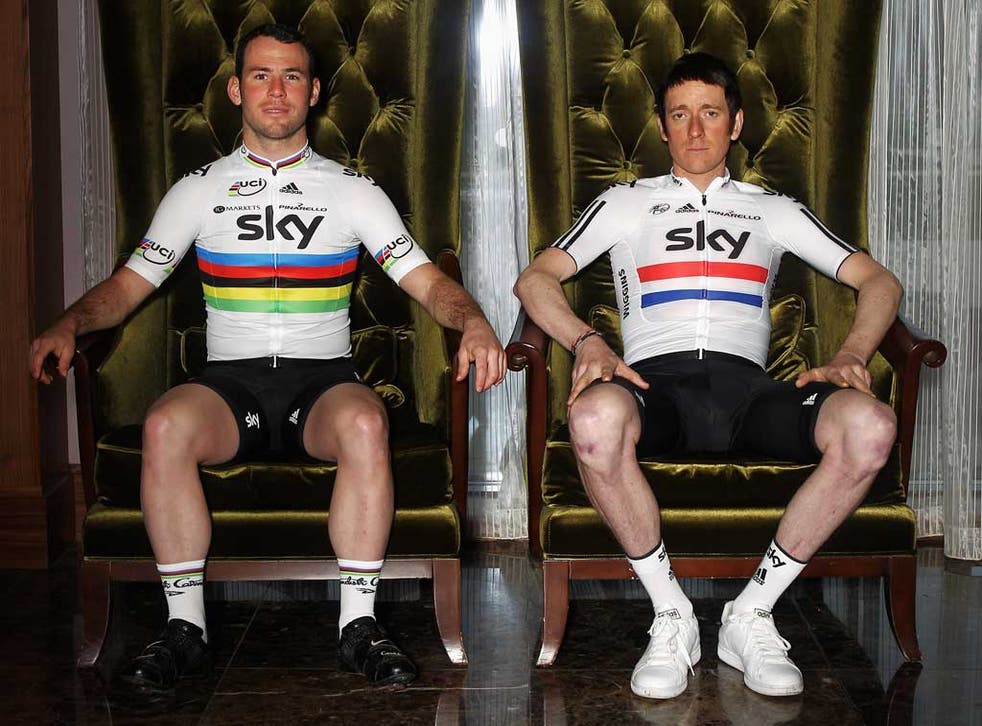 British cycling has never had a better moment to make its mark on the Tour de France. While stage-race specialist Bradley Wiggins has what appears his most promising opportunity to become Britain's first-ever podium finisher in cycling's flagship event – or perhaps win it – Mark Cavendish could extend his total of stage wins to become the Tour's most successful sprinter of all time.
''For a kid from Kilburn, a chance like this to win the Tour de France is bloody incredible,'' Wiggins says, ''and I realise what it would mean, that's why I've been working so hard over the last three years to get to this point''.
While Cavendish is the defending champion in the points competition and, with 20 Tour stages in his saddlebag, the rider to beat in the bunch sprints, Wiggins acknowledges that this summer may define his own career, and British cycling: ''Hopefully this level of success will inspire the next generation too, there's no reason why we can't sustain it, this thing is going to snowball.'' The first big pedal-stroke in that process will be next Saturday's Tour prologue, which Wiggins will be aiming to win.
Here we look at what unites, and distinguishes, Britain's two Tour hopefuls.
Strengths
A towering 6ft 3in tall, and so thin when in form that team-mates have joked they can see through his arms, the 32-year-old Wiggins has always been a gifted time triallist. What has turned him into an all-rounder and potential Tour winner is a huge improvement at mountain climbing, through extensive training. By the time he rolls down the start line in Liège next Saturday, Wiggins calculates he will have done ''100,000 metres of high-quality climbing'' this year alone, mainly on Mount Teide in Tenerife.
Short and sturdily built, the 27-year-old Cavendish's two biggest weapons are his aerodynamics – he can hunch low over the bars in a sprint, reducing wind resistance and increasing speed – and a sudden, brutal acceleration that, as fellow fast man Robbie McEwen says, ''nobody can match''.
''Physically I wouldn't describe Cav and Wiggins as chalk and cheese, because they've both got similar endurance qualities to get around a 3,000 kilometre, three- week race,'' says Sky's Head of Performance Support, Tim Kerrison. ''Cavendish, though, has to deliver his power at a much higher rate over a much shorter period of time – 10 seconds, say. Brad's strength is the ability to deliver his power over a much longer period of time – two to three hours, and particularly in the middle, the ''threshold range'' for 30 to 60 minutes which is what you need on an Alpine climb or in a long time trial."
Chinks In The Armour?
Cavendish's weakest suit is climbing, partly because sprinters are naturally hefty, but he has improved fast this year in preparation for the Olympic road race. The aim, as Kerrison says, ''is to see if he can get round the climbs in that race and win it. The crucial thing for Cav this year is his power-to-weight ratio, and much work has been done on this. Although their [Cavendish and Wiggins's] body composition is very different and the difference in height is quite significant, their difference in race weight is now just a couple of kilos.''
One of Wiggins's biggest weaknesses is one of Cavendish's greatest strengths: whereas the latter moves around the bunch as if it was his own back yard, Wiggins admits that he has learned he ''has to stay closer to the front'' in case of splits or better to avoid accidents like the multiple- rider pile-up that saw him abandon in 2011. But he warns: ''You can never totally eradicate the risks.''
Background
Curiously enough, both started off racing primarily focused on the track. Wiggins is more famous because he has clinched three Olympic golds inside velodromes, but it is not often remembered that Cavendish also has two world track titles to his name – one in partnership with Wiggins.
Watch a film of Cavendish in a mass-start track race and his capacity to find his way through the tiniest of gaps in the swirling pack of sprinters and then blast away to the line becomes crystal clear.
And after turning pro on the road in 2007, Cavendish has used that extraordinary ability to devastating effect: 33 Grand Tour stage wins, a Milan-San Remo Classic and World Championships, 20 Tour stages and 83 road victories to date. All in a mere five years, and this summer he should continue to rack up the wins.
Wiggins says he decided to focus on the Tour's overall classification on the spur of the moment when he reached the race start in Monaco in 2009 in "the form of my life". Cue a GB record-equalling fourth place overall. As for truly believing he could win the Tour in 2012, that came last year after crashing out injured. He then watched the Australian Cadel Evans, whose strengths and weaknesses are similar, go on to win.
''In the 2010 Tour, I just hadn't done enough work,'' Wiggins says. ''I wasn't fit enough and I hadn't worked hard enough. But last year Cadel set the benchmark for how we want to win."
Personalities
After so many wins – and so many press conferences afterwards – there is hardly a cycling journalist out there who hasn't been exposed to Cavendish's spontaneity and spiky, sharp-tongued but warm personality, or witnessed his brief but explosive outbursts of anger. Then you have to factor in his lack of patience with overly obvious questions, his capacity for searing self-criticism and his almost obsessive perfectionism, this last to the point where he insists each type of food in his fridge has the labels pointing the same way.
Most, too, will agree about his profound emotional attachment to the sport. When he won in the 2010 Tour after a rare lean period, there were floods of tears before, during and after the podium ceremony.
Although as passionate about cycling as Cavendish – and arguably more aware of its history – Wiggins is more introspective and less given to melodramatic gestures on and off the bike. Deeply musical and a very deft guitar player, the Londoner once spent a Tour of Qatar teaching himself songs by the blues legend Robert Johnson. And his fluent French has boosted his popularity on the far side of the Channel. Cavendish, though, has been dubbed 'le Bad Boy' by the French, mainly for those glowering, Celtic dark looks he used to give journalists after losing.
Off the bike, Cavendish and Wiggins are both highly dedicated family men, Cavendish living just outside London with his girlfriend, Peta Todd, her son, Finnbar, and the couple's baby daughter, Delilah. Wiggins and his wife, Cath, live in North-west England with their two children.
Relationship
On a personal level, Cavendish and Wiggins have always worked well together. ''We spark off each other,'' Wiggins wrote in his autobiography In Pursuit of Glory in 2009.
''I enjoy his droll wit, he enjoys my [capacity for] mimicking, I love his cocky confidence, he professes to love my guitar-playing when we room together.''
It is a sign of their good relationship that each happily takes the mickey out of the other. Before training rides in Mallorca this January, Cavendish used to hide Wiggins's bike – worth a mere £12,000 – on railings above the hotel. (Wiggins's reaction, according to reports, was: "Have you seen what the fat little fuck has done now?") In terms of upbringing and their formative years in cycling, Cavendish says he believes that the two could not be more different. ''[I'm] the underdog, the physiological mongrel if you like, who'd learned to scrap and scratch because it was the only way for me to survive,'' he wrote in his 2008 autobiography. By contrast, Cavendish calls Wiggins "a thoroughbred."
Team issues
Cavendish was made for leading a bike team. His amazing win rate helps, as does his profuse and very public thanks for his riders' support whenever he crosses the line with his arms in the air.
Wiggins's more withdrawn character has played against him in this area, but with three major stage race victories this season – Paris-Nice, the Tour of Romandie and the Criterium du Dauphiné – he now seems more comfortable with calling the shots. However, since Cavendish joined Sky this year, both have been notably vague on how their co-leadership will work, particularly since neither has been in the role before.
''The perception is that Cav wants to win the green jersey, but I don't know about that, I know he's focused on the Olympic road race,'' Wiggins said when asked about Sky's priorities.
''I'm focused on what I'm doing and Cav's focused on what he's doing. We haven't discussed this kind of stuff.''
The team's Tour hopes may well pivot on their two leaders' working relationship. It has been rock-solid up to now, but over three tense, tiring weeks a lot could happen. Watch this space.
Humour
Both Cavendish and Wiggins have a subversive sense of humour. Accused by a fan on the internet of not being a team player, Cavendish ironically tweeted: "Yes, and I drown kittens, too."
Then there was the time when, after a particularly blustery Tour day, he remarked: "The only place with more wind today was in the press room." And Wiggins once requested at the end of a press conference that journalists "come back tomorrow with more interesting questions". Was it a joke? No one was quite sure.
Mark Cavendish
Height: 5ft 9in
Weight: (approx) 148lb
DOB: 21 May 1985 (Isle of Man)
Threats to Cavendish
André Greipel (Germany)
Age: 29.
Team:Lotto-Bellisol.
Track record: One Tour stage win, two Tour of Italy stage wins, four Tour of Spain stage wins.
Nickname: Gringo, the Hulk.
Why he'll beat Cavendish: Because his steady acceleration has already caught Cavendish out before in the Tour.
Why he won't: Lacks Cavendish's sudden burst of speed.
Marcel Kittel (Germany)
Age: 24. Team: Argos-Shimano.
Track record: One Tour of Spain stage win.
Why he'll beat Cavendish: Three years younger and stronger, has already beaten him this season.
Why he won't: Too inexperienced as a Tour debutant.
Alessandro Petacchi (Italy)
Age: 38.
Team: Lampre.
Nickname: Ale-Jet.
Track record: Six Tour stage wins; 22 Tour of Italy stage wins.
Why he'll beat Cavendish: Cavendish says Petacchi regularly catches him by surprise once a race.
Why he won't: It's impossible to catch Cavendish by surprise twice.
Bradley Wiggins
Height: 6 ft 3 in
Weight: (approx) 152lb
DOB: 28 April 1980 (Ghent, Belgium)
Threats to Wiggins
Cadel Evans (Australia)
Age: 35.
Team: BMC.
Nickname: Cuddles.
Track record Tour de France winner in 2011.
Why he'll beat Wiggins: Knows how to win — and this year's route favours him even more.
Why he won't: Age. A victory at 35 would make him the second- oldest winner.
Vincenzo Nibali (Italy)
Age: 27.
Team: Liquigas-Cannondale.
Nickname: The Shark of Messina.
Track record: A Tour of Spain overall winner, twice a podium finisher in the Tour of Italy.
Why he'll beat Wiggins: Five years younger, and a gifted time triallist.
Why he won't: Has a far weaker team and is probably weaker in the mountains.
Denis Menchov (Russia)
Age: 34.
Team: Katusha.
Nickname: none.
Track record: Two Tour of Spain wins and a Tour de France podium finisher.
Why he'll beat Wiggins: More experienced three-week racer.
Why he won't: Age.
You can follow Team Sky throughout the Tour de France on: Facebook.com/TeamSky or via Twitter through @TeamSky.
Join our new commenting forum
Join thought-provoking conversations, follow other Independent readers and see their replies