Warrington 30 Huddersfield 22 match report: Wolves edge past Giants to book Grand Final spot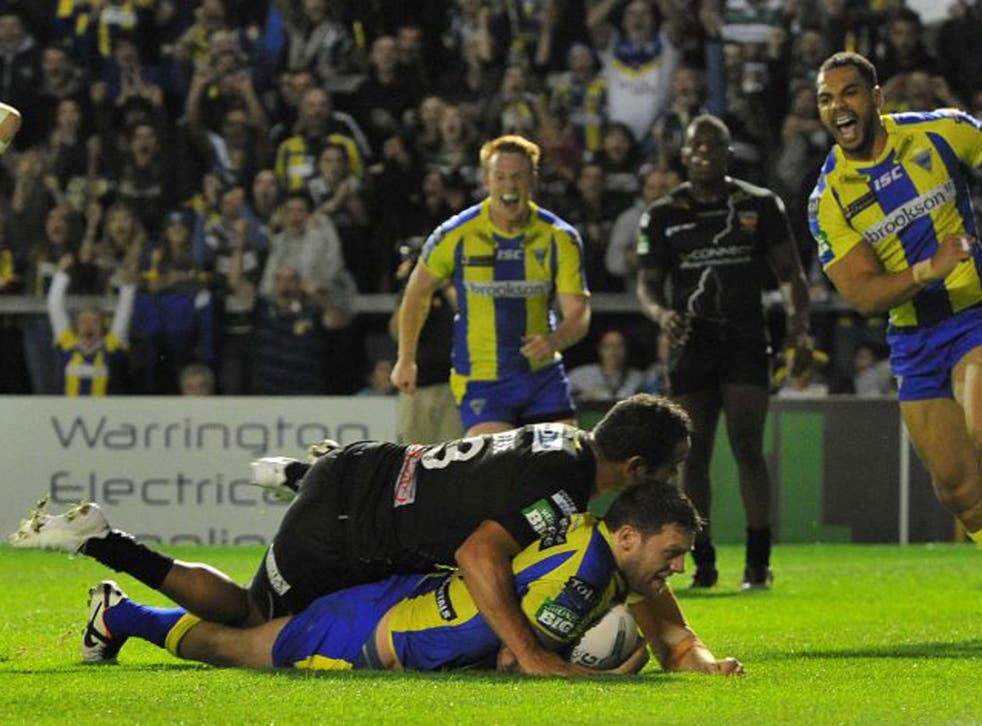 Last season's beaten finalists will contest the Super League Grand Final after narrowly getting the better of Huddersfield for the fourth time in 2013. Two tries from their leading scorer, Joel Monaghan, put them on their way to victory as the Wolves showed again that they are the one side that has the Giants' number.
It was not until Simon Grix's second try four minutes from the end that they finally killed off their resistance. They will now play the winners of the game between Wigan and Leeds in the Grand Final at Old Trafford next Saturday.
Warrington had chosen the league-leading Giants as their opponents, under the ClubCall system they dislike so much, after beating them convincingly three times this season already. The logic was fair enough, but the risk, as ever, was of stirring up an even richer mix of motivation and points to prove.
The Wolves began in devastating fashion, taking a tap penalty when Brett Ferres held on too long in the tackle and moving the ball smoothly for Monaghan to score in the corner.
The Giants bounced back when Luke Robinson's kick played bagatelle in the in-goal and Danny Brough touched down. With both sides tense and nervous, other chances were slow to come.
One that did was midway through the first half, when Chris Riley fumbled a high kick from Brough and, from the scrum, 18-year-old Jake Connor forced his way over in a three-man tackle. It was a wonderful moment for a virtually-unknown young player. Monaghan struck again with a carbon-copy second try after Larne Patrick conceded a needless penalty and Stefan Ratchford's conversion was enough to give the Wolves a lead, almost extended by Lee Briers. It was only a short delay, Richie Myler's kick bouncing off Leroy Cudjoe for Grix to score for an eight-point half-time lead.
The Wolves began the second half as though they knew that another try would finish the Giants. They got it through Briers' pinpoint kick and a leaping catch from Ryan Atkins.
The Giants were still stubborn, though, Robinson's looping pass putting Jermaine McGillvary in at the corner to remind everyone that they were still there.
Brough's touchline conversion and touch-finding drop-out underlined that, but they could not quite find the formula to close the gap.
But then with nine minutes to play, Dale Ferguson went over to set up a grandstand finish, clinched by another try-making Briers kick.
Warrington Ratchford; J Monaghan, Bridge, Atkins, Riley; Briers, Myler; Hill, Higham, P Wood, Westwood, Grix, Harrison. Subs used: Morley, Carvell, M.Monaghan, Cooper.
Huddersfield Connor; McGillvary, Cudjoe, Wardle, Murphy; Brough, Robinson; Crabtree, Lunt, Kopczak, Ferres, Chan, Lawrence. Subs used: Patrick, K Wood, Ta'ai, Ferguson.
Referee R.Silverwood.
Join our new commenting forum
Join thought-provoking conversations, follow other Independent readers and see their replies