British supremacy on show as Olympic squad set the pace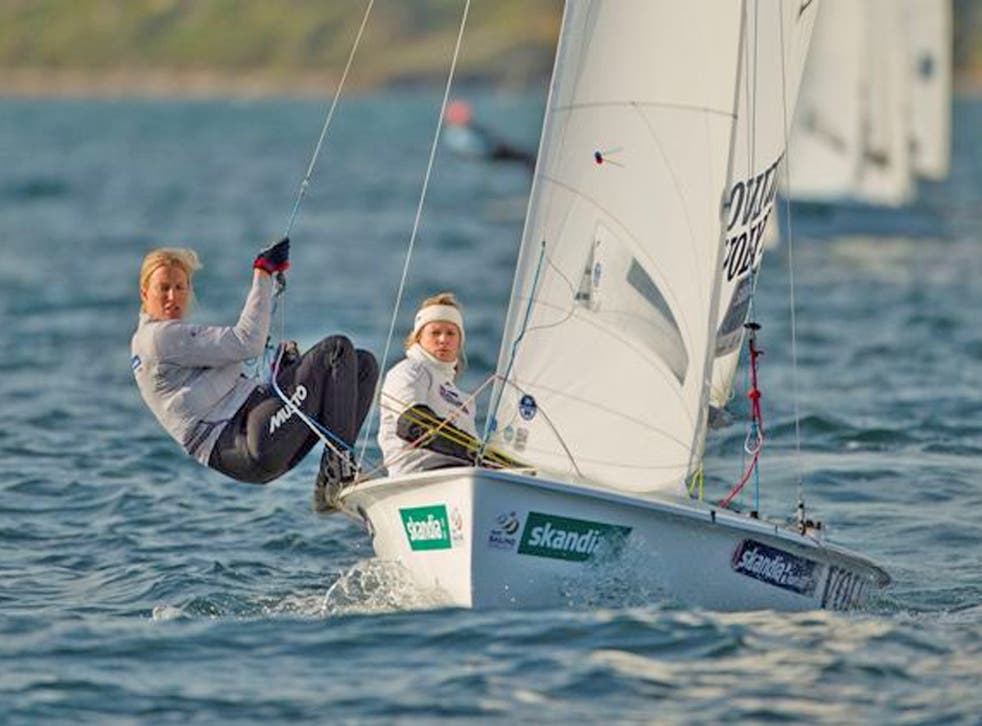 Hard as teak in soggy conditions, Britain's marauding squad of singlehanded Olympic racers set the pace on the Finn track for all the others on the second day of the Skandia Sail for Gold Olympic curtain-raiser in autumnal conditions on Weymouth Bay.
Still bursting out all over, three of the top five have GBR emblazoned on their hi-tech sails with, inevitably, Ben Ainslie in pole position, National champion Giles Scott, back from playing on the AC45 catamarans in Venice, is third and Andrew Mills is fifth.
Holding both first and second in the 49er high performance skiff class are the young pairing of Dave Evans and Ed Powys followed by Dylan Fletcher and Alain Sign.
Evans and Powys came to Weymouth knowing they had nothing to lose after Stevie Morrison and Ben Rhodes, lying sixth, were given the nod to atone for a poor result in China. Evans and Powys are young, up and coming, and allowed to be fiery.
Back in a marathon tussle for supremacy in the windsurfer class are France's Julien Bontemps and Britain's Nick Dempsey, determined to add to wife Sarah Ayton's tally of two Olympic golds on his own home waters.
Also at home is his 2008 bronze medal counterpart in the women's division, Bryony Shaw, but she suffered the setback of a damaged mast to score a 44th, which she will later discard. Her other results are two thirds and a fifth, but even she cannot ignore the threat of the Polish leader, Zofia Noceti-Klepacka, with two firsts and two seconds.
Britain is still top dog on the Olympic sailing circuit and if team manager Stephen Park only achieves his publicly stated target of four medals at the Games there will be smiling approval in public but a bit of shouting in the privacy of the locker room.
Determined to be the cause of some of that shouting are the Australians, who have current world champion Tom Slingsby and Tom Burton first and second in the Laser singlehander with reigning gold medallist Paul Goodison in fifth.
In the men's 470 dinghy Australia's Matthew Belcher and Malcolm Page are leading and will be hard to beat, but in the women's division the mojo developed by Hannah Mills and Saskia Clark in Fremantle last December is continuing to work strongly after they won the world championship recently.
The fun and games has been in the Star keelboat class. Robert Scheidt and Bruno Prada of Brazil lead, but Iain Percy and Andrew Simpson, who pushed them into silver in China, won the third race of the day.
Behind them another Star gold medallist, Mike McIntyre, who won with Bryn Vaile in Korea in 1988, had come out of retirement to have a crack at the younger turks. He borrowed a boat John Gimson and Robert Shanks and then, in the second race of the day, in a British mutual destruction party, Gimson speared McIntyre in a t-bone collision, which sends McIntyre and crew James Grant home for the week and Gimson wondering how to word the insurance claim.
Join our new commenting forum
Join thought-provoking conversations, follow other Independent readers and see their replies